As we enter the hurly-burly of what is known as the summer transfer window in Europe, Liverpool have made all the right noises about signing the right players, at the right age and seem ready to out-bid any team in a bid to achieve their target.
They have already added promising English youngster Jordan Henderson to their roster and are linked to other young and talented players like Charlie Adam, Fernando Gago and Juan Mata amongst others.
However not everything is bright and rosy at Anfield. Kenny Dalglish has to contend with a group of players with no future at the club but whose astronomical wages are making it impossible for him to offload them to any club.
This set of almost a dozen players who are either on the fringes of the squad and played bit part roles or were out on loan last season cost the club a staggering £30m in wages every year and with negligible re-sale value these players form a major headache for Kenny Dalglish.
Here is a list of the players who are causing the maximum drainage of resources at Anfield and need to be gotten rid of as soon as possible :-
In Happier Times.....
1. Alberto Aquilani :- The Italian, whose injuries and failure to adapt to the English game effectively sealed Rafa Benitez's fate as Liverpool's manager is on a whopping salary of approximately £80,000 a week, which has seen Juventus, where he had quite a good season on loan, dithering over a permanent transfer. Liverpool might have to take a substantial hit on the £17 mil. they paid to Roma for his services to finally off-load him.
2. Milan Jovanovic: - Possibly a bigger headache than even Aquilani could be the Serbian, who although signed as a free agent is on a salary of over £100,000 a week. With his signing proving to be an unmitigated disaster offloading him is going to prove to be rather difficult as no club is ready to pay even half of his present salary. A pay-off to annul the contract seems to be the likely scenario.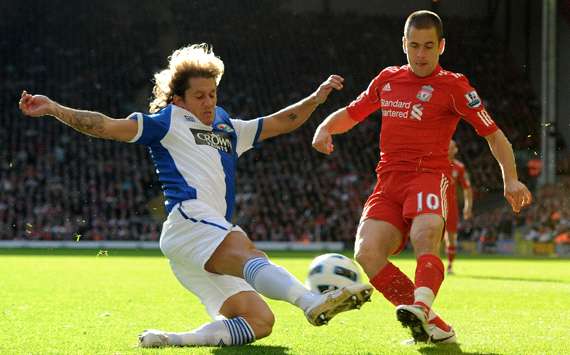 Running Into Another Dead End
3. Joe Cole :- Steven Gerrard's description of him being an English version of Lionel Messi, only better, may well might well go down as one of the most ill-fated comments in history as Cole has even struggled to look like a Premier League quality player this season, much less a player of world class ability. He has had a stop-start season and got sent off on his first Premier League start for the Reds. Dalglish has praised his attitude but doesn't seem to consider him part of his long-term plans. It would be a major coup for Liverpool if they can convince Tottenham to take the player off their hands with just his wages, forget a transfer fee.
4. Maxi Rodriguez :- The Argentine was in stellar form towards the end of the season however NSEV were aghast to find out that he was getting paid close to a £100,000 a week and are now looking to offload him. Maxi is not expected to play a major part next season and a bit-part player on such wages is unsustainable and Liverpool will try to cut their losses this summer.
5. Christian Poulsen :- The Dane was bought by Roy Hodgson to replace Barcelona bound Javier Mascherano. He has though failed to look anything but a decent substitute for the Argentine as he has looked slow and cumbersome in almost all his appearances. He has since been over taken by the likes of Jay Spearing and Jonjo Shelvey in the pecking order but his huge weekly payments make him another financial blackhole for the Reds. He is expected to go back to his native country but not before causing huge financial losses to Liverpool.
6. Paul Konchesky: - The English left back pretty much summarizes everything that was wrong with the Hodgson regime. He failed to add anything as an attacking force and at the back he was a liability as his concentration losses left his fellow defenders in trouble. He was so mediocre that Dalglish packed him off to Nottingham Forest in January even though the Reds didn't have any senior cover in that role. Now with the emergence of Jack Robinson and John Flanagan he has certainly not got a future at Anfield. It would be a miracle if Liverpool manage to get him off their hands without him causing further financial dents.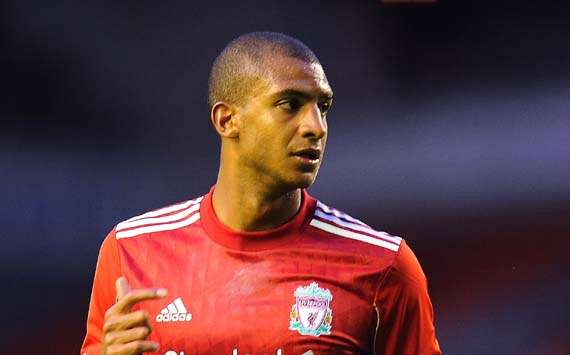 The First Of Many To Leave ?
Then there is of course also the case of players like Brad Jones, Philip Degen, Nabil El Zhar, Emiliano Insua who were out on loan for most of the season and have now returned to Liverpool after having an average season at best. They too are on sizable wages and need to be off-loaded as quickly as possible. Liverpool have made inroads into selling such players off with David N'gog set to ink a deal at Sunderland which shall end his Anfield adventure.
So even though Dalglish himself is not responsible for all these highly paid and underperforming players being at Anfield, it is now his job to move these players on so that he can not only free up funds to increase his maneuvering space in the transfer market but also help reduce the wage bill at the club which shall help the club to pay better wages to incoming stars who could lead the team on the title trail.
Who do YOU think needs to be sold by Liverpool this summer? Have YOUR say by commenting below
Our

provides the best breaking news online and our

football fan community is unmatched worldwide. Never miss a thing again!