ANALYSIS

By Greg Stobart & Kris Voakes
Decision day has been and gone but no deal has been agreed over the future of Alberto Aquilani, throwing up many a question over the transfer activities of
Liverpool
and Juventus this summer.
With a May 15 deadline put on the Italian side's option to buy the midfielder for €16 million (£13.9m) it had been thought that the former Roma man's destination for 2011-12 would be settled by now, but with both clubs standing their ground there currently exists an impasse which could prove costly for all concerned over the summer months.
Reds manager Kenny Dalglish may still be celebrating the three-year contract he signed last week – but he will not be so delighted if the want-away Aquilani returns to Anfield. It is not that Dalglish thinks the Italian is a bad player. In fact, the Scot's opinion on Aquilani is quite the opposite: that the 26-year-old is the kind of elegant ball-playing technician that the club's fans should adore.

But as Juventus and Liverpool haggle over the cost of turning his loan move to Turin into a permanent deal at the end of the season, the Reds are in no doubt that they would rather have the money.
Aquilani | Wants to stay in Italy, but Juve won't meet Liverpool's price tag

For Dalglish, the €16m buyout option agreed with the Italian giants last summer represents the cost of Aston Villa star Ashley Young, one of his top targets for the transfer window as he looks to bring in at least two wingers. It is the same principal on which the €58.5m (£50m) received for Fernando Torres in January was so successfully re-invested in the signings of Andy Carroll and Luis Suarez, who has led the way in transforming Liverpool as an attacking force.

With Uefa's financial fair play (FFP) rules at the forefront of the club's consciousness, Dalglish and director of football Damien Comolli must also maintain control of the club's wage bill – and Aquilani's salary in excess of €100,000-a-week (£80,000) makes him one of the highest paid players on Merseyside.

"Aquilani is a talented player but as far as we are concerned he does not fit into the project at the club," an Anfield source told Goal.com. "It's going to be a busy transfer window, with at least four or five players coming in, and issues concerning transfer budget, squad size and wages all come into it – especially with FFP about to come into play."

Liverpool have been budgeting for Aquilani's departure and a summer of wrangling over his sale could be the difference between landing Young and being forced to find a wide man on the cheap to fill a position that is the obvious weakness in the squad.

UNWANTED AT ANFIELD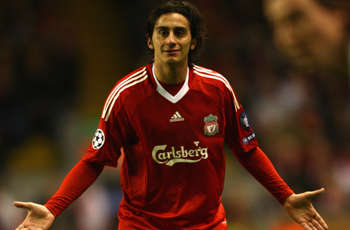 "Perhaps Liverpool would be more willing to accept Aquilani back at the club if the player had shown any desire to return
."

Perhaps Liverpool would be more willing to accept Aquilani back at the club if the player had shown any desire to return. He has made it quite clear that he wants to stay in Italy and Dalglish has no interest in forcing a player to stay when he is unhappy – as he proved with Torres in January.
It is for these reasons that Liverpool expect some sort of resolution to be reached with Juventus and for Aquilani to leave the club after two seasons on the books following his €20m (£17m) switch from Roma.
The Old Lady, for their part, appear to still consider Aquilani part of their future plans, despite their ongoing chase for AC Milan's Andrea Pirlo, but are unwilling to pay out on the full €16m. On his day he has been one of Juve's best players this season, but those days have been slightly too sporadic for the liking of the club hierarchy.
After yesterday's defeat at Parma, general director Giuseppe Marotta told TuttoSport: "[We let the deadline pass] not because we hold Aquilani in less esteem but because we consider the cost was exorbitant, not reasonable given our goals. However, I am in negotiations with Liverpool to reach an agreement."
Marotta fancies his chances of securing a discount of around €4m on the agreed price, as a Juventus source explained to Goal.com.
"Juve value him at around €12m and this is what they are offering, not €16m," said the source. "Juventus have been clear with Liverpool and they told them this is how it is. Liverpool told Juve they don't want to offer a discount, and that they are happy to take back Aquilani.
"There was a deadline for Aquilani [yesterday], but it seems negotiations between the clubs will go beyond that.
"Pirlo could be one of the first arrivals if he doesn't renew with Milan, but this does not mean Aquilani will be out for sure. By focusing on Pirlo, Juve are telling Liverpool they are not desperate for Aquilani. It's like they are saying 'no worries, we will leave Aquilani and will get Pirlo, thank you and arrivederci'."
Much depends, though, on Juventus' decisions on their other loanees this summer. Having borrowed a large number of players last summer, there is the prospect of the Bianconeri being forced to shell out around €50m to keep on Aquilani, Fabio Quagliarella, Alessandro Matri and Simone Pepe, who have all impressed at various times this term. Though theoretically the club is set for an influx of cash this summer, such purchases will take a huge chunk out of the money promised by majority shareholders Exor. There is also the question of what added incomings will do to their balance within the FFP parameters.
This has put extra pressure on Marotta to petition for discounts where possible, and he may well see Aquilani's publicly stated desire to remain in Turin as a bargaining chip as negotiations with Liverpool continue.
But with the exclusivity period having come to an end, Juve are now living dangerously. If the Merseysiders decide that the Italians are playing games in their request for a discount, Aquilani could be sold elsewhere this summer as Liverpool keep their focus on the future.