Goal.com
presents a boxing-style head-to-head battle between two of the Clasico's key players - Real Madrid's Cristiano Ronaldo and Lionel Messi of Barcelona.
Tonight's Champions League clash at Camp Nou, that ended 1-1 and sent Barcelona through to to the tournament's final, represented
Round IV
.
Round I
, November 29:
Lionel Messi 59-53 Cristiano Ronaldo
Round II
, April 16:
Lionel Messi 59-59 Cristiano Ronaldo
Round III
, April 27:
Lionel Messi 59-54 Cristiano Ronaldo
Here's how it works:
If there is little to separate the two players in a round they will be scored 10-10. A narrow win in a round, where there are no goals in the match involving the pair, will produce a 10-9. If Messi scores a goal in a round, and Ronaldo doesn't, the Argentine will win that round 10-8. If Messi scores twice, and Ronaldo doesn't, he will win 10-7.
The same system is used for assists and for winning a penalty. So if in a round, Ronaldo creates a goal and wins a penalty (without taking the penalty), while Messi does nothing of note, then Ronaldo wins that round 10-7.
A yellow card results in a one-point deduction. A dive in the penalty area or just outside that is penalised by the referee will lose a player a point too.
At least one of the two players will always be awarded a 10 for a round unless both get booked in the same round, which will result in a 9-9. Should one of the two players be sent off, then it will result in a Knockout victory for the other player providing he is not also red carded later in the match.
Please recognise that these values are different to Goal.com's Player Ratings, and designed to reflect the one-on-one, combat-style judging of a boxing bout.
Let's go!
RONALDO V MESSI - ROUND IV
| | | |
| --- | --- | --- |
| Cristiano Ronaldo | | Lionel Messi |
| | | |
1' Bursts with intent through the centre of the pitch, skipping past Busquets, and feeds Marcelo with a neat pass.
4' Powerful running once more on the sodden left touchline, covering a full fifty yards before surrendering possession.

10
0-15 mins

9
5' Cut across the centre circle in his first meaningful touches, but loses the ball quickly.
12' Jinks quickly away from Xabi Alonso, and is stopped by the outstretched leg of Carvalho, who picks up a booking.

25' Collects the ball on the left, manages to get past Alves, but Mascherano comes across to force him to concede a goal kick.
30' Pulls away to the back post to meet a Di Maria cross, but attempts to control, and concedes a foul for handball.

9
16-30 mins

10
16' Drives across the half way line as crowd roar, but Diarra cuts across his path to intercept.
22' Drives at the back four again and is stopped in his tracks by Diarra, who concedes a foul.


38' Breaks free in acres of space down the right hand side, but his low cross looking for Higuain is gathered by Valdes.


9
31-45 mins

10
32' SHOT: Slips seamlessly across the area, shapes to curl his effort into the corner, but Casillas saves.
33' SHOT: Leaps away from a Xabi Alonso challenge on the edge of the area, but drags his shot wide of the target.
34' PASS: Runs at Madrid's back line, plays in Villa who forces a save from Casillas.
36' SHOT: Messi once again finds space on the edge of the area, but his drilled shot is beaten away by Casillas.


28
Half-Time
Score

29

47' Drives straight through the centre, is upended by Pique, but his fall takes him into Mascherano, and the free kick goes Barca's way.

10
46-60 mins
10
55' Involved in build up to Barca's goal, then steps out of the way to allow Iniesta's pass to reach Pedro.


62' Has a brief chance to pounce on the ball on the half way line, but takes too long and is robbed.
70' Uses his strength to stay on his feet and attempt to escape, appears to be fouled, and is unlucky not to get the award.


10
61-75 mins
10
68' Drifts all too easily past Alonso on the touchline, and draws a late foul from the Spaniard, who is booked.
70' Attempts to slide low pass into the feet of Pedro edge of area, but is intercepted.
72: HEADER: Busquets fires in a cross that is behind the Argentine, and he can't get his header on target.

79' Brought down by Mascherano 30 yards from goal, and again is unfortunate not to win a foul.


9
76-90 mins
10
76' Wins a race to the ball ahead of Marcelo, and is dumped on the turf by the Brazilian.
78' Collects ball on the touchline and swivels before sliding the ball through the legs of Carvalho.
86' FREE KICK: Long-range effort bounces into the turf and is easily gathered by Casillas.

| | | | | |
| --- | --- | --- | --- | --- |
| Cristiano Ronaldo | 57 | | 59 | Lionel Messi |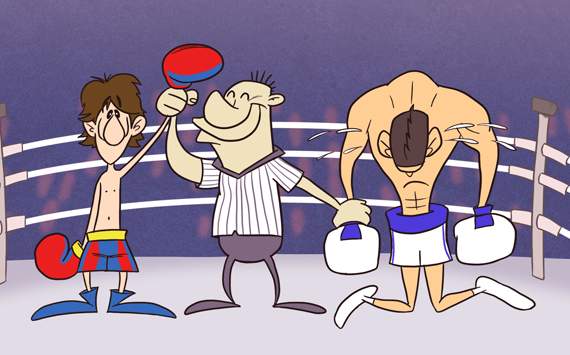 YOUR REACTIONS

Israel Jerry, via Facebook:
Messi is busy punishing, Ronaldo is busy crying, and Barca are busy playing!

Toheeb Sanni, via Facebook:
Ronaldo is playing rubbish, and Messi is the best! Look out Manchester United!

Hazwan Nasir, via Twitter:
I'm a Real Madrid supporter but how can I be relaxed knowing Cristiano never performs in big games? Its always been like this.
Jasim Al-Thani, via Twitter:
As Messi slips, the referee gives the rain a yellow card...