Real Madrid may not be able to hang with Barcelona in terms of goals scored in this season's Clasico contests but the capital club are running away with another statistic. Jose Mourinho's team have been reduced to 10 men on each of the four occasions that they have clashed with Barca this term. An impressive return, no doubt, considering the struggle that the men in white have in coming close to their lissome opponents.
Mourinho, twice a Champions League winner and a highly-decorated coach in each of his prominent jobs, drew on all his nous, experience and expertise in devising a gameplan to frustrate Barca. He has insatiably scoured the coaching manuals of Wiel Coerver, read the autobiographies of Brian Clough and Cesar Menotti. Jose is a football intellectual who learned at the knee of Bobby Robson. The inherited vision and wisdom of the game's great thinkers led Mourinho on an epiphanic voyage of discovery and self-illumination. It led him to the inexorable conclusion, the golden goose, the art of beating Barcelona. It goes thus:
| | |
| --- | --- |
| "Give them the ball, kick them when they have it, waste time and dive when they don't." | |
The truest measure of the effectiveness of the Special One's gameplan can be seen in the faces he pulls on the sidelines. If a card comes and, subsequently, gives Jose a talking point behind which to hide at the post-match press conference in order to deflect his team's failings, he will express it through an angled mouth (below). Indeed, Jose himself was commendably ushered to the stands for pulling faces at officials last Wednesday night, leading his red card candidates by a forceful example.
It is an inevitability, a certainty, that a Madrid player will be shown the red card at Camp Nou tonight. The only uncertainty is to whom it will be given. Using our unique
Mourinho Gurn-o-meter
, we assess the Real Madrid players most likely to be sent off in Catalunya.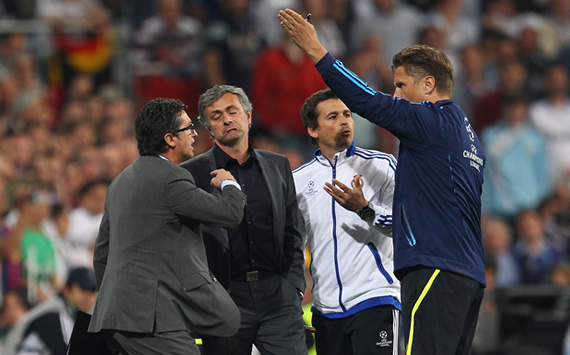 The contenders: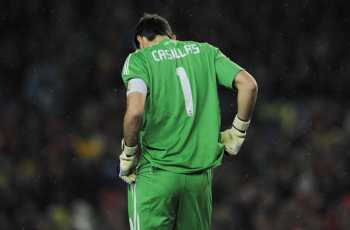 Iker CASILLAS
Red card likelihood:



Can always be reliably called upon to voice his displeasure to the nearest linesman whenever a goal is scored against him, thus increasing his chances of that all-important first yellow for dissent. Casillas also has good form for spilling shots into his own six-yard area. A heady combination of bad manners and dodgy handling stand San Iker out for a potential early bath. Nippy forwards like Messi and Pedro will give Casillas decisions to make inside the area. The World Cup-winning captain has the ability to come up with the goods.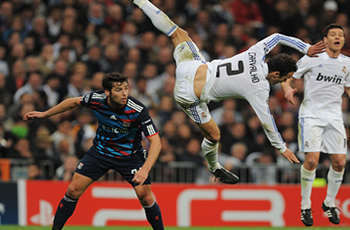 Ricardo CARVALHO
Red card likelihood:




Has a tendency to see his better fouls ignored but could again be ready to claim the limelight. A veteran of the sly shirt-grab and achilles tread, Carvalho will need to be more explicit with his misdemeanours if he is to stand any chance of a dismissal tonight. He covers his waning pace as badly as his rug covers his bald patch with nimble collapses into the back of sprinting forwards, and is always ready to go beyond the call of duty by slide tackling inside his own area. Returning from suspension and about to serve one more for a textbook dismissal against Zaragoza, Carvalho could yet emulate his red-card idol, Cristian Chivu.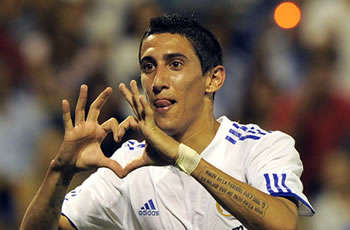 Angel DI MARIA
Red card likelihood:


More likely to go to ground than a horse at the English Grand National, Di Maria needs to make his dives more obvious if he is to provoke the referee into action tonight. Quite often, his simulation is too subtle to be picked up in real time and he has been known to buy free-kicks and penalties with relative ease. However, he has it within his capabilities to make the theatrical leap from expert diver to bad actor. That's if, indeed, Madrid get the ball. He added a further string to his indiscipline bow by being dismissed in the Copa del Rey final in the closing stages for a well-timed sliding tackle, striking a late blow for his manager and helping to keep his red card record against Barcelona intact. Admirable commitment from the Argentine that could be replicated tonight if needs be.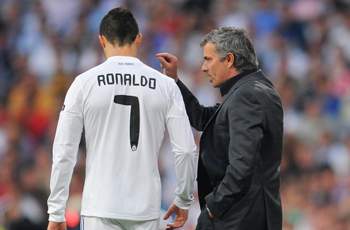 Cristiano RONALDO
Red card likelihood:




Went against the coach's order in the first-leg for having the temerity to actually try to win the match. Utilised by Mourinho as a sort of pseudo-Huth at the point of the 'attack', CR7 is too quick and not violent enough to play the Ivan Drago role. He barely had a kick, let alone had the chance to foul anybody or dive. That could change tonight though. Ronaldo will be replete with pent-up frustration and his isolation could lead him to verbally lash out. Time will tell whether a player can be red carded for flicking a V-sign and swearing in Portuguese at his coach in the stands.

And the one who can't be there: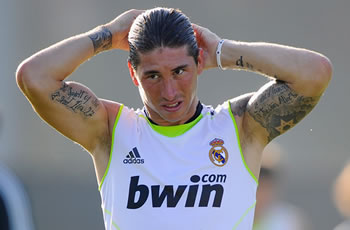 Sergio RAMOS
Red card likelihood:





Real Madrid's propensity towards having a player sent off took a huge blow through the suspension of Sergio Ramos last week. The phrase 'red card waiting to happen' could have been coined for the Spain international right-back and he has already delivered plentifully on his potential as one of the most bookable stoppers around. Wastes no time in getting himself worked up, and hasn't quite mastered the subtle art of the tactical foul. He charges around like the clumsy cousin of Martin Caceres and is Mourinho's 'go to' guy when a card needs to be administered. Aggressive and as positionally unsound as a broken sat-nav, Ramos would have been the odds-on favourite to earn a landmark second red card in one season against Barcelona. A massive loss to Real's red cause, but there remains the possibility, however slim, that Ramos could be kicked out of the stadium for one infraction or another, while simultaneously showing levels of commitment rarely seen in the modern game.