The Special One, for once, would have to alter his plan to suit the need of Real Madrid as they hope to come back into the semi-final tie against Barcelona...
Real Madrid
face a daunting task on Tuesday night at Camp Nou, where they were humbled only about five months ago with a 5-0 drubbing, as they need to score at least a minimum of two goals and at the same time keep
Barcelona
mum at the other end to take the Champions League semi-final into extra time and penalties thereafter.
Last week the los blancos failed to create much at the Santiago Bernebeu and following Pepe's dismissal, Lionel Messi took charge of an otherwise messy match to hand Blaugrana a two goal advantage.
Jose Mourinho
's tactics of having stalled a phalanx in front of the Madrid goal received criticism from almost quarters including his own dressing room when his ace player
Cristiano Ronaldo
publicly stated his
displeasure
of the system employed.
As it was later revealed, the former Inter manager wanted to bring on Kaka for the final 20 minutes and attack Barcelona in the hope of getting a lead in the first leg, something which never actualized thanks to the harsh red card which swinged the game in Barcelona's favour considerably.
Yes, the ploy of holding off Barcelona and hitting them on counterattack worked in the Copa Del Rey final when Marcelo, Di Maria and Ronaldo combined with the Portuguese star scoring the winner in extra time to hand Madrid their first silverware in three seasons.
But going into the fourth El Clasico, Madrid have a job to do and desperately need goals to give themselves any chance of making it to Wembley.
Barcelona manager
Pep Guardiola
admitted that the opponents could play in several ways they want to, given the plethora of attacking options they have.
While the current Catalan outfit has been hailed as the best ever to grace the game by several pundits, Barcelona are certainly not unconquerable something which Real Sociedad displayed over the weekend in the 2-1 victory.
It was interesting to note what Guardiola
mentioned
in his post-match address to the media as to what he felt was the reason for their defeat.
| | |
| --- | --- |
| "We competed well in the second half but we lacked sustained spells of possession. We did not have control of the ball," he pointed. | |
This is precisely what Mourinho has to target. The policy of suppression isn't the need of the hour and would be playing into Barcelona's trap as the Cules love to see more of the ball and feel threatened when they don't have it.
Xavi
had led the criticism ballet of Barcelona of Real Madrid's style of play and he referred it as "
not football
."
In the Art of War, the famous war treatise, Sun Tzu says, "One defends when his strength is inadaquate, he attacks when it is abundant."
Real Madrid need to believe in their own abilities and thereby launch their own blitzkrieg on Tuesday. In spite of having a number of world class players who would easily make it into the starting XI of any side in Europe, Mourinho decided to bench the trio of Gonzalo Higuain, Emmanuel Adebayor and Karim Benzema along with attacking playmaker
Kaka
in the first leg of the semis.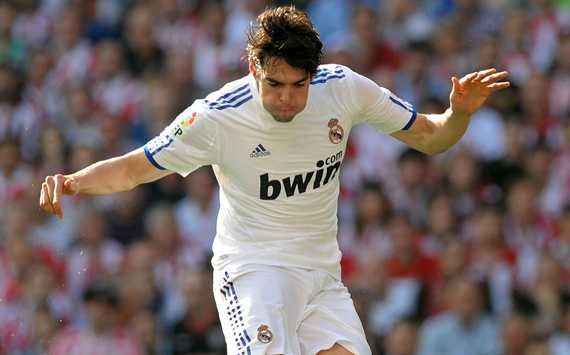 Would Barcelona Dance To The Brazilian's Tune?
It is important to take the game to Barcelona and which is precisely why Kaka must be given an optimal role instead of warming on the bench given that he produced one of his best displays for Spanish capital side against Valencia just less than two weeks ago.
The world's third most expensive player was one of the best Madrid players at Camp Nou in last season's 1-0 defeat to Barcelona as he and Ronaldo combined to terrorize the opposition until CR7 was substituted.
While Mesut Oezil has arguably been the best summer transfer for Madrid and has so far impressed in only the first half of the Copa Del Rey final in the three meetings against their arch rivals; which is why Mourinho needs to employ an experienced star like Kaka to negate the influence of Xavi in the midfield and also attack the susceptible Barcelona defense.
| | | |
| --- | --- | --- |
| | Javier Mascherano has once again given an example of how uncomfortable he is when positioned as a central defender and Madrid need to grab this opportunity and test the Albiceleste skipper by employing another Argentine in the form on Gonzalo Higuain who could test the Barcelona rearguard with his pace. | |
Although Eric Abidal has been included in the squad and given that the Frenchman hasn't had much football action off-late, Los Merengues have all the reasons to believe that they are still in it with a chance.
It is essential that Mourinho gives CR7 a freehand to attack and have a go at the Barcelona defense with able support from his team-mates as is the case with Lionel Messi.
In last Wednesday's clash the former Manchester United winger urged his fellow mates to join him in closing down Barcelona but the Madrid players remained content to be in their own half.
| | |
| --- | --- |
| | Mourinho must pick up on the clue when Gerard Pique said, "If he (CR7) gets you one on one in a sprint, he is unstoppable. When he is stationary he is not so dangerous." |
With a special plan being designed in Mourinho's head, the Madrid manager has to show aggression of a different kind and more so at the business end of the pitch to spoil the party of Barcelona as he had last season at Camp Nou albeit with different tactics.
Follow Me on Twitter