Jose Mourinho is the master of mind games. The Portuguese knows exactly how to rile the opposition ahead of big matches, while deflecting the pressure off his own players and placing the performance of the referee under the spotlight. Indeed, when it comes to off-the-pitch psychology he is, as Barcelona coach Pep Guardiola said in more colourful language on Tuesday, the man. The boss. But this time he may have met his match.
Guardiola's press conference rant ahead of last night's Champions League semi-final first-leg polarised opinion. Many saw it as a sign of weakness, an act of desperation and a bitter riposte to the constant provocations from Mourinho. To the naked eye – or the naked ear – it may have seemed like he had snapped with an ill-timed outburst, but Guardiola is far too clever for that.
Having lost the final of the Copa del Rey to Mourinho's Madrid last week and failed to win the sides' Clasico meeting in the league four days earlier, the Barcelona coach knew a different approach was necessary. His side had been bullied on and off the pitch and an example needed to be set.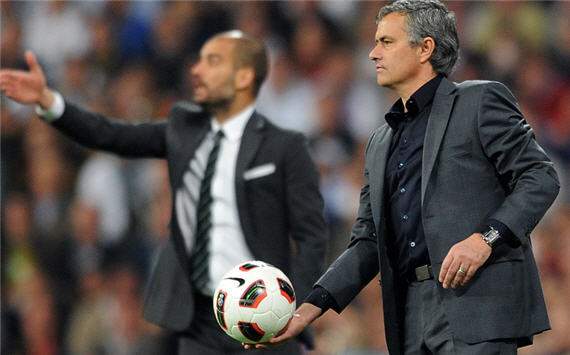 Guardiola & Mourinho | The master and the apprentice, but which one is which?
With his players under pressure following two performances way below their brilliant best, Guardiola decided to engage in some of Mourinho's very own off-field tactics. He hit back at the Portuguese, [who hours before had claimed Guardiola was one of a new breed of coaches who criticised correct refereeing decisions], defended his players and challenged Mourinho: "Tomorrow we'll see you on the pitch at 8:45."
The rant had everyone talking. Had Guardiola lost it? Did he finally snap, now of all times, just a day before his side's Champions League semi-final? Or was this a carefully planned, premeditated response? The press had a field day relaying the war of words between the two coaches, while television stations must have been rubbing their hands with glee, too. This was like the build-up to a big fight, the perfect preview to an already much-hyped match.
"He may not have wanted to get involved in the mind games, but he was left with no other option. Unable to beat Jose, he joined him."
MOU MEETS HIS MATCH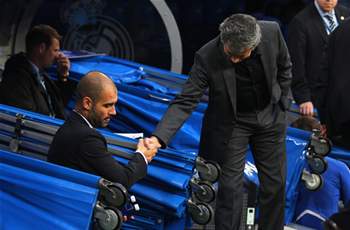 Guardiola will have cared little about all of that, but his rant served its purpose. By hitting out at Mourinho, he had deflected the attention away from his under-performing players – a technique long-utilised by the Portuguese and inspired by Inter's 1964 and 1965 European Cup-winning coach Helenio Herrera, who also had two spells at Barca.
Talk of David Villa's poor form, Pedro's goal drought and the club's defensive crisis was replaced by analysis and scrutiny of Guardiola's words. Even Andres Iniesta's absence through injury, revealed by the Barca coach himself in Tuesday's press conference, appeared to pale into insignificance. Gone was the usual diplomacy and politeness; this time Guardiola was playing the press – Mourinho style.
That took the heat off his players and also sent out a clear message that his side would not be bullied. And for that message to resonate all the way through the club and down to the players, it had to come from the top.
It also brought unity to the camp: after the press conference, the Barca coach returned to the team hotel and was greeted with a rousing reception from his players and staff, who all rose to applaud their leader. Such togetherness is invaluable in these games and the former Barca captain will know that only too well, having led out his side in many a Clasico as a player.
Guardiola is a keen student of psychology, a deep thinker and a big reader. He also has a strong will to win and huge mental toughness. He may not have wanted to get involved in Mourinho's mind games, but he will have realised he was left with no other option after the first two Clasico meetings. Unable to beat Jose, he joined him.
And it worked. Barca outplayed Madrid and Mourinho's previous complaints about always having to cope with 10 men fell on deaf ears as official Wolfgang Stark sent off Pepe. Indeed, this time around it had been Guardiola who had discussed the referee, saying he expected a strong performance from the German official. He got it.
Lionel Messi went on to score twice after that, including a wonderful second late on, to swing the tie in Barcelona's favour – on and off the field. On it, Barca have once again shown they are the superior side, and off it Mourinho may have just met his match as well.