On my way back home from college, a hot sunny day, I came across a sight that made me stop in awe - Four boys around the ages of 15 playing football. Usually it wouldn't be so uncommon to see youngsters engaging in a game on the streets of Bangalore. The prepped up faces and shouts of joy are a common sight when seeing people play the sport but what stood out about these four boys was that they were playing football on crutches.
All four had lost their limbs, perhaps at birth or in an accident but were making the most of it. I stopped to talk to them and one of the boys. Asif said to me in broken English, "It's not easy but I want to play. It's football, not feetball. We can still play with one foot," and laughed at his joke with his friends. They continued playing, without feeling even the slightest bit of self pity, each one challenging the other to do better.
Football is an international sport, one full of glamour, money fame and controversies, but of lately people fail to look at the brighter side of the game - Passion.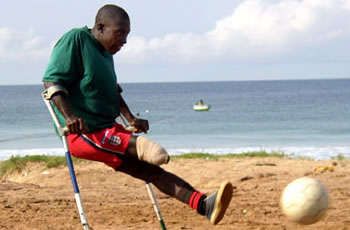 Never Give Up... No Matter What Life Throws At You!
The sport has two sides to it - The ugly side where one can see scandals, money making rackets and misdemeanour and the beautiful side, one where nothing will stop the ardour for the sport, not even broken limbs.
It takes dedication and passion to want to excel at the sport and you don't need both your feet to do it. Like Asif, there are many in the world who believe that taking part in sports isn't hindered by disabilities, which is why there are tournaments like Amputee World Cup and Paralympics organised quite frequently for those with special needs. It is a chance for people who the society sympathizes for to stand up and say, "Don't pity me, admire me! Look at what I've done with disabilities and imagine what I could have done if I was fit and healthy."
The Haiti earthquake was a major disaster and wrecked the lives of many people. One such person who's life had been devastated by the disaster was Mackendy Francois, a lover of the sport who lost his leg during the earthquake. Today, he is playing football for Haiti's national amputee football team, teaching people that you don't need legs to play the sport.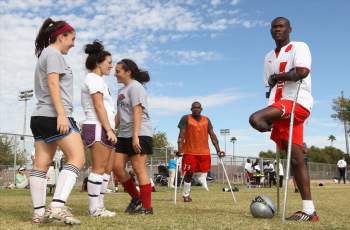 I Stand In Front Of You As... Mackendy Francois
Not only is he indulging in the sport he loves, but he is also helping those who lost their homes and loved ones in the Haiti Earthquake by making money through tournaments. Many football players nowadays think of playing for money and for other selfish reasons. Mackendy plays for the love of the sport and for his country men...
Musa Mansaray was only 10 years old when he was shot in the leg. Missing his limb was no excuse to the African, and did not hinder him from playing football. Recently, he got the opportunity to travel to Spain and have a drink with his idol, David Villa whilst also meeting up with the Spanish National Team.
What an honour for someone who could have given up at such a young age. Being one of those who overcame disabilities, Mansaray has represented Sierra Leone in the Amputee World Cup and avoided a future engulfed in poverty and depression. Playing football for Sierra Leone has helped him pay for his home, education and life. Today he stands tall, proud of his achievements and still striving for success.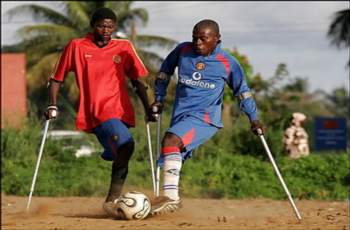 Am I Wrong To Wear A Big Team's Football Jersey?
The British Amputee's National Team were invited as guests at Old Trafford to meet and learn from the professionals. The team consists of 10 players playing on crutches and a goalkeeper with an amputated arm. Although they aren't as able as the United players, their drive and determination is of the same level, if not more. If anything, it was Manchester United who needed to learn from them rather than the opposite.
Footballers playing with crutches, although at a handicap are seen with breathtaking dribbling, passing and scoring skills. The only disadvantage found is the lack speed and quickness in covering the field, although this doesn't affect the game a lot, as it can get very physical and no one is expected to sympathize for the other.
Thinking about these tournaments, one would feel sorry for those who are involved in the sport, but watching the games live is a whole different experience. You will forget that these sportsmen are playing on crutches and be amazed at how much passion there is for football.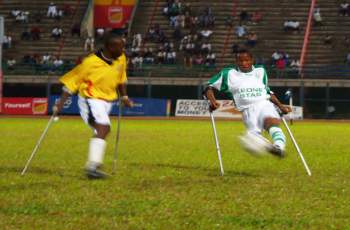 Oh,Yes... Come And See Me At Our World Cup!
The last Amputee World Cup was held in Argentina in 2010, with Uzbekistan beating the host team to win the Cup, and what a prestigious moment that was for the Uzbeks. It was not only a dream come true, but the perfect platform for them to prove to the world their capabilities and demand respect and not pity.
Some say that they felt it was the end of the world after the amputation, but this belief is changed through football giving youngsters hope that their life can be better than before. Publicity bought by football can help bring in funds to help with living costs and education, bettering the life of many who have to face difficulties due to disabilities.
The impact that the sport has on people's lives is enormous, not just on the players but the followers as well. You don't truly know the power of football unless you learn about people with disabilities gaining back their lives after disasters thanks to the beautiful game.
It does not matter how deep you fall; what matters is how high you bounce back, these Amputee's have shown the strength in belief, by taking the 'dis' out of disabled. The sky is the limit if only you believe in yourself and fight for your goals. In the end, we all need to learn a lesson from these footballers... Not just a lesson in sports, but a lesson in life!

Our

provides the best breaking news online and our

football fan community is unmatched worldwide. Never miss a thing again!