EXCLUSIVE
By Wayne Veysey in Cardiff
At their training camp in the rolling Cardiff countryside, the
Wales
players are having a game of head tennis.
The mood is relaxed and convivial. Muscles are stretched and limbs loosened. Craig Bellamy shares a joke with his recent on-loan Cardiff colleague Aaron Ramsey. Gareth Bale, the nation's great hope, looks anything but a superstar in the silver leggings hugging his gangly yet sculpted physique as he takes part in a separate light jog.
It is Monday morning, five days before the intensity and emotion of the Euro 2012 clash against England.
In coaching parlance, Wales are having a 'recovery session'. Later in the afternoon, some of the players will have a swim, some a round of golf, others a massage. There will be no contact with a football until the following day, 48 hours into their get-together and 72 hours after Saturday's round of matches.
It is the second training camp organised by recently appointed manager Gary Speed. Subtle changes are taking place as the building blocks are assembled for a new era which Wales hope will take them all the way to World Cup 2014 in Brazil.
"We are working towards being the best prepared team in the world," explained Wales' head of performance Damian Roden, showing Goal.com around the team's hotel base for the build-up to the game. "Whether that transfers to a better team remains to be seen. We are trying to put the foundations in place to allow us to compete.
"We are fully aware it's not going to be an easy task. The main thing is to be in a position to qualify for the 2014 World Cup and for the major tournaments thereafter."
Inspiring images and slogans litter the ground floor corridors of the luxury retreat to create an elite environment. Yet science and technology are at the heart of the bid to annex 53 years of tournament hurt.
Every day before training, the players file one by one into a team room where they provide information for a database which Wales' backroom staff claim is the most state-of-the art in world sport.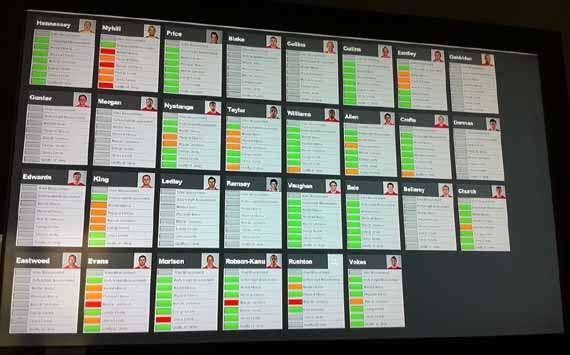 Hi-tech | Traffic light system highlights the condition of the players
It is split into two basic sections – self-assessment and scientific data. Players are asked to rate, out of 10, their mental fitness, physical fitness, muscle soreness, stress levels, energy levels and quality of sleep.
Then, the science bit. Blood, urea, saliva and urine samples are taken to analyse hydration, protein, testosterone and cortisone levels as well as tissues, cells and disease-fighting antibodies such as IgG and IgA.
All this information is uploaded onto the Readiness To Train database and, within just two minutes, can be presented on a mobile device such as an iPad or reproduced on a digital signage TV screen to each individual player and the coaching staff using a simple traffic light system – red for low rating (1-4), amber for medium rating (5-7) and green for high (8-10). The more greens, the better condition the athlete is in.
WELSH WIZARDRY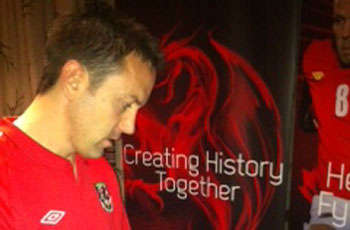 "For me, this is the best system around. Without naming names, the others are trying to play catch-up"


-
Wales head of performance
Damian Roden

"The whole point is to make an informed decision about a player's training load with a view to optimising performance and reducing the risk of injury," said Roden. "Coaches want players to train. Managers want players to train. We want players to train. It is just an understanding of what the player can and can't do to be able to be on the pitch on a Saturday. It is not about excluding players from training but you are selective.
"If a striker has high muscle damage and the coach wants them to do a shooting session at the end of the session or part of that session, they just wouldn't take part in that."
It is why Wales were so careful with Bale. The player reported to be in prime condition during his 'check-up' before training on Tuesday. His traffic lights were all green. But as soon as he started limbering up, the midfielder began wincing.
After complaining of muscle soreness in his hamstring, he sat out training on Tuesday and Wednesday before a scan late on Wednesday night revealed the extent of the damage and the decision was made early on Thursday morning to send him back to Tottenham. It was a precautionary measure. Bale felt he could have played. He still does. But Wales are taking no risks with his health.
Take Craig Bellamy as another example. The combustible forward, who Roden also worked with during a two-year spell at Manchester City and who he describes as "the most professional player I have worked with", was loaned out last summer after falling out with Roberto Mancini over the Italian's training methods. The irony was that City were releasing a player who had never been so effective.
"Craig came to us at Manchester City having had four knee injuries, eight hamstring injuries and having only ever played a maximum of 15 consecutive games in the previous 12 years," Roden said.
"By monitoring him in this way and being selective about what he did during the high intensity sessions, in 2009-10 he played 42 games consecutively, scored 12 goals and he had one of the highest outputs in the league in terms of his official statistics."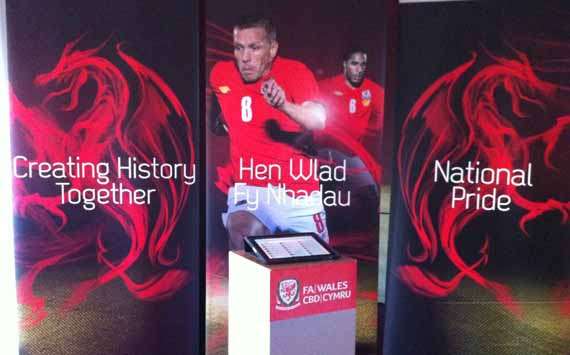 Red hot | The inspiring images that confront the players at their training base near Cardiff
Roden, who got his Premier League break in 2003 when he was appointed as the Bolton Wanderers fitness coach under Sam Allardyce, trialled the system during a stint at Blackburn Rovers but has since developed it with design gurus Sportspecific during spells at Manchester City and the Australia national team. Where once it took 45 minutes to show impatient players their personal data, now it takes just two.
"For me this is the best and most comprehensive system around," said Roden. "It is bespoke to what we want it to do. I wouldn't say it is the most sophisticated but it is more functional than any other around. Without naming names, the others are trying to play catch-up.
"It can be built very quickly and updated very quickly. That's what lets a lot of databases down. If you want an informed decision, you need immediate feedback and stats to show to players, coaching staff and medical staff. There isn't anything to compare around in sport. A lot of clubs are a long way behind when it comes to web-based databases, and we're talking the elite clubs here."
To those who claim it is players not laptops that win football matches, Roden does not disagree. "Of course," he nods. "We are not saying we are going to make Wales a better team by doing this. What we are saying is we are making the players as fresh as they can be going into games. You put things in place to allow coaches to make an informed decision."
The players are buying into the methods. "I don't want to comment on previous regimes but they are enjoying the fact that we care about them," Roden said. "They are receptive and have done everything we have asked them to do so far."
But, when it comes to assessing their own well-being, is there a concern players will tell porkies to increase their chances of selection? "We're encouraging an open and honest culture," he added. "The whole point is to help the players and they know that. In some cases they might not even know if they have an injury, which is something our scientific tests can establish."
Like his passionate Wales and former City colleague Raymond Verheijen, Roden does not go along with the view that lengthy injury lists at club level are simple bad luck or the inevitable by-product of fixture congestion. With correct planning, he believes these can nearly all be avoided.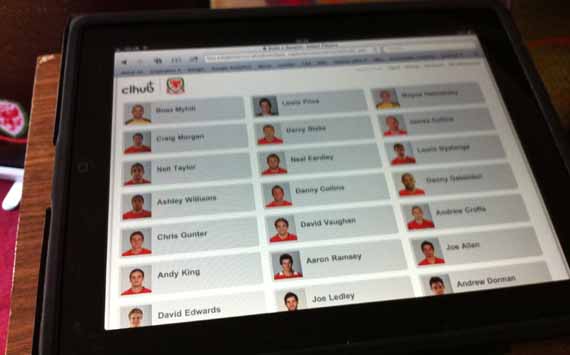 Player power | Wales have a database with all the details on their squad members
"There are so many injuries in the Premier League that keep occurring and reccurring," he said. "Muscle injuries are the easiest things to prevent. A lot of joints injuries are as easy to prevent if you prepare the muscles and connected tissue to withstand the forces on these joints. Some bone breaks and things like that are unpreventable. But often they are the result of a lack of co-ordination caused by fatigue.
"My philosophy is 'Fit Four Every Game', encompassing four areas: plan (to the nth degree); prevent (injuries so players play for you); condition (develop players' fitness levels); regenerate (muscles and energy levels).
"A club with a big injury list might be covering three of these four areas but suffering because they are not doing the fourth. At international level, it is different as a lot of it is out of our hands."
Roden says his methods, which marries science with football logic and are tailored to each individual player, are proven to work.
"At City, between the start of pre-season in 2009 and the end of November, there was one single injury, full stop. That has to be attributed to the training methods under Mark Hughes."
It goes left unsaid, but the arrival of Mancini in the December and double training sessions brought a wave of muscle and joint injuries at the club.
"Generally speaking, you have a big influx of sports scientists with extensive knowledge of science but without knowledge of football. Likewise, football coaches with a wealth of experience and knowledge of the coaching side but without a knowledge of the benefits of scientific principles."
Building good relationships with the clubs, particularly the likes of Arsenal and Tottenham, is imperative for Roden, whose brief extends to the age-group sides, the women's team and the Welsh Premier League.
He said: "A big part of my job is to go around the clubs to find out the players' normal environment and training methods to make sure that what we are telling them is not conflicting with what their clubs are telling them.
"It is about trying to build up a trust with the clubs so they realise we have got the players' best interests at heart, so the more information we can get from the clubs to help us learn, the most effective our training methods for the individuals."
The loss of Bale, Wales' most destructive player, has disrupted their plans. But for the team and Speed's extensive backroom staff, it need not prove decisive. Like the best boy scouts, they intend to be prepared.