Goal.com looks back over some crucial Scudetto deciders in recent years...
Game of the year, a tricolore play-off, Scudetto battle. Defined in the way which captivates you best, it's the fantastic Milan-Napoli clash that we have been waiting for.
We are about to witness a game that could be decisive for the title. A game that is, almost, as important as a European final. The hope, of course, is to see an intense and emotional title fight until the end of the season.
But, regardless of how this ends, the game at the San Siro will surely go down in the history books, just like the other games where the Scudetto has been up for grabs. In light of this, we have taken a look back at some of the most significant recent games in which a title has been decided.
Turin, 26 April 1998 - week 31
JUVENTUS 1-0 INTER
| | |
| --- | --- |
| Standings at kick-off: | |
| Juventus | 66 |
| Inter | 65 |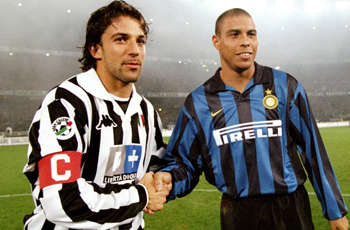 Say Juventus-Inter of 1998 and you think about the referee Ceccarini. That is nothing to do with Inter though, and the image that many will remember from that season will be the clash between Mark Iuliano and Ronaldo inside the penalty area. The replays from that game still evoke arguments among Juventus and Inter fans. Everything happened within a few seconds at the Stadio Delle Alpi. First, 'Il Fenomeno' went down inside Peruzzi's area, then a complete turn around as Juventus were awarded a penalty down the other end following a foul by Taribo West on Alessandro Del Piero (who went on to miss the kick). The game ended 1-0 to the Old Lady thanks to Del Piero's first-half strike. Over the next two league games Luigi Simoni's Inter melted like the snow, drawing with Perugia at home, and then losing to Bari. It was the most poisonous championship of all time.
Turin, 1 April 2000 - week 28
JUVENTUS 0-1 LAZIO
| | |
| --- | --- |
| Standings at kick-off: | |
| Juventus | 59 |
| Lazio | 53 |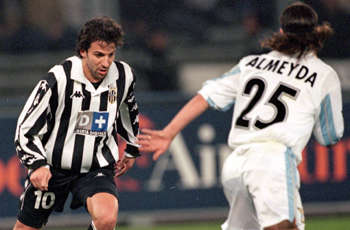 Same stadium, two years later. Plenty is at stake, but not as much as Juventus-Inter. The Old Lady are cruising in the league with seven games to go. Lazio, six points behind, travel to the Delle Alpi; a comfortable lead some said, but then the improbable happened. It was the game that should have closed title discourse for Juventus, and was finely balanced until the 65th and 66th minutes when Ciro Ferrara was sent off, and just seventy seconds later, Diego Simeone latched onto a Juan Sebastian Veron pass to send the ball past Edwin van der Sar. That was the turning point of the championship. Lazio made up ground on the Old Lady and won the title on the final day of the season when Juventus lost to Perugia amid a storm of controversy.
Turin, 5 April 2001 - week 29
JUVENTUS 2-2 ROMA
| | |
| --- | --- |
| Standings at kick-off: | |
| Roma | 63 |
| Juventus | 57 |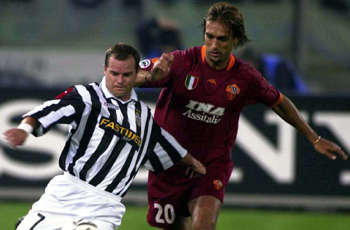 Still at the Delle Alpi, but 12 months on. Juventus face one of the most competitive Roma teams of the past two decades with Fabio Capello leading the Lupi. Roma arrive as the league leaders, six points ahead of the Old Lady. It's clear - everything will be decided in Turin. A Juventus win would open the race again, but for the Lupi a match-point would mean their Scudetto. It was a shocking start for Roma. Zinedine Zidane provided an assist for Del Piero, who gives his side the lead. The Frenchman then scores to make it 2-0, and Carlo Ancelotti's team were ahead until the 80th minute when, unexpectedly, Hidetoshi Nakata replaced Francesco Totti and cuts the deficit with a powerful strike. Vicenzo Montella then makes it 2-2 in injury time, and the title remains in Rome.
Milan, 2 May 2004 - week 32
MILAN 1-0 ROMA
| | |
| --- | --- |
| Standings at kick-off: | |
| Milan | 76 |
| Roma | 70 |
A Scudetto clash that meant the winner would go on to be crowned champions mathematically. Roma were six points behind Milan with just three games to go. Their title chase seemed desperate, and that's how it was at the San Siro. Lupi title hopes were dashed after just 60 seconds when Kaka provided a great ball for Andriy Shevchenko who was tucked his shot home. Roma didn't give up though, and continued to search for a goal. The capitolini were infuriated when a penalty claim was waved away after Shevchenko had handled inside the box. Fans were also fevered as bottles, coins and flares rained down from the stands. The game was stopped briefly before Milan's Scudetto party continued.
Milan, 8 May 2005 - week 35
MILAN 0-1 JUVENTUS
| | |
| --- | --- |
| Standings at kick-off | |
| Juventus | 76 |
| Milan | 76 |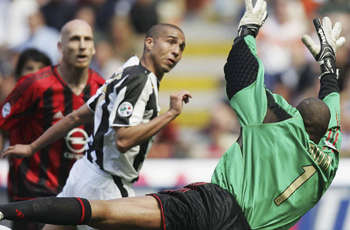 Milan against Juventus, 76 points against 76 points. In a temple of football like the San Siro, it's little wonder this was one of the most anticipated fixtures of the season, and the most exciting Scudetto play-off of the decade. Ancelotti's Milan were reigning champions, and on their way to a Champions League final against Liverpool. Capello was Juventus coach following the previous year's disappointment with Roma. All the superstars were on the pitch, however it turned out to be a laborious and less than perfect game. Juve were better than Milan, more solid, organised and had spark. After 30 minutes the deadlock was broken, when a brilliant overhead kick from Del Piero found David Trezeguet's head and he looped the ball past Dida. It was the goal that crowned Juventus champions. In 2006 it would be Calciopoli that redesigned history...
Rome, 27 March 2010 - week 31
ROMA 2-1 INTER
| | |
| --- | --- |
| Standings at kick-off | |
| Inter | 63 |
| Roma | 59 |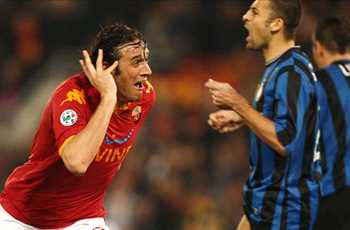 Roma against Inter, 59 points against 63 points. A loss for Roma would effectively end the Giallorossi's title ambitions, while a win for the Lupi would bring them to within one point of the lead. Roma took an early lead via club icon Daniele De Rossi, but Inter fought back after the interval as Diego Milito levelled the score. Towering striker Luca Toni, who had joined the club on loan from Bayern Munich in January, then became Roma's hero when he netted the winner in the 73rd minute. Inter's away loss against Roma eventually didn't cost them the title as they dropped only two points in the remaining seven games, while Roma dropped three, handing the Nerazzurri the spoils.