Goal.com's Michael Yokhin joins Espanyol supporters in thanking the man who changed the world in July
It's a glorious coincidence, almost destiny, that Andres Iniesta's last league game of 2010 will take place at Estadi Cornella-El Prat. There is absolutely no better way to celebrate the end of the historic year in Spanish football history than seeing San Andres treated to the most emotional reception by Espanyol supporters.
Iniesta is applauded at almost every ground in the country since scoring the winner in the World Cup Final against the Netherlands, and yet this one will be special. "Dani Jarque: siempre con nosotros" (always with us), the words on Iniesta's shirt revealed moments after the ball met the net, are the most beautiful and most significant words ever to grace the biggest sporting event. They are the extract of true sportsmanship, they helped to make the world a better place.
Too many World Cup finals are remembered for wrong and negative reasons: Zinedine Zidane's assault on Marco Materazzi (or vice versa, depending on which side you take), was the shameful scene in 2006; Ronaldo's mysterious illness completely overshadowed the 1998 final, and remains a sad reminder that business is more important than sports for many key officials; 1994 was a drab affair between Brazil and Italy, the first ever final to feature no goals, and the first to be decided by the lottery of the shoot-out.
The 1990 final is always be remembered for the dreadful Argentinean side, and the dive by Rudi Voeller that finished them off. And 2010 was only minutes away from joining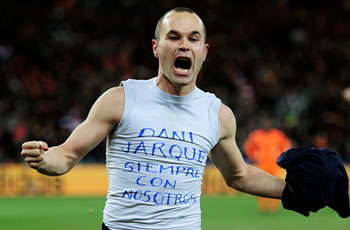 the list. It was destined to be an anti-climax to a poor tournament, ruined by defensive tactics and, more importantly, by the Jabulani disaster. Then came the moment that changed it all. The most memorable picture from South Africa is a positive one. Iniesta did it almost single-shirtedly. That shirt was presented to Espanyol president Daniel Sanchez Llibre last month.
Some would claim that Iniesta shouldn't have been on the pitch in extra-time after his stupid retaliation on Mark Van Bommel. They are absolutely right. That was a red-card offence, but even the most passionate Oranje supporters must admit the game of football was lucky Howard Webb chose not to send him off. It could have been a victory for one of the dirtiest players ever. It could have made Van Bommel the new Zidane/Materazzi. Those could be the scenes forever engraved in or memories. Instead, Dani Jarque lifted the World Cup.
It must be mentioned that Iniesta was booked for taking his shift off. That should go down as the biggest travesty in the game. The man who made such a moving tribute to a departed friend was cautioned and given the same punishment Nigel De Jong got for his kung-fu kick on Xabi Alonso. If FIFA were sensible, the automatic yellow card for shirt-lifting would be abolished there and then. If Webb were a bit braver, he would follow his instincts and keep the card in his pocket. But that is just an afterthought. The booking didn't really matter for San Andres at that moment.
For many, Iniesta became the symbol of honesty and modesty; of team unity and togetherness. When asked about his thoughts after the final whistle, he dedicated the win to Jarque again, and that was probably an even bigger tribute. It really felt like Spain had 24 players in their squad in South Africa. Maybe even 25, as Antonio Puerta was also paid homage by many players.
This is going to be a very special Saturday. Iniesta is about to take to the field Jarque didn't live to play on. For many Espanyol supporters in the stands, their late captain will be wearing number 8 in Barcelona shirt. They will let him know about it. And then the curtain will fall on 2010, the year that belongs to the two friends, former team-mates in Spain's U-17, U-19, U-20 and U-21 selections.
Gracias, Andres! Gràcies, Andres! Thank you, Andres!