Qatar
Today, football is as much about creating new industry and commerce as it is about sport - and nothing could gain profits quite like the World Cup. The host country benefits not only from money but also the prestige and from being the centre of attention around the world, doing a power of promotional good.
The Qatar bid has raised hopes in the Arabic World, having had them dashed when Morocco and Egypt failed to win the right to host the World Cup in 2006, 2010 and after Brazil won the 2014 rights. Qatar has brought the Arabic area to the fore again with tremendous preparation for this event.
Why they could win it
THE RIVALS
Japan

South Korea

Australia
USA

Qatar has many strong points, starting with a host of state-of-the-art stadiums it's going to build, with the new technology of using solar energy to cool the sports foundation - that includes stadiums, training grounds, even the crowd's seats.
These stadiums have a top modern design which has mixed the oriental style with newest technologies, so the fans will not only enjoy what they see on the field, but also outside the stadiums.
Qatar has successfully changed the point of view of people who consider small countries unable to host big events. The road network has been developed to make it easier for fans to move from one stadium to another in one hour maximum.
Also Qatar is supported by other Arabic countries, with all the Arabic football associations showing support in the media.
Qatar contains one of the most famous media channels in the world (Al Jazeera Network), which can provide impressive coverage for the World Cup such as it did with South Africa. This channel has great relations with the biggest footballing nations such as England, Spain, France and Italy.
Qatar also has noble targets; it will provide poor countries with the seats from its stadiums after the World Cup finishes.
Qatar can support its bid by displaying the organisational ability to stage big events such as the youth World Cup in 1995, tennis, golf, Formula 1 and world athletics. Qatar will also host the Asian Cup 2011, and successfully organised international matches between Brazil and England in 2009, and the recent Latino derby between Argentina and Brazil.
It is clear that Qatar has prepared an answer for every possible concern Fifa might have.
Why they might not win it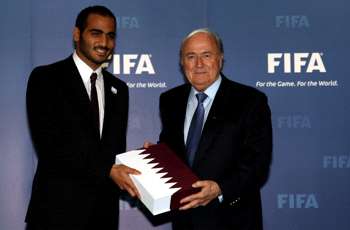 Qatar has failed to qualify for any previous World Cups, and has no famous footballer playing outside Qatar (only Hussain Al Mohammadi who plays for Egyptian club Al Zamalek).
Qatar might have a professional league, but because of the low number of citizens it has, spectator numbers are low. Matches of the scale of the World Cup would be completely new to the area.
Qatar has beat the weather in stadiums, but its competitors also have more temperate weather in summer, so there is no advantage to be gained there.
Qatar's rival bidders have improved in the last few years on the field, and are all ahead of Qatar in the Fifa rankings, which might affect the decision.
AMBASSADORS
The star of the bid
Say the word "Zizou" and people will immediately recognise the best player of his generation. Zinedine Zidane, the star of French football from 1998 to 2006 and formerly of Bordeaux, Juventus and Real Madrid, is the icon of Qatar's 2022 World Cup Bid.
With his Arabic origins, Zidane has been a long-time backer of the Qatar bid. "There is nothing impossible in trying to be unique," he said, "you just have to believe in your dreams then you can make it happen."
He added: "When I was young, the Castellan field was my training ground, it all started there 24 years ago, I improved my playing style, I live there in a small two-stair building, and because I am Algerian, I had to make double the effort of others.
"I don't know how many times I kicked the ball, maybe more than 1 million times before I walked my road to World Cup, Football has ability to unite and gather people, we saw that in South Africa, people meet and celebrate together, that is the magic of the World Cup.
"When I think about all the middle eastern youth I speak about how much they miss such an event, because football is for everybody."
Other ambassadors: Gabriel Batistuta, Josep Guardiola, Sami Al Jaber and Ronald De Boer, who said: "After I lived and played in Qatar for four years, I can strongly certify the amazing abilities for this country which allow it to host a wonderful World Cup. A World Cup in Qatar will be a celebration for football in the one of most generous countries around the world and representing the unity and understanding between people among all continents."
Sepp says
:


"

Qatar is not less than any of the other nine countries who applied for the 2018 and 2022 World Cups, it has what is needed to make this dream come true. It is a big country and its components allow her to organise this championship.

"


- October 2009

How Qatar might line up in 2022:
Saed Al Sheib

Jar Allah al Meri, Al Mahdi Ali, Ismael Khalife, Ibrahim Abd Al Majid.

Abd Al Aziz Hatem,Hamad Al Obaidi, Danial Gomo, Fahed Khalfan

Marconi Amiral, Saoud Al Khater
EXPERT VIEW
Mahmoud Maher, Goal.com Arabia
"Qatar has a unique feature: the stadiums are close to each other."
"Why not Qatar becoming the host country? She is prepared for it right now. If Fifa said to Qatar to organise the World Cup tomorrow, it will do it without any problem, just like England.
"I see the low number of citizens it has as an unsatisfactory reason to not give it the right to host the World Cup. Qatar has a unique feature: the stadiums are close to each other.
"As an Arabic person born and raised in this land, I hope Qatar could make it and convince the person in charge and get the right to host the World Cup. I am aware that Fifa may be affected by the history of USA in football and by Australia which never organised this championship before and Fifa may ignore Asia after many people complained about the Japan-South Korea World Cup in 2002.
"I have no doubts that Al Jazeera will be a very important factor in Fifa's decision, because it can lead the media with its strong network. It also means the media and newspaper infrastructure is already present, giving the reporters and media men all they need to present great coverage, something lacking in South Africa 2010."