In a new weekly series, Goal.com will be compiling the statistical data, expert analysis, and progressive season records on the two best players in the world, Lionel Messi and Cristiano Ronaldo.

For this week's head-to-head battle, with both players scoring three very different goals each at the weekend, we look at the type of goals that they netted throughout the 2010-11 season so far.
How They Played This Week
Who came out on top in the recent round of La Liga action?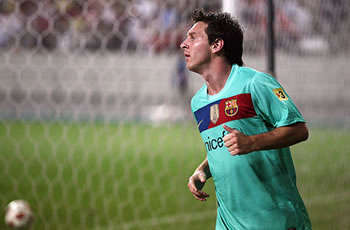 Lionel Messi (Almeria 0-8 Barcelona)
Barca equalled their biggest ever away victory in La Liga when they slaughtered Almeria. But it was Messi who stole the show with a hat-trick of goals (his sixth of the calendar year) and a pair of assists. For the sixth time this season, the Argentine opened the scoring for his side with a clinical strike on the edge of the box after exchanging one-twos with David Villa.
His second was more fortunate, pouncing on a rebound after his initial shot was blocked by Almeria goalkeeper Diego Alves. His third, meanwhile, demonstrated his poacher's instincts, reacting first to take advantage of a spill by Alves to tap the ball into the empty net. There was nothing lucky about his two assists, though, as he played two incisive, well-timed through passes to set up both of Bojan Krkic goals.
Goal.com Player Ratings Comment:
Man of the match. Are there enough superlatives in the world for this man? Another virtuoso performance from the Argentinian who made light work of dismantling the Almeria defence. Six hat-tricks this year, can he make it seven in next week's El Clasico?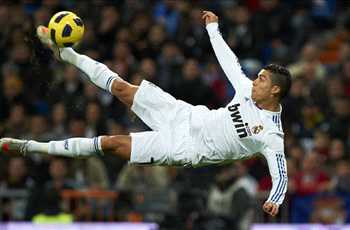 Cristiano Ronaldo (Real Madrid 5-1 Athletic Bilbao)
Not to be outdone, Ronaldo promptly responded to Messi's hat-trick with a treble of his own to inspire his side to a rout over Athletic.
His first goal, Madrid's second, was a clinical strike on the edge of the box like Messi's first. Picking up a sublime cushioned volley from Mesut Oezil, CR7 stroked the ball with his left foot into the bottom corner.
If that was a precision goal, his second of the night was all power. He rifled in a trademark free-kick from 20 yards out which swerved and dipped past a bamboozled Gorka Iraizoz. His third was more straightforward, tucking away a penalty despite having to re-take.
Ronaldo could have bagged four goals in a match again, but for the second Real Madrid penalty in a row, he gave way to a team-mate to convert.
Goal.com Player Ratings Comment:
Bagged a hat-trick and was unstoppable yet again. He was impeccable in every department tonight. Took his first goal well, scored a nice free-kick and put away the penalty in injury time with confidence. Even his diving was top-notch - especially for San Jose's yellow card in the second half.
Lionel Messi
(vs Almeria)

Cristiano Ronaldo
(vs Athletic Bilbao)
Goals
3
3
Shots (On Target)
5 (4)
8 (3)
Assists
2
0
Passes (Completed)
83 (78)
37 (28)
Balls Lost
5
14
Balls Recovered
3
0
Fouls Suffered
0
2
Goal.com Rating
9.5
8.5
Video Analysis: Messi & Ronaldo's 2010-11 Goals
Debate has raged as to the merits of the types of goals that Messi and Ronaldo score. The Argentine has netted in the style of which he has become synonymous; mazy runs, neat interplay with his Barcelona colleagues and typically clinical finishing.
From either just on the edge of the area or just inside, he strikes with unwavering accuracy into the corners, as noted by his efforts against Sevilla, Panathinaikos and most recently in the annihilation of Almeria. When closer in though, he often chooses to commit the goalkeeper and then clip the ball over their despairing dive and into the net. His sublime finish on the opening day against Racing, and also in the home win over Villarreal showcase this particular attribute.
However, he also nets his fair share of what are perceived to be "ugly" goals, such as his instinctive effort against the Yellow Submarines, or his deflected strike against Sevilla, meaning that Messi makes goals in a variety of fashions.
Ronaldo has faced accusations that he only scores simple goals, and while he has netted his fair share of finishes from inside the area this season, as shown in the routs of Racing and Malaga, he has showcased his immense pace and driving determination in order to find himself in the position to score.
His goals against Deportivo, and particularly against Athletic Bilbao on Saturday, also highlight the incisiveness of his finishing when one-on-one with the keeper, and his calmness when presented with an opportunity to score.
There can also be no denying his prowess from set-pieces; a penalty kick is as good as a goal where CR7 is concerned, and his ability to threaten from free-kicks is shown with the efforts against Bilbao, Real Sociedad and Milan. While Ronaldo's goals have a tendency to be more straightforward, it does not make his strikes any less important for Los Blancos.
Story of a Season


Who's had the best campaign so far in La Liga?
Season Stats






Minutes Played
939
1134
Goals


Penalties
Freekicks
First goals

13

14

*



Total Shots (On target)

49 (28)

90 (34)

Assists

5

5

*



Passes

636
557

Passes Completed

540

410

*Marca, who awards the Trofeo Pichichi, has credited Ronaldo with 15 goals (and 4 assists)