Rafa needs to carve a legacy of his own at Inter; the manner of the defeat suffered at the hands of Spurs will not help his cause...
Inter
did not play to their own strengths against Tottenham Hotspur in the Champions League defeat, nor did they exploit the weaknesses in the English side's ranks. Instead, Rafa Benitez produced an inert display that left his key players isolated and frustrated as Spurs' key components savaged his defence.
Wesley Sneijder and Samuel Eto'o were the only two players in blue and black who looked likely to penetrate the Tottenham rearguard but they were denied adequate support from the flanks. The Frenchman Jonathan Biabiany best encapsulated the spirit of Inter on the night; not bright or enterprising enough in attack and woefully ignorant of defensive tasks.
Maicon was left exposed against Gareth Bale, as he was at San Siro, and was made to look foolish, slow and past his best. It was no thanks to Biabiany, who shied away from work inside his own half all evening. It was no great surprise to see Biabiany start the game, but Benitez should know enough about the English game and Bale to have been able to prevent the horrifying evening that was endured by the shaken Maicon. After all, Phil Neville and Seamus Coleman of Everton were deployed to significant effect against Spurs in the immediate aftermath of the 4-3 defeat suffered by Spurs in Milan and tamed the rampant Bale. What prevented Benitez from utilising Javier Zanetti in a similar vein?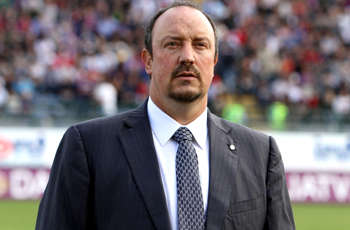 Rafa Benitez | Didn't start the game well, nor alter it favourably
Tottenham may only have had an equal share of the ball possession as Inter but they used it to greater effect. Every player in white played close to his potential while the deficiencies were well masked. Inter could not sufficiently worry Alan Hutton, who has shown a tendency to be defensively fragile. They could not offer the necessary numbers in and around the Spurs box to provoke Younes Kaboul or Benoit Assou Ekotto into a mistake.
Benitez set out his team, seemingly, in the hope of getting the tie over and done with. There was scarce evidence of a will to win from the Italian team and they were duly punished for their lack of ideas, urgency and conviction. In midfield, Zanetti, 37, and the woefully inept Sulley Ali Muntari were over-run and out-thought by the Spurs duo of Tom Huddlestone and Luka Modric. The Croatian had, perhaps, his best game for Spurs to date. His passing was unerring and his appetite for the ball was never quelled.
Rafael van der Vaart took up a similar station to his compatriot Sneijder at the opposite end and provided more in 45 minutes than his good friend mustered in 90. He did so because he was supported ably from the flanks and from behind. Muntari and Zanetti did not seek to join whatever amounted to Inter attacks from deep whereas Modric grabbed himself an assist.
The Mourinho factor will haunt Benitez throughout his Inter tenure and he has invited comparisons and criticism following last night's defeat. His pre-match press conferences veered towards Liverpool and Roy Hodgson as he focused on staunchly defending his legacy at Anfield. He needs to surmount the legacy of Mourinho at San Siro but did not help himself by succumbing to defeat at Spurs.
Granted, injuries robbed Inter of Esteban Cambiasso, Dejan Stankovic and others but the manner in which Benitez dealt with those blows was inept. His bench was not exactly loaded with stars either but he made no attempt to alter his team's shape despite the bountiful play that Spurs made time and again. He introduced Obi Nwankwo and Philippe Coutinho before Diego Milito. The Argentinian and Eto'o up front together, provided Sneijder could find the right passes, could have put Spurs on the back foot. Instead, one was shunted to the wing and Inter persisted with their one-dimensional play.
They deserved to lose for their lack of invention and lack of intrepid attacking play. Moreover, Tottenham Hotspur deserved to win. Inter will probably qualify for the next round but on this form, with this coach, they show little promise.