Gareth Bale's Just Getting Started...

Undoubtedly the performance of the night, Gareth Bale's barnstorming showing against Inter has confirmed his status as one of Europe's brightest rising stars.
Of course his potential has been well-known for a long time now - not least among Premier League fans - but to put in a performance of this calibre - combining energy with maturity - against the European Champions is a very different proposition to league play (in which, paradoxically, he's been posted missing of late.)
Certainly he will, one day, make one of Europe's top clubs very happy indeed. But in every sense he's just getting started. Bale has plenty more to offer, and in time that will become clear.
For now his one weakness is that he loses the ball often - an occupational hazard for a winger, but one that will lessen in time, especially if he is permitted a better partner on the flank than Benoit Assou-Ekotto. With the correct coaching Bale will realise his potential sooner rather than later.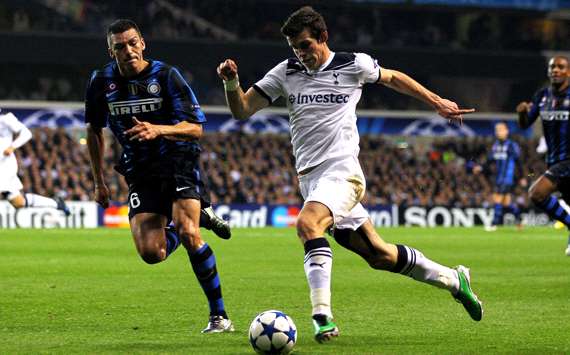 There He Goes Again - Gareth Bale had Inter's defence pocketed
... While Maicon's Hit The End Of The Line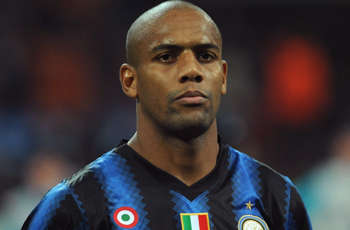 The same was once said for Maicon, and for a long time it was true. Well into 2009 he was known as the world's best attacking fullback.
But his decline has been as swift as his rise
was long and majestic: the Maicon we saw tonight bore no relation to the one who won awards mere seasons ago.
Yes, he made some enterprising runs, but little resulted of them, and while he was once able to balance his offensive forays with swift and decisive returns to defensive duty, tonight he found himself caught out time and again by Bale, and also Assou-Ekotto's overlaps.
There was no balance whatsoever to Maicon's play, and as well as Spurs' excellence, his disappointing performance was a key reason for Inter's heavy defeat in London.
Goalkeepers Aren't Always Subject To The Rules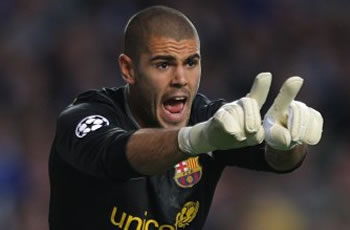 The Laws of the Game clearly state that jumping at an opponent is an offence meriting a direct free-kick. As such when one player rushes out and leaps towards another in an ill-advised attempt to win the ball, and smashes straight into their hapless opponent with their knee, one would expect a set-piece, if not a yellow card for a reckless challenge.
But wait. There's one variable missing: the flying player is a goalkeeper. So that's alright then.
That seemed to be the thought process of referee Cristian Balaj in Copenhagen as Barcelona's Victor Valdes 'did a Toni Schumacher' and collided with home favourite Dame N'Doye. Valdes was well within his right to challenge for the ball but rising into the air with a leading knee is reckless - maybe even dangerous - no matter whether one is a goalkeeper or not.
(It's been said that N'Doye had fouled Puyol in the build-up and the whistle had already gone. Were that the case then obviously there was no foul - a foul can only be committed when the ball is in play - but surely Valdes was still guilty of dangerous play?)
Hugo Lloris' weakness is...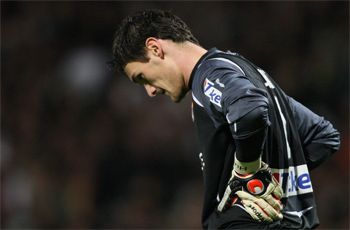 Sticking with the goalkeeping theme, here we alight upon Lyon and France stopper Hugo Lloris. There is no doubting that the young 'keeper is fine at dealing with shots and one-on-ones, and also works well - at least at times - with a vocal defence. But his inability to command his box at corners and high crosses is now the elephant in the room for Lyon.
Sadly for Les Gones, said elephant deposited two great lumps of goal in Lisbon on Tuesday night as Benfica ran out 4-3 winners against an OL side who might have felt themselves good enough to merit a draw.
A seven-goal encounter can never be called dull, but it's always preferable to see such a match in which offensive mastery, rather than defensive mediocrity, brings the end product. Sadly this was not the case in the first half as Benfica perhaps surprised even themselves by carving out such a simple lead.
Goal one: Alan Kardec's header is excellently placed and reasonably powerful, but from that distance Lloris should have either instructed his defence better or met the ball. Goal three: Javi Garcia is able to jog goalwards as Lloris actually dives away from the ball. The striker meets Carlos Martins' corner: the goalkeeper does not.
It may seem churlish to focus on one player's weak aspects after such a match but if Lyon are to truly consider themselves among Europe's greats then they cannot lose games like this. Benfica, meanwhile, need to last the full ninety.
Yes, You Can Attack Barcelona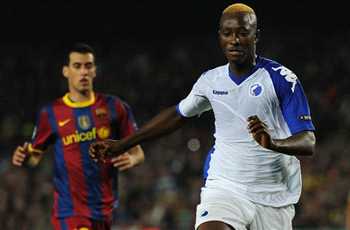 The stats may predictably read 65% Barcleona possession and 35% Copenhagen, but don't be fooled: Copenhagen made the most of the ball tonight, especially in the first half. But not in the way you might expect. Hercules came to Camp Nou and scored with virtually their only chances of the game: Copenhagen welcomed Barcelona to the Parken and took just one of several.
Indeed, it was this fearless style of play that actually had the Blaugrana on the back foot for much of the first period - not until the second did Pep Guardiola manage to steady the ship - and at a time when it is pronounced that all teams must defend deep and hit on the break with one up front against Barcelona it's nice to see a team breaking the mould. FCK's fans were magnificent, as usual, but it would be patronising to say that they got behind a plucky underdog who got lucky. That may apply to most teams who take points from Barca - but not this one.
Follow the Champions League LIVE on Goal.com:
Commentaries, Stats, Player Ratings and much more,
Visit Goal.com Live Scores!