Inter
played out one of the most interesting Champions League matches you are likely to see in 2010-11, defeating ten-man Tottenham Hotspur 4-3.
The Nerazzurri were particularly dominant in the first-half, racing to a 3-0 lead after 14 minutes, which included a penalty conceded by red-carded Spurs goalkeeper Huerelho Gomes for clattering Jonathan Biabiany in the area, before Samuel Eto'o put the cherry on the cake and made it 4-0 after 35 minutes.
In a soap-opera like twist, Tottenham outnumbered but full of pride fell just short of a spectacular comeback, as left-sided wonder Gareth Bale scored a late hat-trick that had Inter scratching their heads as the match ended 4-3.
Coach Rafael Benitez suggested those events should 'teach Inter a lesson.'
"We played wonderfully in the first half, scoring four times and playing beautiful football, but after the break the team seemed a bit too relaxed and started to think about Sunday's game [against Sampdoria]," he said post-match.

"This is an important victory, but we must learn from our mistakes and avoid a repeat of what happened in the second half in the future."

Dejan Stankovic and Philippe Coutinho had similar sentiments, the injured Serbian stating:
"It was only a loss in concentration. We didn't put our head down and continue to play well. In these matches, we need to keep on playing at our very best until the end."
And the Brazilian starlet: "Then after the break we were a bit slower and at the end struggled a bit. We made a mistake in thinking the game was over, an error we cannot repeat."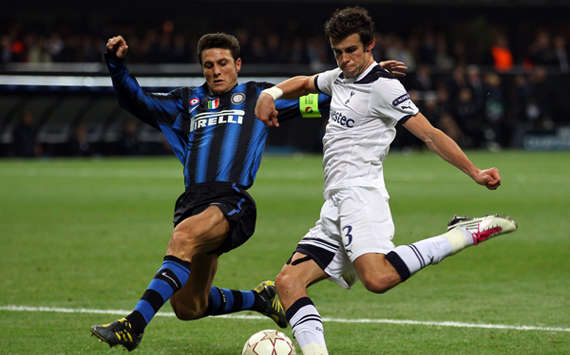 Bale Us Out - Spurs' No. 3 epitomised the desire Inter lacked in the second-half
What lesson is he talking about? One of complacency. Inter, mighty Europan champions that they are, thought Spurs would be as happy as they were to pass the ball around second-half, but that wasn't the case.
The pace of Aaron Lennon and Bale, who scored three goals so nearly identical you'd be forgiven for thinking they were showing replays if you were watching on television, exposed one weakness that was negated in the first-half by Inter's dominance.
However, once Inter took their foot of the gas, they could not get remotivated for the final stages and if ten-man Tottenham can make them pay then imagine better opposition.
Benitez has a tough task following on from Jose Mourinho and he has done an adequate job of replacing the 'Special One' so far, but in this fixture it was clear Inter lacked that ever-present intensity from last season. The kind of intensity they displayed in 2009/10 at Stamford Bridge against Chelsea, against Barcelona, and when they defeated Milan with a man less for nearly the entire match.
How worrying is it for Inter? Alarm bells certainly won't be ringing just yet - but it's perhaps a timely reminder that the mental side will be just as important as the physical down the stretch and that good football involves both aspects.