On September 17, 2000, a 13-year-old boy from Rosario, Argentina, arrived at the Camp Nou to begin his dazzling rise from impressionable youngster to bona-fide Barcelona genius.
A decade ago today, Lionel Messi, accompanied by his father and agent Horacio Gaggioli, took his first tentative steps on the road to becoming the world's greatest player. The Blaugrana were initially cautious, deterred by his diminutive frame, and carefully considered whether Messi met the Camp Nou standard.
They needn't have worried. He almost returned to Rosario, but eventually then-coach Carlos Rexach offered him the opportunity to continue his development, and from that moment the cultivation of the phenomenon we know now commenced.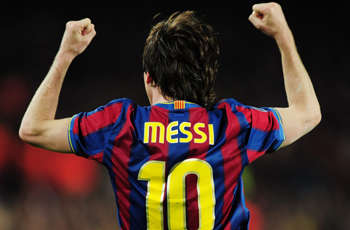 Blaugrana Debut
Three years later in 2003, aged 16 years and 145 days, Messi made his debut versus Porto in a friendly, and less than a year later on October 16, 2004, this remarkable individual arrived in La Liga, making his bow against Espanyol.
In the incredible passage of time since that momentous appearance, Messi has collected four league titles, two Champions League winner's medals, a Copa del Rey, as well as a European Super Cup, World Club championship and four Spanish Supercopas. At the age of 23, he has achieved everything possible at club level.
Injury Woes


Early in his career, Messi struggled to overcome a series of muscle injuries as the club and sought to prepare him for the rigours of European football. It was a difficult journey, and when Messi pulled his hamstring during a Champions League match versus Celtic, the pain and disappointment was plain as he held back tears upon leaving the field.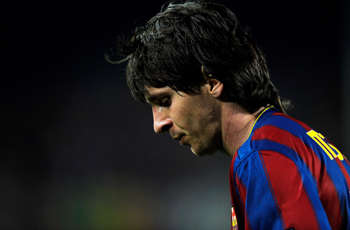 Emulating Maradona
In April 2007, after establishing himself as a first team regular, Messi validated the 'new Diego Maradona' tag by slaloming through the Getafe defence to score a wonderous solo goal strikingly similar to those accomplished by Diego himself, and cause team-mates to remark that it was the best goal that they had ever witnessed.
Unprecedented Success
When Pep Guardiola took over in the summer of 2008, it heralded a new era for the club and also for Messi, who drove the club to an unprecedented Triplete triumph of league, domestic cup and Champions League in a single Spanish season, in the process scoring 38 goals and providing 18 assists.
Ballon D'Or Accolade
The exploits of his previous season at Barcelona, which included a headed goal versus Manchester United in Rome to seal the club's third European Cup, saw him recognised officially as European footballer of the year, winning the much-coveted Ballon d'Or trophy, an award he later dedicated to the support his family had provided him throughout his career.
European Golden Shoe
In the 2009-10 season, Guardiola switched Messi into a more central role, and reaped the rewards as the Argentine notched an astonishing 47 goals in all competitions, including 34 in La Liga to claim Europe's top goalscorer award. Disappointment followed in the form of a Champions League exit, but Barcelona retained La Liga and Messi was named the league's best player for the second year in succession.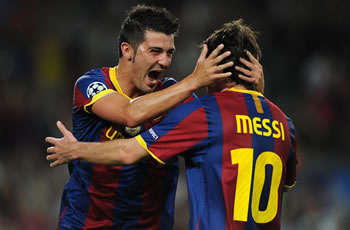 The Future
The arrival of David Villa at the Camp Nou during the summer has seen Messi link up with another new striking partner, but this one appears to be for keeps. He has already shown an understanding with the Spanish international that suggests more success is to follow.
Team-mate Xavi said recently that Messi "has the ability to be the best player in the world for another decade." If that is true, then football lovers across the world can expect another decade of vintage Lionel Messi moments.