Goal.com investigates...
Marvelling at the beautiful Soccer City Stadium in Johannesburg or Durban's magnificent Moses Mabhiba venue, it is easy to understand why many believe that South Africa is the perfect stage for an African team to finally win a World Cup.
A whole continent will be united behind the hosts Bafana Bafana, Nigeria, Algeria, Ghana, Cameroon and Cote D'Ivoire; the expectations for each team will be on a grandiose level. Seeking to make their respective nations proud, all of the African players in this year's World Cup will raise their games. However, whether or not there is a belief in actual success is yet to be seen.
From Salomon Kalou of Cote D'Ivoire to Obafemi Martins of Nigeria, it is not hard to get distracted by the level of talent on many of the African team rosters. But is it enough? According to one of Africa's biggest stars, Cameroon forward Samuel Eto'o, talent isn't enough.
"The World Cup is played as much in your head as it is physical," said Eto'o through an interpreter at Puma's African Unity Experience held in Paris several days ago.
When discussing whether or not winning the World Cup is realistic for African teams, there is always a hesitation to make a confident statement. While most players will speak in lengthy platitudes over their excitement to play in their home continent, almost all will shy away from saying that their team will win. Pressed on the subject and many players will suggest that they believe the world does not want to see an African team hoist the cup.
"I grew up with the image of England versus Cameroon," said Eto'o referring to the 1990 World Cup, when a controversial penalty denied his national team success. "When you grow up with that, you wonder whether it is possible for us to reach such a level."
He added: "I had a traumatic experience back in 1998 with Cameroon versus Chile. We had two goals that were refused. It is all a question about whether the world is ready to see an African team win the World Cup."
It is these situations that had Eto'o's team-mate, defensive midfielder Landry N'Guemo, proclaim that the only way an African team would win is if FIFA made major changes at the top of the ladder.
"Change the president of the World Cup," N'Guemo joked with reporters. "I really believe it [that changes need to be made], but I think with good preparation, an African team can win but it will be very difficult."
As subtle as Eto'o and N'Guemo try to be, the elephant in the room is that the players are discussing deals with the issue of race. Even with the advantage of hosting the World Cup in Africa, there is still a prevalent fear among many of the African athletes that long lasting prejudices will affect their chances. To FIFA's credit, the governing body has gone above and beyond to enforce strict anti-racism laws and has preached the importance of fair play. It is this focus that assures Ghanian legend, Adebi Pele, that football is minimising the impact of racism in regards to the outcome on the pitch.
"Let me just make this clear: those times are past. That was nearly 20 years ago," said Brazilian World Cup winner Pele. "I am not saying that what they said is totally wrong. It is important to look at your past, to prepare yourself for the future. The game is about fair play, that's FIFA's motto. It is the rule of the game. The one who is the best goes."
If race is the external issue holding African teams behind, then infighting can be considered as one of the continent's internal restraints. In a curious choice of timing, legendary Cameroonian footballer Roger Milla called out his nation's best player Eto'o, questioning the forward's passion and workrate two weeks ago. While some of the African press credited Milla for trying to inspire his team's star, some argued that the comments were self-serving to preserve his lofty status.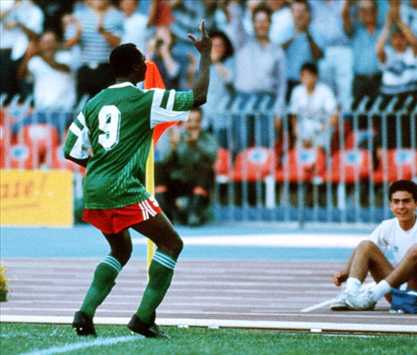 Those sentiments would seem accurate, as shortly after hearing Milla's comments, Eto'o reacted angrily towards journalists and threatened to retire from international play altogether. Making Milla's comments even more questionable was Eto'o's recent red card in a 3-1 warm-up loss against Portugal. It is clear that the Inter player has been unsettled.
Aside from the mental dilemmas that might serve as distractions, another Cameroonian legend, Patrick Mboma, argued that people should not get carried away with the progress that African teams are making. The retired striker believes that all of the top African teams greatly underachieved during the Africa Cup of Nations earlier in the year and wonders whether or not the teams can just flip the switch back on.
"Yes, there has been progress among the players but this progress is not as high as it needs to be," said Mboma. "I don't believe that in a few months there can be such great progress."
Over the past few months, most pundits will argue that the lack of resources compared with their counterparts in Europe and South America have negatively impacted the performances of African teams on the pitch. There are stories of teams' buses being significantly delayed, hotel reservations not being made and matches being cancelled entirely due to lack of organisation. While all of these factors are very relevant, Mboma believes that the talent is not at the level of the world's top footballing countries, especially since most of those countries have the luxury of having star players on the bench.
"I think the difficulties are on the field, which isn't the case for teams like Spain for example. Of course, there will be the advantage of playing at home and the support, but that doesn't mean they can win the cup. Organising the cup doesn't mean that you will win it. You need to have talent."
Even though it might not seem logistically possible for an African team to win, especially with the recent injury news regarding Michael Essien and Didier Drogba, Mboma and Pele want more than anything else to see an African team succeed. Both former players greatly assisted in paving the way for later generations of African stars to flourish and prosper. With the entire world straining its eyes on the beautiful pitches on African soil, both know that if success were to happen it would continue the immense progress that has been made by the continent and inspire hope for the still many issues that remain.
"Africa has its chance to showcase itself," said Pele. "We already won the Under-20 World Cup because it was organised in Egypt. There was an advantage. Some people don't have the trust or belief that we can do it in South Africa, but I have that belief."
Alex Labidou, a Goal.com contributor, is based in New York. Follow him on Twitter @SportsLab.

Can an African side go all the way? Check out Castrol Football's 2010 FIFA World Cup Success Predictor.



Become a fan of Goal.com India's Facebook fan page for all the latest news and insight into everything related to the beautiful game!