Goal.com looks back on the Champions League final and five key components that helped the treble winners overcome their European hoodoo...
1) Diego Milito

It's not hard to figure out that the 30-year-old was an important factor, simply by looking at the scoreboard. You'll see the Argentine's name not once, but twice as he continued his penchant of scoring in big matches. His goals clinched all three of Inter's titles this season – the Coppa Italia, Serie A and now the Champions League. President Massimo Moratti's dream has been realised in no small part due to his efforts. At Real Zaragoza and Genoa he proved to be a capable scorer, but at Inter he displayed a world-class pedigree at the top level and will hope to carry that into the World Cup.

2) Bayern's Weak Defense
Milito clincially took both his chances with great aplomb, but also exposed FC Hollywood's centre-backs, a weakness that had been highlighted throughout the season in Europe's top competition, even against Manchester United and Fiorentina, and an Achilles heel that
Goal.com
's Ewan Macdonald
pinpointed before the match
. In the first instance, he beat Martin Demichelis in the air before playing a give-and-go with Wesley Sneijder and completed his brace when he left Daniel van Buyten for dead.
3) Motivation
Of course both sides had their motivations, but in reality it may have propelled the Beneamata further than the Bavarians on the day. As
Goal.com
's Peter Staunton reports,
Mourinho was motivated to defeat former mentor Louis van Gaal and win 'the war' with Italy
. The players were motivated by history – an Italian club's first-ever treble season and patron Massimo Moratti motivated to replicate his father's success. Eto'o determined to succeed somewhere other than Barcelona, Lucio resolute in overcoming the side that let him go, Sneijder unwavering in his goal to succeed at the Santiago Bernabeu, the list goes on...
4) Selfless Style Of Play
It may not be the most pretty football to watch – Arsenal or Barcelona will offer you more of a spectacle – but the Nerazzurri proved they are the most effective in 2009-10 by working hard and diligently for one another. Samuel Eto'o is a true example, having given up his goalscoring instincts for a spot on the wing, Lucio and Walter Samuel threw their bodies on the line time and time again, Javier Zanetti dug deep to find the energy reserves to cover men and ground, and even Maicon curbed his attacking enthusiasm on Saturday evening.
5) Jose Mourinho
Yes, you all knew this list would end with 'The Special One'. Tactically he was spot on once again – denying Bayern space in the attacking third, keeping their opportunities to a minimum, and of course ending their hopes – as he did to Chelsea, CSKA Moscow and former champions Barcelona. Now on his way to Real Madrid, he leaves a legacy in Milan having won a historic treble that the fans will remember for years to come. His time in Serie A was anything but smooth, but in the end it was a boost for himself, the club and the country.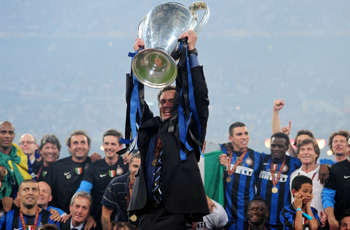 Become a fan of Goal.com India's Facebook fan page for all the latest news and insight into everything related to the beautiful game!