COMMENT
By Ben Hayward at Camp Nou
Actions, it is often said, speak louder than words. Barcelona, however, spoke strongly and succinctly on Friday on the subject of Manchester United target Cesc Fabregas. The message from the Catalan club may not have been loud, but is was certainly clear: Cesc is not for sale at any price.
United have already made two bids for the former Arsenal captain and manager David Moyes claimed earlier this week that negotiations were "ongoing", perhaps hoping that new Barca boss Gerardo Martino would want to dispense with the 26-year-old midfielder for a big fat fee. But that was never going to be likely.
MARTINO MAKES SLICK START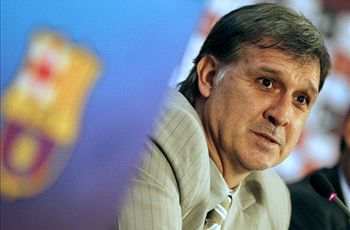 He was asked about everything but responded each and every time. Diplomatic, charismatic, polished and polite, new Barcelona boss Gerardo Martino made a slick start to life at Camp Nou on Friday.

'Tata' thanked the club, wished the best to his predecessor Tito Vilanova and promised to stay true to Barca's 4-3-3 system, attacking football and entertainment as he was unveiled to the media at Camp Nou.

He also vowed to recover the very best from the Blaugrana side which dominated under Pep Guardiola between 2008 and 2012, while he claimed there would be no confrontations and added that all of the players will be given a chance to prove themselves over the next few weeks.

A year ago, Martino revealed, he had never thought he would be here. But now he is, he clearly intends to make the most of it. So far, so good.

Asked about the possibility of selling Cesc at his unveiling on Friday, Martino replied: "I am not going to get involved in the club's finances, but the club have already rejected two bids and I'll reject a third."
If that was not clear enough, vice-president Josep Maria Bartomeu spelt it out in even more forceful fashion to United and any other club who may have been hoping to join the race for Cesc's signature. "We are not thinking of selling Cesc," he revealed. "We are not annoyed [by United's persistence]; we are proud that there is interest in one of our players, but we are very happy with him. Whatever offer we receive for him, he is not for sale."
So while it is true that the player himself has grown frustrated at being left on the bench at times and also at having to play in a number of different positions for the side he grew up supporting, he does not want to leave Barcelona. "I want to stay at Barca forever," the midfielder said in February and, although he was later booed by a section of his own fans during the semi-final rout against Bayern Munich, his desire is to stay and triumph at the Catalan club. "Cesc is happy and he wants to stay here," team-mate and friend Gerard Pique revealed recently, while former Barca boss Tito Vilanova added earlier this month: "I am aware he has received offers, but he wants to stay."
And Barca also want to keep him. With Xavi showing signs of slowing down and unable to complete two games a week without feeling the effects and Thiago Alcantara sold to Bayern Munich recently, Fabregas will likely receive much more playing time in midfield during the coming campaign.
Further forward, the incorporation of Neymar means Cesc will probably play fewer games in that sector from now on, but with Thiago having left, he acts as cover for both Xavi and Andres Iniesta in midfield - and is set to start many games next term. Let him leave and Barca would need to go out and replace him, then find a player of similar quality able to slot in to their system. And there are few such players available.
Had Thiago stayed, Barca could conceivably have decided to place their faith in the younger man (although they would have wanted to keep Cesc anyway) but in his absence, Fabregas is now even more important to the club's plans for 2013-14 and beyond. The Catalans have been gradually reducing their debts, do not need the money and would weaken their team by dispensing with the 26-year-old. So expect Barca's actions to reflect their words when they say he is not for sale this summer.
Follow Ben Hayward on