SPECIAL
By Aditya Bajaj
Serie A: 7th
Champions League: Round of 16
Coppa Italia: Quarter-finals
Games: 25
Won: 11
Lost: 9
Drawn: 5
Win %: 44%
GF: 44
GA: 32
GF ratio: 1.76
GA ratio: 1.28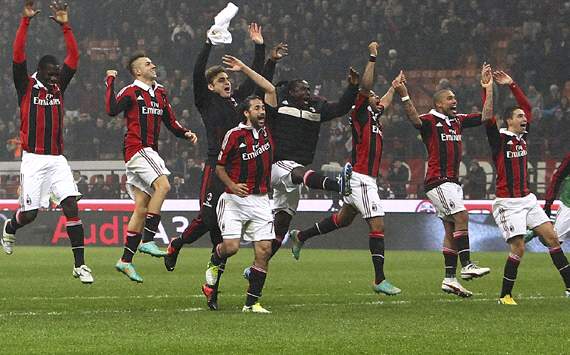 After a devastating start, Milan have shown great character to make a comeback in the season
It was always going to be very un-Milan like season for the Rossoneri. Having seen a host of veterans and stars leave the club in the summer to either start a new era or knock off the burden of continuous losses over the years to balance their account books, the start to the season was worse than it was expected of them.
Opening their campaign with a loss to Sampdoria at home, the Diavolo went about to experience their worst start in over 80 years of football, suffering heartbreaking defeats against Atalanta, Udinese, Inter, Malaga and Lazio among other things. Amidst continuous criticism about his future, head coach Massimiliano Allegri seemed clueless as to the right formation for his team and it is only commendable how the former Cagliari man kept trying knowing that someday things would click.
And click they did!
Since the initial two months of the campaign, Milan have been on quite a run with two defeats to Fiorentina and Roma in the last 13 matches in all competitions. Of course, Zenit came to the San Siro and took all three points but that was inconsequential to the home team as far as Europe was concerned having already qualified for the next round where they were only recently drawn against the might of Barcelona scheduled to be played in February.
The Rossoneri have done extremely well recently, and having successfully made the climb up to the upper half of the table they are only seven points behind second placed Inter, and that crucial Champions League spot for next season that until October was far from a dream for the fans seems more than a possibility.
But then it all depends on how Allegri goes on about managing his side for the more crucial phase of the season that begins once the winter break is over with that Round of 16 double header against the best team in Europe by miles who he failed to defeat in four attempts last season even with the likes Zlatan Ibrahimovic and Thiago Silva by his side.
In a nutshell – a devastating start to a crucial era, but one that has been lifted both by the players and the management who have set a rare example by standing together in a time of crisis and deserve the recent turn of events.
Milan need to make sure there are no hiccups from hereon.
Milan need to replace the injured De Jong and find a partner for Stephen El Shaarawy
With Robinho and Alexandre Pato almost certain to leave the club in January, Milan need to buy a striker not just to fill up the numbers but to share the work load with Stephen El Shaarawy who at 20, is too young to be carrying the team on his inexperienced shoulders despite his brilliant performance this season. Giampaolo Pazzini is nothing more than an average striker and hence cannot be trusted to get the results especially in the second half of the season where a every game will be played like a cup final.
Nigel De Jong's season ending injury is a major blow for the side, as he had just started to settle down with his new team mates as was evident by some confident displays alongside Antonio Nocerino and Riccardo Montilivo in the new midfield triumvirate that has paid dividends over the past two months or so.
The defence has been a weak link, and the loss of the Dutch international opens up space for the immediate acquisition of a destroyer who can shield the back four with much steel like the former Manchester City midfielder even though Galliani and co. deny the need to sign one with Sulley Muntari and Captain fantastic Massimo Ambrosini capable of filling the void but that's not enough.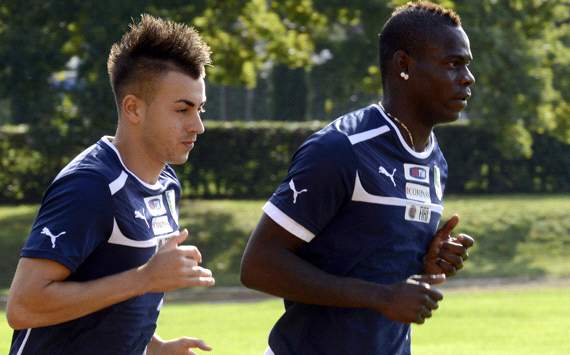 The national team pairing of El Shaarawy and Balotelli could soon be leading the Milan attack
MARIO BALOTELLI:
The Italian international has been unsettled at Manchester city under the tutelage of Roberto Mancini, but that's hardly any news. Lack of playing time and constant disruptive behaviour from the former Inter Milan player, have made sure that his relationship with the Premier League champions is more than over.
What makes his transfer a possibility though is Milan's flirtation with the Palermo-born striker which is the worst kept secret in Italian football. Silvio Berlusconi and Adriano Galliani have been open-admirers of Balotelli who on his part has never hidden his love for the red half of Milan even during his stint with the cousins on the other half of the city.
While an initial loan deal with an eye on a transfer might cut out a deal for the Rossoneri, it would be interesting to see if the Sheikhs at City would be willing to let go of their enigmatic striker on the cheap having made it difficult for Milan to sign Carlos Tevez earlier last January. The money might be a problem for the Rossoneri, but the departure of Robinho and Pato can galvanize this move.
Tactically Balotelli suits Allegri's need of a more assured center forward who could also play on the wings and a partnership with national team colleague Stephen El Shaarawy will pay dividends as seen during Italy's friendly against France back in November. As for his behaviour, Milan have had a history of buying players with troubles and helping them deal with it who in return have delivered on the pitch with Ronaldinho, the original Ronaldo, Zlatan Ibrahimovic and Robinho amongst the troubled ones.
He is cup tied in Europe and that will be a hindrance though Milan should solely concentrate on the league at the moment.
DIDIER DROGBA:
The latest to be identified by the press as Milan's solution to their striking department but it will be a fight to the finish with Juventus seemingly coming out on the top thanks to their own problems in the same department. A proven winner and big game player, even at 35 Drogba still has much to offer to any side in Europe and having drawn Barcelona in the Champions League, it will instill some fear in the hearts of the Catalans as the Ivorian has a proven record against them.
His 5 million euros wages may not be a problem considering that he comes free of cost, but it's the years of experience that he carries with him that could prove to be useful for a young Rossoneri side trying to usher off a new era.
He can be the leader they need in the short term, but definitely not the one for the future though. Also, he is only available in February due to his commitments with the national side for the African Cup of nations in January.

DANIELE DE ROSSI:
Once considered as the next captain of AS Roma after living legend Francesco Totti, De Rossi has seen his stakes take a massive decline both before the fans and the club for the first time in his career. No longer considered an integral part of Zeman's midfield three, the Italian international desperately needs a change of scene and with an opening at Milan in his position, he is exactly what they need more so in De Jong's absence.
Like Balotelli, his transfer fee may be a huge issue but tactically he's perfect and the prospect of fielding him alongside another international in Riccardo Montolivo means that Allegri will be revolving his midfield around the national pair which will help both Milan and Prandelli's Italy.
Also being pursued by high spending PSG and Manchester City, it's a difficult bet for Galliani but having pulled of miraculous coups in the past, this definitely cannot be ruled out.
He should be marked as a priority!

KEVIN STROOTMAN:

The PSV Eindhoven midfielder has been ear marked as Mark Van Bommel's heir by the former Dutch captain himself and has been a long time target for Milan who are looking for a defending midfielder. A replica of his colleague at PSV, Strootman will join as one amongst the many belonging to the Rossoneri's rich Dutch culture and the presence of Netherlands internationals Urby Emmanuelson and Nigel De Jong will make it easier for him to settle down.
A fee in the region of 10-15 million euros might be sufficient to entice him from Holland but with much competition from Manchester United who need him as much as Milan do right now, it will as difficult for the club as it will be exciting for the fans throughout the winter.
Though De Rossi brings about much experience and assured talent to Allegri, Strootman fits well with the club's policy of youth and 'fit for the future' program and will be pursued till the very end.
PABLO ARMERO:

Until last season the Colombian was a revelation as a wingback for Francesco Guidolin's Udinese, but this time around he has received only limited playing time fueling a January exit more than ever before. Again locked in the tussle will be Juventus who would look to replace the departing Kwadwo Asamoah set to represent Ghana in the African Cup of Nations in January while Milan have struggled to replace the great Paolo Maldini ever since the legend retired back in 2009.
A tailor made left back in the region of 10-12 million euros but with Mattia Di Sciglio's continuously good on both sides of the wings as a full back, he is not really an immediate requirement anymore. Not to forget Kevin Constant surprising renaissance by Mauro Tassotti as a left back and the chances of this signing seem even more clouded.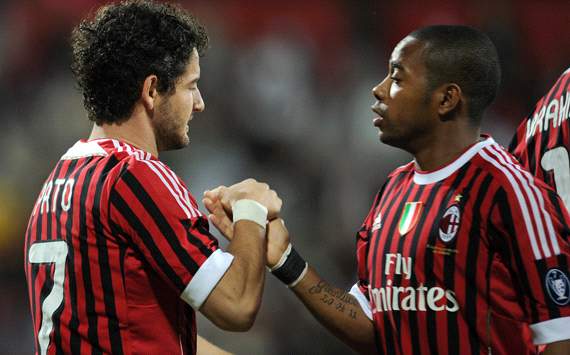 The Rossoneri may have seen the last of the Brazilian duo who look set to move to Brazil
January could end Milan's long standing association with the core of Brazil as both Robinho and Alexandre Pato look set to leave for their homeland after a disappointing season so far. While Robinho has made no secret of his desire to leave the Rossoneri to return home, Pato's departure in some way will be heartbreaking given the fact that he was supposed to be their next superstar since his arrival as a seventeen year old back in 2007.
Having inherited Pippo Inzaghi's number 9 in August, the club have always stood by 'the Duck' but may not be able to any longer as declining a multimillion offer for player with a devastating history of injury and continuous declining market value does not fit the bill for the club looking to replenish themselves financially to compete with the best in Europe. Stephan El Shaarawy's rise has also played its part but quite frankly no one can be blamed for this love affair that just wasn't meant to be – not the club, not the fans and not Pato himself.
Galliani has made it very clear that he is looking to reduce the size of the squad and apart from the Brazilian duo, a host of players like Djamel Mesbah and even the French pair of Philippe Mexes and Mathieu Flamini could make way to free the wage bill.
Don't forget to let us know in the comments section below or discuss on twitter@adityabajaj

How do you stay up with football when on the move? With http://m.goal.com – your best source for mobile coverage of the beautiful game.