Except for defeating city rivals Atletico Madrid over two legs in the Copa Del Rey in February, Carlo Ancelotti's Real Madrid have struggled to win when they face the elite teams. They have lost the two clasicos to Barcelona (2-1 and 3-2) and failed to get the better of Atletico in the league (1-0 and 2-2).
Yes, they did manage to beat Juventus at home with Cristiano Ronaldo scoring twice but it must be noted that the visitors were fighting toe-to-toe until Giorgio Chiellini was sent-off early in the second half. In the return leg, they drew 2-2. Their trip to San Mames saw them draw 1-1 with Athletic Bilbao with Ronaldo being given marching orders.
They thrashed Borussia Dortmund 3-0 at Bernabeu but that was a side which didn't have Robert Lewandowski – the man who tore them apart last season with four goals at Signal-Iduna Park and several other first team players like Neven Subotic, Marcel Schmelzer, Ilkay Gundogan, Sven Bender and Jakub Blaszczykowski.
Only the Polish striker's return from the above list to the side helped Dortmund massively as his hold up play and movement opened up Madrid's defense on a number of occasions.
Ancelotti's decision to start with Assier Illarramendi alongside Xabi Alonso and Luka Modric came back to haunt him. The 24-year old was guilty of losing possession and gave away the ball on countless occasions. It was his error which led to the second goal scored as he conceded possession to Lewandowski whose shot was pushed onto the post by Iker Casillas before Reus scored on the rebound.
In the first 45 minutes spent on field, Illlarramendi failed to make a single tackle against any Dortmund player in a game where the opposition was pressing to counterattack.
Madrid were committing school-boy errors and lost their composure on the ball, reminiscent from last season's semi-final clash. Pepe's back header for Casillas saw Reus surge ahead of Dani Carvajal and nip it to take the ball ahead of the custodian and slot it into an empty net.
Xabi Alonso who is one of the best ball players in the world, lost the ball on a couple of occasions only to be bailed out by his defense. He was lucky to have even stayed on the pitch and from his first foul, Hummels' header from a Reus free-kick produced a top class save by Casillas.
Madrid have Henrikh Mkhitaryan to thank for as he missed two gilt-edged chances in each half. First Lewandowski and Reus combined with the latter teeing up the Armenian who didn't convert from inside the box. In the second half, Reus set him up again and the former Shakhtar Donetsk player rounded off Casillas only to see his attempt come off the post.
Dortmund never allowed Madrid to settle after the initial few minutes of possession as they forced them into committing errors. They were struggling noticeably to compete with Dortmund's gegenpressing as they rushed with the ball and couldn't come out of their own half. Such was their impact that of the 12 shots taken by Dortmund, 11 were from inside the box – which highlights that they weren't tackled or intercepted either by the midfield or the defense of Madrid.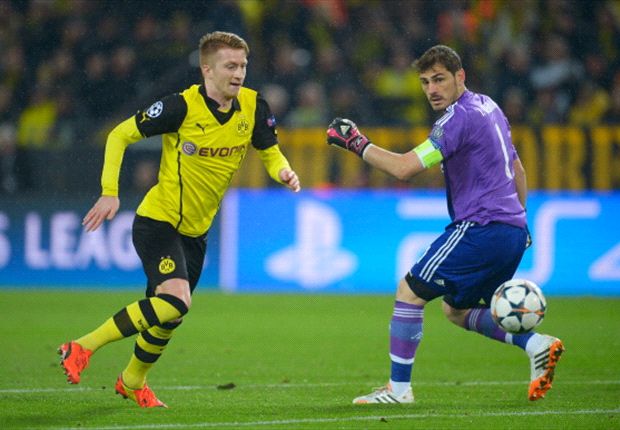 With Isco's introduction after the break, Madrid saw more of the ball and tired legs contributed to Dortmund not pressing as much.
The best save of the game came in the 73rd minute when the Madrid skipper palmed away a shot from inside the box by Kevin Grosskreutz.
It isn't that Madrid didn't have chances to kill the tie off. They won a penalty which Angel Di Maria fluffed from with Roman Weidenfeller keeping his team in the game. Bale also forced the goalkeeper into making a couple of important saves in the second half.
The mother of all misses was of Karim Benzema. The Frenchman was put through on goal by Modric and he rounded off Weidenfeller but was tackled by Hummels eventually to waste the opportunity. This was indicative of him not having learnt from his past mistake in the clasico where despite having scored twice, he missed as many as four clear cut chances which in the end Madrid had to pay for.
Real Madrid have always progressed into the next round if they do take a 3-0 lead in the first leg. That record was in danger for much of the night as Dortmund's wastefulness coupled with Casillas' brilliance between the sticks kept the Spanish side in the competition.
There have been talks of them winning the 'La Decima' this year as every season, but they need to improve by many leaps and bounds and such mistakes will not go unpunished in the semi-finals.
"We can't make errors like that in the semi-finals. Maybe it's good for us to get a wake-up call like that from time to time. Its better that it came tonight," said Casillas.
And the Madrid skipper couldn't be more right.