DEBATE
By Chris Myson & Paul Macdonald
At the start of this season, many observers believed Iker Casillas would return as Real Madrid's No.1 goalkeeper under new coach Carlo Ancelotti.
Instead, the Italian has followed in Jose Mourinho's footsteps and opted to continue with Diego Lopez in La Liga matches. Casillas has been restricted to playing in the Champions League and Copa del Rey.
In recent weeks, Lopez's form has come under scrutiny for the first time and calls to reinstate his rival goalkeeper have intensified.
With the 2013-14 season now reaching the decisive stage where silverware is won and lost, who should be Madrid's first-choice keeper?
Goal
's Chris Myson and Paul Macdonald go head-to-head over the issue …
"CASILLAS IS THE BETTER KEEPER & IS IN FINE FORM"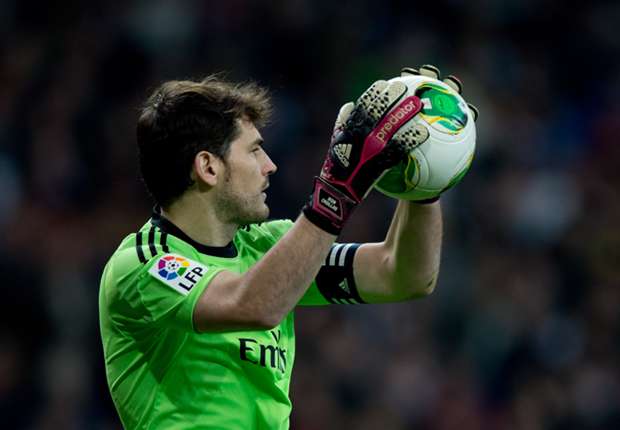 By Chris Myson
In recent months, it has become clear that Iker Casillas should be Real Madrid's No.1 goalkeeper going forward.
That is not to say the signing and subsequent selection of Diego Lopez has not been a positive move for
los Blancos
. Indeed, for many seasons Casillas has been completely unchallenged in the Bernabeu goal, and there is no doubt that under Jose Mourinho the Spain shot stopper's standards dropped. Mourinho and subsequently Carlo Ancelotti have now shown the 32-year-old that he is not untouchable despite his iconic status.
However, Casillas has produced the perfect reaction to being dropped and his form has been getting better and better. Some of the displays have been so good that it has taken just one major mistake from the reliable Lopez before calls to bring his rival back into the starting XI intensified.
With a point to prove when playing in the Champions League and Copa del Rey, he has been fantastic and made a number of astonishing saves. Madrid remain in the running to win both competitions. In 15 matches he has kept 10 clean sheets and has still not been breached in eight Copa ties – surely good enough form to earn a permanent recall.
When both goalkeepers are at the top of their game, even Lopez's biggest fans will admit that Iker has the edge – and that is a potentially decisive factor when the margins between success and failure are so fine. Despite Lopez's quality, he is not superior. Casillas is now approaching what should be a keeper's peak years. He remains one of the world's best in his position and it would be foolish for Madrid to rid themselves of his influence and experience.
He is rejuvenated and determined to prove himself all over again and ensure his legacy is secured. Of course, the continued presence of Lopez or the arrival of a younger goalkeeper who is good enough to challenge would be beneficial, keeping Casillas on his toes and ensuring real competition for the No.1 spot.
But the time has come for Iker to take the gloves on a permanent basis again and play his part in guiding this talented squad towards silverware.
"LET LOPEZ GET ON WITH THE JOB - HE'S BEEN FANTASTIC"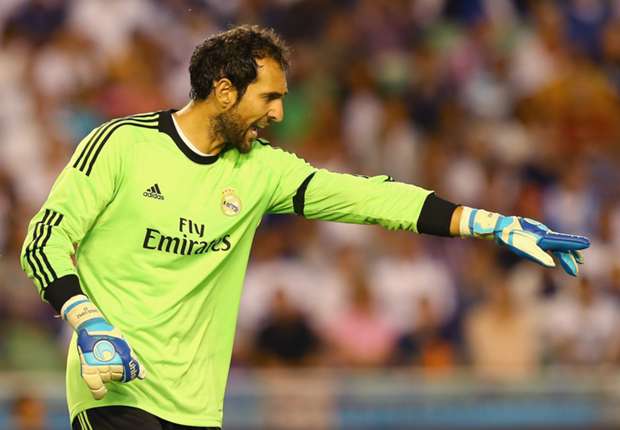 By Paul Macdonald
Diego Lopez is a fantastic goalkeeper. He hasn't let Real Madrid down.
His dependable performances have been an integral part of his side's reversal in fortunes domestically; 11 league games since the turn of the year, eight clean sheets. As Barcelona and Atletico Madrid have stumbled, Madrid have kept their eye on the prize. Eighteen league games unbeaten have as much to do with the assurance of the shot-stopper as it does with the exploits of the Bale-Benzema-Cristiano triumvirate. It seems that the dissenters' main problem with Lopez is simple – he's not Iker Casillas.
The way in which Lopez has been scrutinised for the admittedly poor goal he conceded to Gabi in the derby has been unnecessary. One genuine mistake in the best part of 15 months, for a goalkeeper, is pretty impressive stuff. San Iker's fan club forget that he racked up numerous errors before Jose Mourinho took the decision that enough was enough.
The rivalry has been a positive one for both men. Casillas has had Jerzy Dudek and Antonio Adan for company over the past few years. With such woefully inadequate cover, Iker got lazy. Complacency plagued his game. Now, with Lopez challenging him every day, he has raised his game, as highlighted by his own clean sheet record in cup competitions that was only ended by Klaas-Jan Huntelaar's wonder goal for Schalke.
The current set-up works. Madrid are in the hunt for a famous treble and the consistency of their displays across all competitions belies the fact that two keepers have shared duties. Why the desire to rock the boat? Making such a change at this point in the season threatens to derail the situation. Casillas has accepted, and openly admitted, that Lopez's form means that he deserves his place. Why are others so willing to impact on a perfectly balanced scenario?
Lopez merits his continued run. Working under the intense glare of
Madridistas
who magnify his every move, he has barely put a foot wrong. Let him get on with his job.
Follow Paul Macdonald on