COMMENT
By Kris Voakes | International Football Correspondent
Every football coach has a trademark reaction to times of woe. Some slump back in their seat, others throw their hands up in frustration, while one former manager would chew ever so slightly quicker on his stick of gum. When things are going wrong for Rafa Benitez, he begins to grimace and tends to touch his forehead or stroke his beard with quickening regularity. He did a lot of both last week.
Napoli couldn't have had a more damaging return from the international break. A home defeat to Parma saw them fall six points off the pace in Serie A, while the failure to pick up the point they needed against Borussia Dortmund for Champions League qualification has left them with a mountain to climb against Arsenal next week.
The upshot is that a club which looked ready to challenge on two fronts are now outsiders in both. Only a win by a three-goal margin against the Premier League leaders will keep their Champions League challenge alive, while Juventus' unrelenting form in Serie A suggests that the Partenopei need to become more ruthless – and fast – if they are to have any hope of sticking with the champions.
While their new dimension in attack since the sale of Edinson Cavani has largely driven Napoli forward, Benitez still has the problem of a somewhat static defensive unit to cope with. On Wednesday in Dortmund they looked like Walter Mazzarri's version of themselves once more, becoming stretched far too easily and appearing vulnerable to dead balls throughout.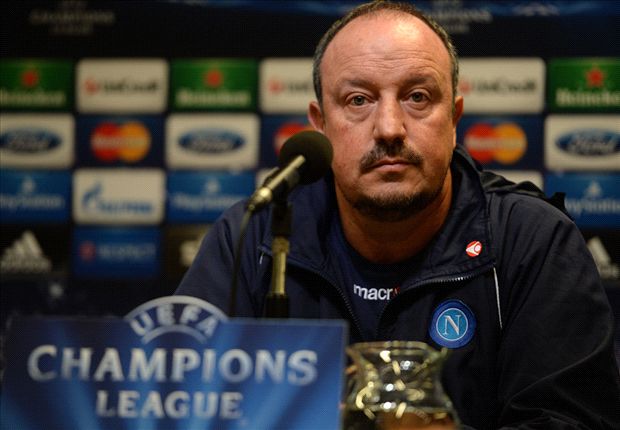 Benitez | The old European magic has not done the trick so far this season
There is no doubt that they could still do good things this season. A return to the Champions League should be secured with something to spare, but the final hurdle that Benitez was brought in to negotiate by winning a title and becoming a European contender still appears beyond the club with the current squad as it is.
Christian Maggio may be one of the world's most accomplished wing-backs, but he has proven himself to be an adequate right-back at best for both club and country. Though many in the Napoli squad have benefitted from Benitez's change of shape, it has done endless damage to Maggio's form, confidence and reputation.
Elsewhere there are other gaps which need to be filled. Raul Albiol needs a centre-back partner of greater quality than the likes of Federico Fernandez, Miguel Britos and Paolo Cannavaro can offer, while Pablo Armero has a similar problem to Maggio on the other flank. Juan Zuniga has failed to provide the consistent performances of a Scudetto-winning left-back.
In midfield there are adjustments that could and should be made too. Valon Behrami has come on in leaps and bounds over the last few years, but for all his endeavour he is not a top quality midfielder. The Azzurri have looked superb on the counter this term, but when they have been forced to take the initiative in games they have not had the creativity from the first midfield line to break down organised defences. If there were a second Andrea Pirlo, Napoli would be well advised to snap him up. An ability to spot and administer quick changes in play would come as an immense boost.
It was always going to be a big ask for Benitez to add the required quality into more than one layer of the Napoli squad in such a short space of time, and their draw in the Champions League's 'Group of Death' dealt him a tough hand too. But the signs remain bright despite a tough last 10 days highlighting several long-standing issues within the squad.
This incarnation of Napoli should follow the team of Diego Maradona, Careca and Bruno Giordano by becoming champions of Italy and a force in Europe once more. It may well not happen this season but, given a little care and attention in the right areas, it won't be long before Neapolitans are partying in the streets once more.
Follow
Kris Voakes on