Following an uninspiring 2-2 draw against Cardiff City, not many would have foreseen a resounding 5-0 Manchester United victory away to Bayer Leverkusen in the Champions League. To the delight of their supporters though, that's precisely what transpired against the second-placed Bundesliga outfit and it was in no small part down to the timeless brilliance of Ryan Giggs and a rejuvenated Shinji Kagawa who looks a different player in his preferred attacking midfield role.
David Moyes was made to do without key players in Rafael, Nemanja Vidic, Robin van Persie and perhaps most notably, Michael Carrick. Given their lack of pedigree in the midfield department, Carrick's injury was a big blow to United and seemed to be a decisive one on the weekend as Tom Cleverley and Marouane Fellaini's lacklustre display in the middle of the park offered little encouragement.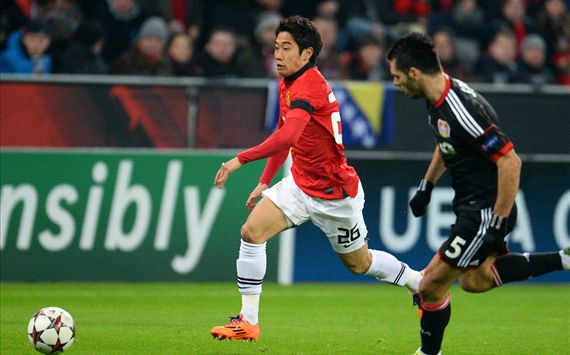 Kagawa looks a different player as a number 10
However, the United side that looked sluggish and blunt in south Wales had its engine overhauled for the clash against Leverkusen as Giggs, Kagawa and Phil Jones' inclusions transformed the team's style of play and radically raised their tempo. The Japanese attacking midfielder thrived in his role behind Rooney and looked threatening every time he received the ball in the final third.
The victory over the Germans proved that playing Kagawa out wide is like wearing your best suit to the grocery store; it's undoubtedly sleek and classy but misused, gravely out of place and to quote Jurgen Klopp in all his eloquence – "crazy".
The problem is Wayne Rooney has nailed down that number 10 position for himself with his sensational run of form this season and having directly contributed to four of United's five goals at the BayArena, it's unlikely that it will be pried away from him anytime soon.
Giggs was a the pass-master in Carrick's absence
Two days before his 40th birthday, Giggs bossed the midfield against strong German opposition in Europe's

"Our speed was key tonight. We killed them on the counter attack and it was a pleasure to play behind the front four."
premier competition and his every touch oozed class. His performances in central midfield give United a glimpse into what it could be like if they signed an established central midfielder with mobility and the willingness and aptitude to play the ball forward quickly.
Time and again the United player-coach sliced through the Leverkusen midfield with penetrative passes into Kagawa's feet, affording the Japanese opportunities to turn and run at the defense with Rooney, Nani and Antonio Valencia offering options ahead of him. It's that kind of penetration and swift change of tempo that United have desperately lacked of late.
His vision and first-time passes, along with Kagawa's expertise in the final third, were paramount to a swashbuckling United performance that featured the return of arguably the most eye-catching aspect of their play – the counter attack.
The opening goal saw a sweeping move initiated by a driving run from Kagawa before he passed it to Giggs who wasted no time in playing in Rooney. The English international curled a delightful cross to the far post for Valencia to finish off a deadly move.
RYAN GIGGS vs LEVERKUSEN | ROLLING BACK THE YEARS

Passes Completed

Pass Accuracy

Assists

Chances Created

53/58
91%
1
3

The final goal of the night summed up Giggs' performance. Once Anderson rolled the ball into his feet, the Welshman instinctively hit a first-time pass over the top of the defense for Nani to latch on to, round the keeper and finish neatly from a tight angle. The goal scorer had a lot of work to do and executed it well but the nonchalant lofted pass from Giggs was simply exquisite.
While on the topic of exquisite passes, Kagawa and Rooney turned on the style for the fourth goal. The former Borussia Dortmund playmaker pulled off a cheeky chip over a couple of defenders for Rooney who repeated the feat to allow Chris Smalling to tap into an empty net.
Rooney and Kagawa linked up superbly on the night but none of it would've been possible without Giggs pulling the strings in midfield. One of his less notable duties was to drop in between the two center-backs who pulled wide when initiating United's build-up play, a responsibility Carrick normally takes on and to a certain extent, Giggs did fill the void left by the injured 32 year-old.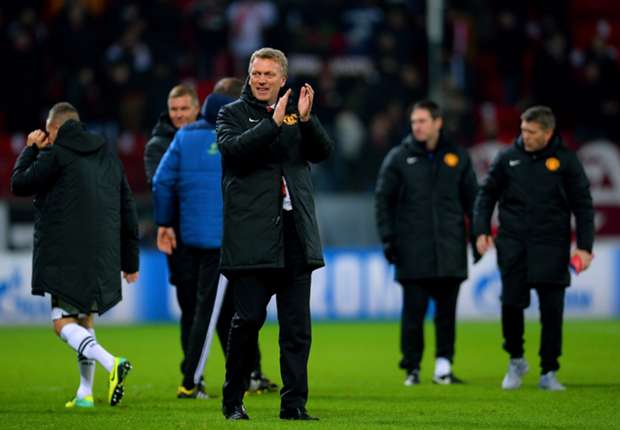 United's best performance under Moyes
He certainly isn't a like-for-like replacement though. The Welshman may be defensively aware but Carrick's knack for interceptions and his ability to read danger is undoubtedly superior. However, that's where Jones comes into the picture as the 21 year-old complemented a veteran, nearly twice his age, with aplomb.



"People are going to question Ryan's age but you can't question him as a footballer. Everything he did, the way he went about his job, he didn't look fatigued at all."





- David Moyes


His energy, tenacity and tackling allowed Giggs to concentrate on linking up with the attack rather than being overly concerned with what was behind him. At the moment, the duo look like United's best combination in midfield and it's just a shame that Giggs isn't able to play every game.
This performance from the ageless midfielder was no flash in the pan though. Earlier in the group when United entertained Real Sociedad at home, Giggs basically ran the game in which the hosts should have bagged three or four goals rather than coming away with just the 1-0 score-line that flattered the away team.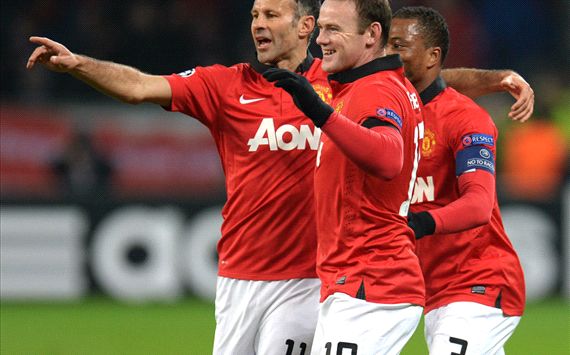 The win points towards United's aptitude for attacking football
He also came on against Cardiff and immediately raised United's game, even executing what should have been a game-winning long ball to Rooney who could only miscue his square pass to Danny Welbeck.
There were several outstanding performances as you would expect in a 5-0 win with Rooney, Valencia and the central defensive pairing also delivering but with the spotlight firmly focused on United's midfield, Giggs and Kagawa in particular certainly put on a worthy show. Their invention, positivity and fleetness injected life into a waning United attack and renewed hope in every one of their fans who have longed to see their side play with such panache and authority once again.
How do you stay up with football when on the move? With http://m.goal.com –your best source for mobile coverage of the beautiful game.