DEBATE
From the moment the draw was made for the Champions League proper, Group F was singled out as the 'Group of Death'. And that is exactly how it has turned out to be as we move into the final two matchdays.
Arsenal and Napoli currently share top spot with nine points from three games, while Dortmund are third with six points. But due to the current head-to-head record between the teams, the English side are red-hot favourites to progress to the knockouts - meaning that the battle for the second qualification place will likely be decided during Tuesday's clash between BVB and Napoli in Germany.
A win for Dortmund will all but see them through, assuming they see off group whipping-boys Marseille in their final game. While a draw or win for Napoli will guarantee the Italians qualification and see the Germans exit should Arsenal, as expected, beat Marseille at the Emirates.
It will be sad to lose one of the competition's best sides this season so early, but if you had to choose between Dortmund and Napoli - who would you rather see in the next round?
Goal's Stephen Crawford and Vittorio Campanile go head-to-head over the issue …
"I'D RATHER FANATICAL KLOPP THAN BORING BENITEZ"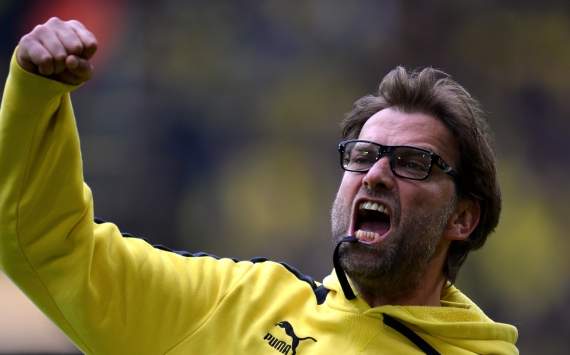 By Stephen Crawford
Anyone who's watched Borussia Dortmund in recent times will know they are one of the most exciting clubs in the world. Slick football, a coach that you can't help but love. Hell, even their fans put on a show. BVB deserve a stage as prestigious as the Champions League.
Given the obvious team spirit that radiates from the side, it was a shock to see Mario Gotze leave for Bayern in the summer and to hear that Robert Lewandowski will almost certainly follow him in 2014. However, the Schwarzgelben have barely faltered.
The acquisition of hugely talented pair Pierre-Emerick Aubameyang and Henrikh Mkhitaryan have more than made up for the loss of Gotze, so a debate over individual talent would see Napoli trailing.
Marco Reus, Ilkay Gundogan, Lukasz Piszczek, Mats Hummels - the list of quality players goes on and on. No disrespect intended, but add those to the aforementioned stars and line them up next to what the Italians have on offer and it's a no-brainer.
BVB even have entertainment value on the sidelines: the boring Rafa Benitez or the immensely passionate and fanatical Jurgen Klopp? I know who I'd rather see.
But there's a major hurdle that stands in Dortmund's way other than Napoli's strength: their lack of defensive options. BVB's entire first-choice backline is injured, meaning Sven Bender, Kevin Grosskreutz and Erik Durm are likely to line up next to the only natural defender left in the squad, Sokratis. But wouldn't progressing after having to start three midfielders in defence make for a more romantic story?
The current incarnation of Borussia Dortmund is an example for other clubs and players to follow. They play with pride and they play with passion. Napoli are fast becoming a force and you have to feel that their time will come, but it would be an injustice to see it happen now at the detriment of what has become one of the most easy to watch, lovable sides in football today.
Follow Stephen Crawford on

"NAPOLI ON THE UP, DORTMUND ON THE WAY DOWN"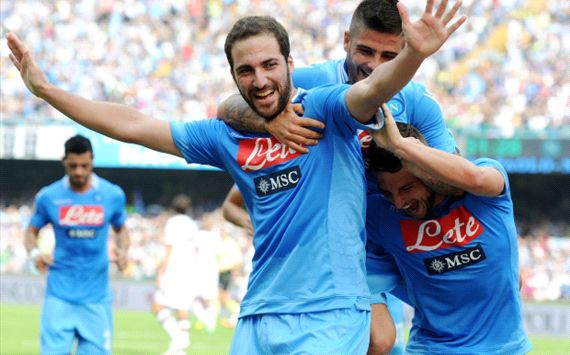 By Vittorio Campanile
In Italy, Napoli have taken over the mantle from AC Milan and Inter in becoming Juventus' main rivals for the
Scudetto
.
We are often reminded of the
Partenopei
from the halcyon days when Diego Maradona, Careca and Bruno Giordano showed the world the power of an incredible team that won two
Scudetti
and a Uefa Cup.
President Aurelio De Laurentiis is now attempting to replicate that wonderful side and build a squad capable of competing for major honours in Europe. He has invested heavily over the summer from funds received from the transfer of Edinson Cavani to Paris Saint-Germain, bringing in the likes of Gonzalo Higuain, Jose Callejon and Raul Albiol from Real Madrid.
Napoli have demonstrated in the last few years that they are ready to compete at the top level. The last time they featured in the Champions League they beat Manchester City and eliminated them from the tournament. Eventually their progress was brought to an abrupt halt by Chelsea, despite winning 3-1 at home, but the signs were there that this team was showing promise.
The inclusion of Rafa Benitez as coach has been a masterstroke as he has shown his tactical nous and expertise in Europe time and again over the years - winning the Uefa Cup with Valencia, Europa League with Chelsea and Champions League with Liverpool. He is a winner that needs to stay in the competition.
Napoli are building a team to be more competitive in Europe and in Serie A, which is the opposite of what Dortmund are doing. BVB sold their best player to rivals Bayern Munich this summer, Mario Gotze, and will lose their top striker Robert Lewandowski to the same club for free next year.
If they continue to sell their best players Dortmund will not be able to compete at this level for very long, while Napoli have the potential to grow as a club because De Laurentiis is willing to invest. This is why Napoli, with a very interesting project, deserve to progress from the group phase.
BVB are a team on the down, Napoli are a club on the up.

Follow Vittorio Campanile on