The season of 2012-13 in Europe has been one which saw teams who were once deemed unbeatable being exposed, legends of the game calling it a day, managerial changes, new powers coming to the limelight and the emergence of a new order from Germany.
No one would have given Borussia Dortmund nor Bayern Munich much of a chance to reach the final when the likes of Real Madrid, Barcelona, Manchester United and Juventus were around. What transpired is just a reminder to not write any off any team in a football game.
One would imagine Bayern Munich still being haunted by the ghosts of last seasons final at Munich. Snatching defeat from the jaws of victory is an accurate way of describing the Bavarians' defeat to Chelsea in the final of the Champions League in 2012. Add to that the relinquishing of power in the Bundesliga to Dortmund was an even more painful way to end a campaign which they are expected to dominate.
Bayern coach Jupp Heynckes will oversee his final match in charge of Die Roten against Stuttgart and this time he is out to iron the flaws of the previous season. As a coach Heynckes is a well-travelled one. Stints in Spain and Portugal have only ensured that the former Borussia Monchengladbach great has developed a thick skin for criticism and in the process sharpened his already high levels of tactical acumen.
Add to that trait, he is a winner as seen by his 1974 World Cup medal and that from the 1972 European Championships. A predator of a forward during his playing days with 218 goals in 308 appearances for Borussia Monchengladbach and 14 goals in 39 appearances for a West German side in which Gerd Muller was a regular, his experience of being trivialized began right then.
The 68-year old coach has already tasted the sweet feeling of winning titles with Bayern when he led them to two successive Bundesliga titles in 1989 and 1990 after which a fire sale of players led to his exit, a decision which current Bayern president Uli Hoeness regrets till date.
Fast forward to 1997-98 when Heynckes took charge of Real Madrid. It is a sign of how ruthless a manager's job is when he was fired from the post despite leading the Los Blancos to their first European title in over 30 years.
Real Madrid fired the German despite winning the Champions League
Taking a giant leap forward to 2013, Heynckes is in a similar sort of situation now. He has won the Bundesliga with Bayern by a record margin and is on course to win the DFB- Pokal and the Champions League which would make it a dream send-off for a trainer who has always been marginalized despite his numerous achievements.
One would think that a coach with his CV would warrant a more respectful exit. The Bayern board however, did not see it that way as they announced his successor as early as January right after the winter break. Heynckes admitted that such an announcement would prove to be a distraction when the club was currently concentrating on winning titles.
The coach had already began making plans of earning a well-deserved retirement way back in October, but the shoddy manner in which Bayern broke the news to the press was what that infuriated Heynckes.
The comparisons began right there between Heynckes and Guardiola. Whether the latter would bring his brand of tiki-taka to Germany, whether he would entice Barcelona players to Bavaria and whether he would radically change a Bayern system that was firing on all cylinders.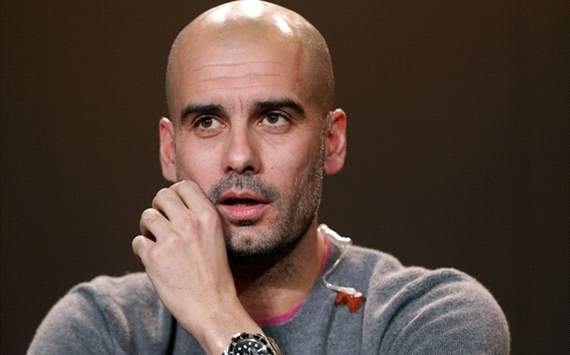 Comparisons were drawn in numbers between Heynckes and Pep

Heynckes proved what the club would be missing during Bayern's performances in the Champions League knockout phases. Comprehensive wins over Arsenal and Juventus pitted the Germans against the might of Barcelona who had only scraped through to the semi-finals by the skin of their teeth against Paris St. Germain.
For a coach who successfully dismantled two of the most free-flowing sides in European football in Arsenal and Juventus, to be told to consult his successor on how to defeat Barcelona was an insult to his experience.
"We looked at the opponents' way of playing; I prepared the team, of course with a power-point presentation, and they implemented the tactical plan fantastically well" - Jupp Heynckes after Bayern's 4-0 first leg win over Barcelona in the Champions League semi-final
But insults have been thrown at the German throughout his managerial career. His ability to see past these barbs and continue to do a good job is what that makes him a true great of the game.
He was the victim of club boards and fans venting their anger out on him when the players in those teams failed to live up to his demand for more effort. Real Madrid president Lorenzo Sanz had undermined Heynckes' hold on the team during the 1997-98 season when they won the Champions League. The coach had tried to impose some sense of discipline into a side that was known for more partying and less football. Sanz had allegedly asked Clarence Seedorf and Co not to worry and then fired Heynckes citing a poor domestic season.
Heynckes took charge of Bayern when the club was in tatters under Louis van Gaal whose rigid coaching ways constricted the players thus not allowing them to express themselves as they would have liked. The former Gladbach forward changed that when he made the move from Bayer Leverkusen to Bavaria in 2011.
Bringing about a sense of freedom into their playing style as well as imposing strict discipline into a team that had once earned the name 'FC Hollywood' is the reason why Bayern are where they are now. A coach's ability is judged on how well he is able to learn from his mistakes. The veteran trainer knew that the team needed a calmer hand in the defence which had capitulated in the Champions League final against Chelsea.
Enter Dante and Javi Martinez in the summer of 2012, two signings which made all the sense, both economically and tactically. The Brazilian was 29 and was on the back of a stellar season with Heynckes' former stomping ground Monchengladbach. €4.7 million was paid and the defender was on his way to Munich where he would be the pillar for their astounding defensive record for the season to come.
"Nobody knew him when he came here, Franz Beckenbauer thought we were talking about a coffee brand!" - Heynckes on how important a signing Martinez was.
Martinez was one who would go on to cement himself as one of the continent's emerging talents. The Basque-born midfielder had already won a European and World Cup title when he arrived in Germany after the club had triggered his €40 million release clause to pry him from Athletic Bilbao.
Heynckes was the man who saw what the young midfielder could offer to Bayern in the long run. The abnormal amount is a far cry from the economical stability that German clubs are renowned for. But with the likes of Manchester City and Barcelona too in the hunt, Jupp knew that this player could be a potential great in Germany.
"Nobody knew him when he came here, Franz Beckenbauer thought we were talking about a coffee brand!" - Heynckes on how important a signing Martinez was.
The world was shocked with the retirement of Sir Alex Ferguson as the manager of Manchester United and lauded him on his unquestionable achievements in the game. But come June 1st, 2013 at Wembley, they will witness another tearful moment as Europe will say Auf Wiedersehen to one of the true coaching greats of the Beautiful Game.
How do you stay up with football when on the move? With http://m.goal.com –your best source for mobile coverage of the beautiful game.