Yes, it was difficult. Yes, it seemed an insurmountable task. Yes, Lionel Messi wasn't 100% fit. Yes, this Bayern Munich side are way too talented and more importantly, determined. Yes, there has been no side in the history of the Champions League who has managed to overturn the 4-0 deficit from the first leg ever.
However one expected much more from arguably the best team in Europe for the half of the decade. On a night when they had to win by five goals to nil, three were let down by their leaky defence at Camp Nou – a place where they hadn't gone down in Europe in their last 21 outings.
For starters, Vilanova opted to bench Messi which had the twitteratti and pundits alike wondering what this Barcelona side could offer. More than anyone, it must have surely taken aback Jupp Heynckes and his troops given that they must have prepared themselves hoping to expect a top performance from Messi. Instead you had Cesc Fabregas starting as a false nine, a position which certainly he isn't best suited for as was testified in the tie.
While as much as Barcelona may claim that they aren't dependent on Messi, the fact is that they are. Without him, their chances of hoping to score four goals went up in the air.
At the end of the decimation, Gerard Pique stated that even with the Argentine in the line-up they couldn't have changed their fate. This statement highlights the mood in the Barcelona camp as they never gave themselves a chance. They never believed in their ability and hence hardly posed a threat to the opposition goal except for a Xavi attempt in the first half and a Villa header after the break which came off the crossbar.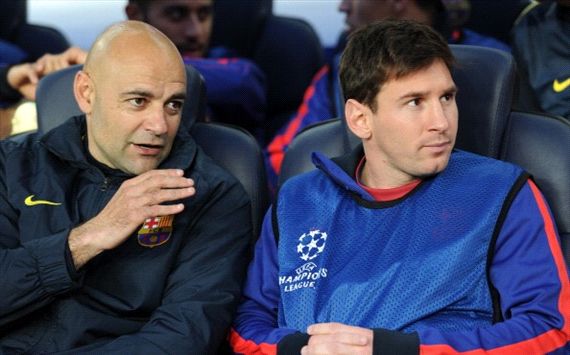 With a huge deficit to overcome, even a half-fit Messi should have started...
At the weekend, Messi had come off the bench against Athletic Bilbao and influenced the outcome of the tie with an assist and a superb individual goal. where he deceived three opposition players with his trickery.
Gary Neville, in his commentary, rightly pointed that the game against Die Rotten was arguably the last important game of the season for Barcelona given that the league title was almost wrapped up. In this case, they should have started Messi and put Bayern under pressure from the onset in order to sneak in a goal or two. Mind you, even when Messi isn't at his threatening best, what he does do is take at least two or three players with him to make space for his team-mates to exploit. This is where Fabregas failed and you can't really blame him as he isn't a natural false nine unlike a Francesco Totti or Messi.
Vilanova later stated in his post-match address that Messi wasn't injured but he didn't feel well and that they would have introduced him only if they thought they had a chance to progress. Such a negative mindset was something one never associated with the Catalan side under Pep Guardiola.
The reaction after the first goal was scored was stupendous. Xavi and Andres Iniesta were taken off for Alexis Sanchez, a player who hasn't yet impressed since his transfer from Udinese, and Thiago Alcantara, someone who hasn't seen regular first team action this season which led to his father stating that he could leave the club in order to get more games under his belt. The third and final throw of the dice was to bring on Martin Montoya for Marc Barta in order to shut down the Bayern attack from further embarrassing them. Christian Tello must have been wondering what more he needs to do in order to win a chance to make an impression after the fantastic season he has had.
After the semi-final draw was announced, Xavi had mentioned on how Barcelona pride themselves on winning by playing a particular brand of football and that getting a result wasn't always everything in football for the Catalans. While it did sound impressive and justified given the manner in which they have eased past several opponents in the last five years, the fallacy of this philosophy was exposed by Jupp Heynckes' side.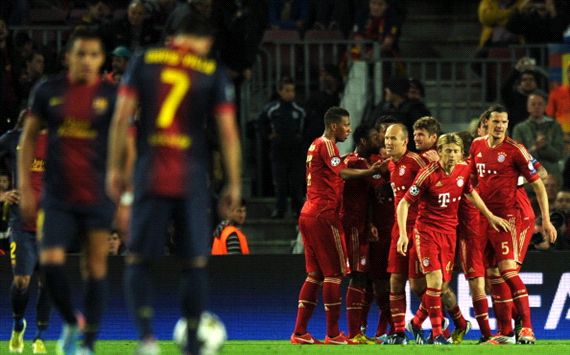 Barcelona gave up too easily...
What was rather astonishing was that Vilanova chose to give up after conceding early in the second half, and decided to substitute the very best exponents of their footballing philosophy.
On the other hand, Real Madrid had come up with a video of their players asking their fans to believe until the last minute that they could reach the final at Wembley. They spoke of the spirit of Juanito and there was an air of expectancy at the Santiago Bernabeu. However the same cannot be said for Barcelona, as the coach and his players gave up far too easily.
Impossible is nothing and you have at least got to believe that the task can be done in your head, in order to give yourself some chance of coming close to what's needed. Gone was the swagger and belief one witnessed in Guardiola's Barcelona, when they scored in the second half injury time at Stamford Bridge to book a berth in the final and what one saw was a side who never gave themselves a chance and surrendered meekly.
It would be fair to say that Barcelona never really tested Bayern and made the task easier for them. Vilanova got his tactics wrong and he failed to motivate the players to at least put in a performance which could have raised the spirit of the club.
One of the questions which has been often asked to Barcelona players is that how do they keep themselves motivated each season to do well in the league and Europe and the answer has been their insatiable desire.
On Wednesday night, the very same craving to win more silverware deserted the team, as Barcelona looked a pale of shadow of themselves. Agreed that credit has to be given to Bayern for being so impressive that they never allowed the home side to stamp an authority, but this is the same side which has defied logic, odds to break and set new records.
While the Blaugrana faithful would have hoped for a historic turnaround, what their players dished out was one of their worst European performances. Certainly this side lacks the character when the going gets tough and looks to be on a downward spiral unless some drastic steps are taken in the summer.
How do you stay up with football when on the move? With http://m.goal.com –your best source for mobile coverage of the beautiful game.