Ever since Germany's appalling 8-1 win over Spain in last week's Champions League semi-finals, every dismal day has passed slower than a Harman Baweja movie, for the sadistic, drama-thirsty, neutral football fan. The joy of watching German perfectionists throttle the choking giants of Spanish football was a treat for many. 'The end of an era' – many proclaimed! It was doomsday in Barcelona and Madrid. As all four teams virtually used their 'B' teams in the weekend league matches, I painfully resisted the temptation of using the simile "as 'B' grade as a Shakti Kapoor film" with all my strength.
Here are a few pretzels to crunch on before the vivid midweek festivities begin. CAUTION: Readers are advised to throw their elegant tactics and classy logic down the bin before reading!
1. FIFPro's Spanish-made all-star cookies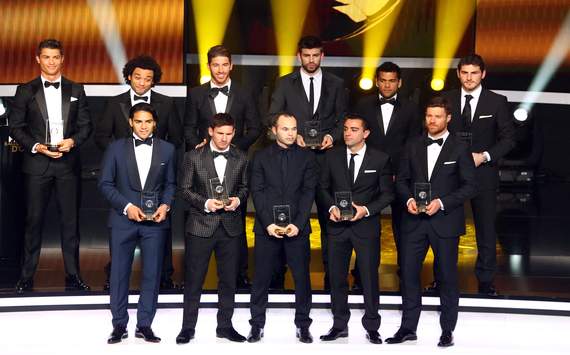 In what many considered the most absurd decision made by FIFA at a Ballon D'Or award ceremony till date, we saw the entire FIFPro World XI being picked from Spain's La Liga. Ridiculous as this may sound, but did they turn blind eyes to the fact that the world's most prestigious club competition was won by an English team? What's more, even the other finalist was German! How many of us can honestly put our hands up and say, "Hey! I didn't fall asleep while watching Real Sociedad versus Rayo Vallecano". Or even Real Betis versus RCD Espanyol. The list is definitely more than just "quite a few". And these are only four of the top 10 teams currently in the La Liga standings. The Spanish League, quite certainly, has to be the most duopolistic league (if not the most boring). But next year we should all expect the Lewandowski's, the Götze's, the Carrick's and the Mandžukić's to be included in the FIFPro World XI. Right? But wait. The heroics of football's legendary panthers Petr Cech and Andrea Pirlo went unnoticed last season, so what chance do our above mentioned kittens have? It's almost like Kamaal Rashid Khan trying to win a Filmfare for a movie like Deshdrohi. Well, almost.
2. Die Schwarzgelben's Błaszczykowski Kekse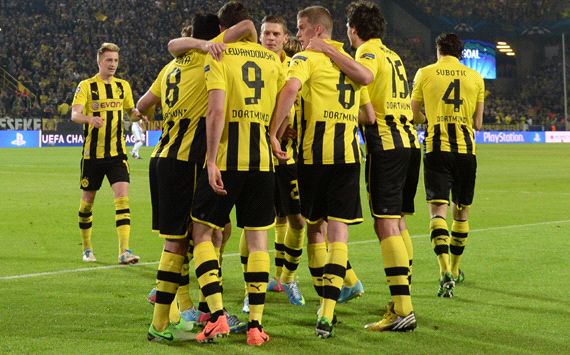 That translates to the Black and Yellow's (Borussia Dortmund's) Błaszczykowski biscuits. Why Błaszczykowski? You'll know soon enough. Their football oozes joy, their fans are vehemently passionate and their names are fun to try and pronounce. We rarely come across SO many ludicrously stiff and rugged letters in names of almost all players in a team, starting with the manager - Jürgen Klopp, Jakub Błaszczykowski, Łukasz Piszczek, Kevin Großkreutz, Roman Weidenfeller, İlkay Gündoğan, Marcel Schmelzer and Robert Lewandowski! Woof! Reading these names on the team sheet five minutes before kickoff requires colossal concentration and if done successfully, leaves your head spinning. But very seldom do we care about the names, when these enormously gifted footballers play that fluent attacking motion of the beautiful game, what I call 'breathless football".
Götze and Lewandowski smothered Mourinho's Madrid in quite destructive style. But lately, Bayern Munich seems to be hogging the most delicious of Dortmund players, as they announced the imminent arrival of Mario Götze to the Allianz Arena, a night before Die Schwarzgelben played their crucial semi-final against Real Madrid. The German powerhouse from Munich stated that it wasn't them who tried to pull off a masterstroke scene from an American action flick, reiterating their nickname – FC Hollywood, which any which ways failed miserably. And why is our German engineered pretzel called Błaszczykowski? It's the toughest name to pronounce!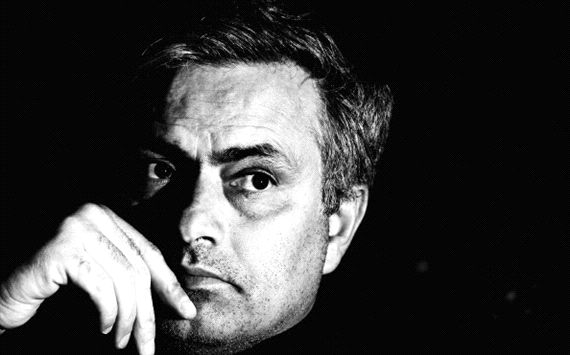 In Hindi, that would translate to - "Mourinho! Bring your typical Indian mother". You have to agree, the 4-1 fiasco at Westfalenstadion would've left the grittiest of managers, even Jose Mourinho, 'crying for mommy'. The stage was perfectly set for the former Inter Milan and Chelsea coach to win the La Decima (10th European Cup) for Real Madrid and go down in the history books at Madrid, and in European football.
But that stage was demolished in 'Shiv sena' fashion by Klopp's men. The Portuguese coach certainly would have smirked, grinned and rejoiced after his biggest rivals Barcelona were made to look as primitive as the visual effects on a Shaktimaan episode the previous night. Little did he know that the German storm would hit him the next day itself!
Jose can take some refuge in that solitary away goal scored by Cristiano Ronaldo, which will prove crucial at the Bernabeu if Real Madrid take a quick lead. Angel Di Maria's absence was deeply felt as the Argentine's defensive abilities were missing in the very-reluctant-to-track-back-Ozil. Di Maria scored in the Madrid derby on Saturday and would be raring to against the Germans on Tuesday night. As for Barcelona, they have to say – "Sorry Shaktimaan!" for their extremely lethargic display of football, and move on.
4. Messi and CR7's "home made" cookies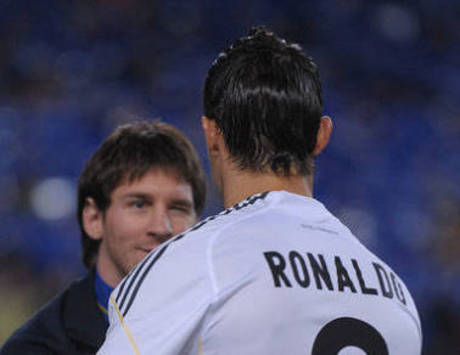 I recently saw a meme on Facebook that literally sums up the reasoning behind this pretzel being named so – Under the horrendous "Germany 8-1 Spain" scoreline, we see Lionel Messi and Cristiano Ronaldo shaking hands and Messi saying, "See you at the Champions League final, bro". To which Ronaldo quite aptly replies – "Your place or mine?" I don't know about the La Liga fans out there, but I found this one hilarious! The two men are geniuses. They play football with charming grace, never seen before on this planet. To prevent eating these "home made" cookies, Barcelona and Real Madrid supporters have to pray for their respective 'miracle men' to pull a rabbit out of the hat.
After all, there can be nothing more controversial, more dramatic and more thrilling than the ultimate El Clasico European Cup Final. It's quite ironic that we neutrals praise the glorious levels of boredom being steadily discharged from the La Liga, but love watching the El Clasico! I can already imagine Karan-Arjun's mother standing at Wembley and repeating those dreaded, hopeful words – "Mere Messi-Ronaldo…Aayengey…"
5. The bald, white chocolate wafer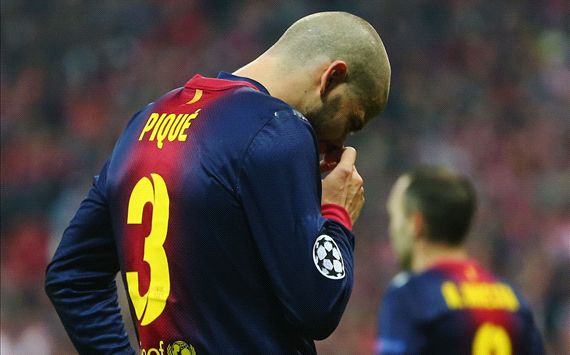 You have to mention Shakira every time you think of Gerard Pique. But even she wouldn't have suggested him to get that ludicrous haircut. Going bald does not make the defender look 'intimidating', if that was what he hoped for, rather makes him look more like a less muscular Sanjay Dutt from "Agneepath". I was going to say ACP Pradyuman from "C.I.D" but he still has a bit left, and is older. Talking about baldness, someone who recently sported an extremely white-headed branch of bald hairstyles was Barcelona's Brazilian right back Dani Alves.
He didn't resemble anyone! It was too bad to be copied before and too white to be tried ever again. The disappointment of two years without a Champions League crown, given the quality and enigma they possess, will certainly hit the Catalans hard if they fail to progress this Wednesday night. And with Barcelona's defense coming under intense scrutiny, these bald defenders can expect tougher competition for places next season, with Tito Vilanova being pressurized to buy actual defenders rather than trying to make a player like Alex Song into defenders!
Feel free to discuss more Pretzel options with Sarthak Dubey on Twitter before the Champions League night!
How do you stay up with football when on the move? With http://m.goal.com –your best source for mobile coverage of the beautiful game.