The second semi-final clash sees the most successful team in the history of the European Cup, Real Madrid chasing 'La Decima' taking on rank outsiders Borussia Dortmund who have really cemented their position as one of the better teams in Europe with their fluid displays.
Goal.com has a tactical look at the first half in Germany...
| | |
| --- | --- |
| | Solid defence up against a deadly attack |
There is no doubt both these teams boast of superior goal-scoring abilities. However what is interesting is that both these teams have an incredible defensive record in this year's competition. And it will be the defense where the game will be decided. While Dortmund has only allowed two goals scored against them, only on three occasions in their last 10 Champions League matches, Real Madrid have leaked in two or more goals four times against them. Not much to differentiate there at least. However, when it comes to not conceding in a game, Dortmund have a clear advantage as they have been pretty frugal with 4 clean sheets as compared to only 1 for Real Madrid.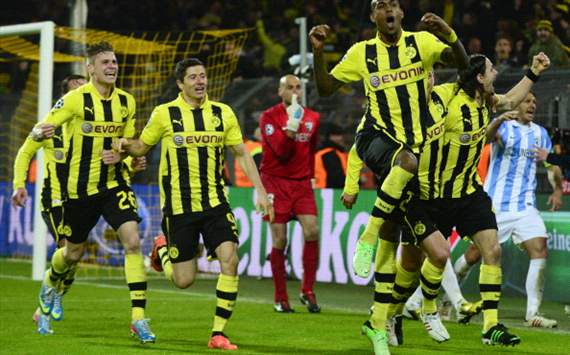 The entire Dortmund team is a potential threat
What is also a timely return for the Germans is their defensive stalwart, Mats Hummels who was really missed in their last couple of matches even though Felipe Santana had slotted in with relative ease alongside Neven Subotic. However Hummels brings more than defensive stability to the Dortmund set up. A ball playing defender moulded in the style of the great Franz Beckenbauer, Hummels is the one who can actually break down a stubborn defense as he strides out with purpose in order to start the attack.
On the flipside however, the injury to Marcelo and the suspension to Alvaro Arbeloa have not done any favours to Jose Mourinho's men, especially with Fabio Coentrao too fast tracking to get fit. In a worst case scenario, young Castilla full back, Nacho Fernandez might just have to slot in at the left back spot. Indications are that Mourinho might just as well start Pepe and the rapidly improving Raphael Varane in central defense, pushing Sergio Ramos to right back. Knowing Mourinho however, there is every reason he may start his utility man, Michael Essien in the full back position while preserving the Varane-Ramos combo which has started making Madrid fearsome as of late.
Borussia Dortmund
4-2-3-1

Real Madrid
4-2-3-1








Tactically however, both teams are remarkably similar, lining up usually in the 4-2-3-1 formation. Not only their starting formation, even the way they go about playing the game is almost a mirror image of each other. Both revel in counter attacks and taking advantage on the break and are rather clueless when they enjoy the majority of the possession.
While Sami Khedira is the midfield general for Real Madrid, charged with mopping up alongside Xabi Alonso who is expected to spray those eye catching balls to the attackers from deep and generally get the Madrid midfield going, the fast and relentless style of play at Dortmund make for an interesting combination between Ilkay Gundogan and Sebastian Kehl. While Kehl is expected to sit back and intercept play, especially taking special care of Mesut Ozil, Gundogan who is equally adept at spraying passes from deep as well as joining the attack will do a lot of running to support Marco Reus and Robert Lewandowski.
| | |
| --- | --- |
| | Awesome Borussia Threesome |
Where Dortmund really can rank up to any and every team in the world, is their oodles of firepower, creativity and potential up front. Not only do they have Polish Captain Jakub Blaszczykowski patrolling the right flank with lightning pace, in their ranks they possess one of the deadliest trios in world football with almost a telepathic understanding between them.
Robert Lewandowski - Mario Gotze - and Marco Reus - the attacking trident of Dortmund are a force to reckon with and in full flow can toy with the best of defenses. While Lewandowski is expected to lead the line for his side, he is way more mobile than a static target man. Keeping in sync with Dortmund's style of quick, short incisive passing to probe the opposition armour and then letting that one killer pass when a chink is found, Lewandowski often drops deep to participate in the build up play. His immense work rate also sees him at the end of the crosses drilled into the box for him to feast on. And he is in some form of late too, having scored in 12 games consecutively.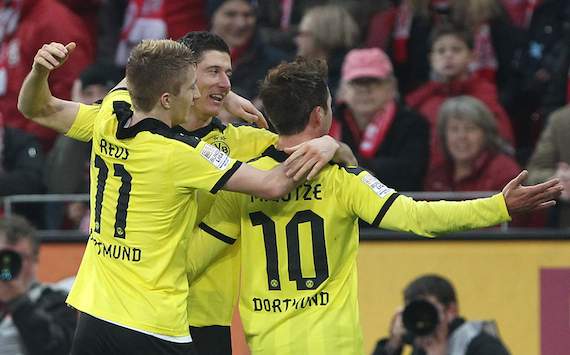 Reus-Gotze-Lewa: The terrific trio

Marco Reus has been a revelation this season after joining his boyhood club back from Gladbach and he has lived upto the hype surrounding him as he has both goals and assists in double digits. While he usually starts just behind Lewandowski, he has the license to roam around as he pleases, taking up positions on either flank or just making that late run into the box, taking his marker for a merry ride. His understanding with the hottest German property of recent times, Mario Gotze is spectacular and truly mindblowing at times. Not only can he take on a player and beat him, but his off the ball movement is exemplary and frightening at times.
If Dortmund have a chance against the mighty Real Madrid, these three have to combine to make things happen. And on their day they surely can.
| | |
| --- | --- |
| | All this said and done, how do you stop CR7? |
Dortmund might still be undefeated in the Champions League and are the only team still remaining to claim that, but they will have a torrid time against this Madrid side who have peaked at the right time en route to their fabled La Decima. The Madrid of old, whom Dortmund had defeated 2-1 at home, and drew 2-2 away, only due to a late Mesut Ozil free-kick are a thing of the past.
It is futile to talk of Real Madrid without talking about Cristiano Ronaldo. While Lionel Messi might be the best player in the world having won the Ballon d' Or on four different occasions, Ronaldo is what makes Madrid tick.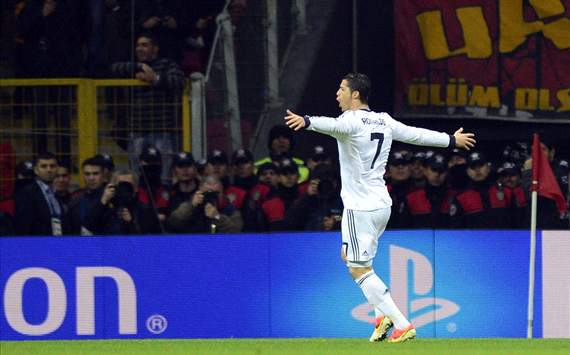 Ronaldo is Real Madrid's game changer

Madrid have a treasure trove of world class players with Mesut Ozil, Angel di Maria and Xabi Alonso all great players in their own way, however no one can match upto the phenomenon that is Ronaldo. Scarily for Dortmund, Ronaldo did not find the target against Real Betis last time around and will be hungry to score all the more. It was nine matches back, that Cristiano Ronaldo had not scored for the Los Blancos, funnily enough in a 2-1 win over Barcelona where he came on in the 57th minute with Madrid cruising to victory.
The class of Ronaldo needs very little further elucidation. There is very little on the football pitch that he cannot do. From marauding the left flank to cutting in and letting loose a belter, to heading the ball from ridiculous positions, to scoring free-kicks others can only dream of, Ronaldo can do everything and then still have time to pull off a fancy step over in the process.
Lukasz Piszczek who will be tasked with marking Ronaldo will have to curb his natural attacking instincts if he has any hope of stopping the No. 7. Moreover he would also need help from the winger on his side, and with the hardworking Kuba playing on the right, Dortmund might just have a chance to double team Ronaldo out of the game. Man marking him is altogether another dangerous thing to do, as Di Maria and Ronaldo often exchange positions while Ozil may drag out a defender to make space for Ronaldo to drive in. Dortmund will thus need to mark him zonally instead of devoting one man to him, as that would leave too much space for the other creative players of Madrid to exploit.
Follow Kaustav Bera on

How do you stay up to date with football when on the move? With http://m.goal.com – your best source for mobile coverage of the beautiful game.