Alexandre Song was the most complete midfielder in the world already before his Spanish sojourn. Such was his immense skill and apparent elan with which he played the game, that an uproar from his fellow professionals who had no answer to his poise and elegant displays on field, saw Arsenal being forced to part with him. This was probably the sole reason that the Gunners had to yield the title to outsiders, Manchester United in spite of securing the services of such star names as Santi Cazorla, Olivier Giroud and Lukas Podolski.

Imagine Apple with Steve Jobs and the state it is in now, sans the revolutionary, make that about five times worse and that is Arsenal without Alex Song. That he had once represented the London club, is the sole reason that they are still competing for a European spot. That Robin van Persie ran away with all the individual plaudits last term around is solely because Song is humble and does not like the limelight and refused all honours. He was the vital cog in the Arsenal wheel.

It was thus probably the steal of the millennium when the world's greatest club, FC Barcelona managed to win the signature of none other than the Cameroonian class act. While people thought that it was an easy deal. The best in the business choosing the best club, but there was hell in the back room to wrest his name.

Yet FC Barcelona, the dream club for any player finally succeeded, thanks to their intellectually aware chairman, Sandro Rosell who single-handedly turned it around. FC Barcelona were all set to splash out cash on some 'Javi Martinez', yet another Spanish player who was great on the ball, had great positional sense and could intercept danger, adept at playing both at centre-back as well as in defensive midfield. He was strong on the ball and could literally shove people off and could go on one of those rampaging runs through midfield too.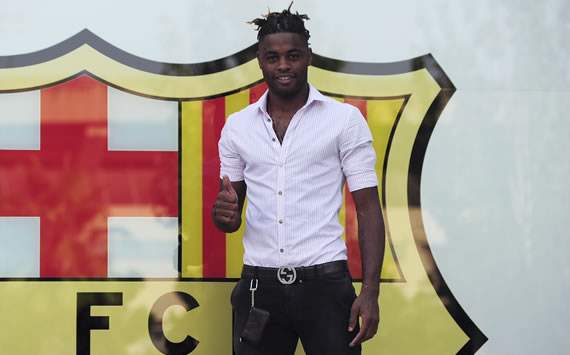 Martinez who? Barca come up trumps in the race for Song
It was the brilliance of Rosell, who also has an MBA degree incidentally that Barcelona were not duped by the Martinez carrot being dangled by the wily Bayern Munich who had come to know that Alex Song would be available and were ready in waiting to grab him. Rosell managed to pump up Martinez to the clueless Bayern Munich for the sole right on capturing Alex Song's name.

Now when the two teams are readying themselves to face each other, both teams had contrasting fortunes. While Javi Martinez was played throughout the German side's league campaign shouldering the midfield effortlessly, Song was kept in secrecy for just this match, which the Footballing Gods saw fit to set up. FC Barcelona only played him at Centre-back to not allow the world to hear the true Song, who can now be unleashed against Bayern in his true position.
Even the player he is being compared to by critics alike, who know not what wrath they are inviting when Song starts singing. The true Song will then shake the entire foundation of what we call football. Alex Song might have no clue in intercepting or breaking down plays, does not have the physical presence that Martinez possesses and is just mightily inconsistent as it is, but he is Alex Song. Such was his humility though that he allowed Luka Modric to run away with the title of being declared the Worst La Liga signing of the season.

Even Martinez has come out and accepted that FC Barcelona have the best player in the world. Such is the awe that this man brings to any team he represents. Even while at Arsenal, it was only his aura that kept the club going. Oh! You thought Martinez was referring to Lionel Messi? Even Messi would laugh at that, if he heard.
"He's Bayern's engine. As many of his team-mates and his coach have said, he's exactly what the team had been missing."
- Sergio Busquets (Trying his best to hide the Song to be played)
Sergio Busquets, who is another of Song's biggest fans claims to have Song as his primary influence for the fluid way he orchestrates things at the heart of Barcelona's midfield, pulling all the strings and slipping up (literally) once or twice too in the process, and writhing in agony then, at how his idol would perceive him after the mistake. Knowing fully well that the secret of Song has to be safe, he too has done his best in raising the expectations surrounding Martinez only to be shattered, oh so soon.

So Who will SING tomorrow? Let us know by leaving a comment...


Please note that this story is satirical...* That is if you have reached upto this point before claiming on the general ineptitude of the writers on Goal.com and lamenting how they hire almost anyone on the Internet!!