A rasping clash of two European titans is in the offing as a wary Barcelona travel to Munich where they shall be up against the ominously free-scoring Die Roten...
SPECIAL
By Harsh Shah
German power-houses
Bayern Munich
entertain Spanish traditionalists
Barcelona
on Tuesday night in the
Champions League
semi-final first-leg. This monumental tie has a lot at stake for both teams as it represents a perfect opportunity for the Bavarians to assert their claim as the best football teams in Europe, a tag their counterparts have very proudly adorned for the past few years.
Both sides' technically gifted midfielders hold the key

There is no doubt both these teams boast of superior goal-scoring abilities. While the German Reds have scored a staggering 19 goals in their last 5 games in all competitions, the claret and blue Spaniards have scored 12 goals in as many matches without their goal-machine Lionel Messi who was absent for most of that period. Despite these statistics, there is no doubt the real threat lies in both sides' play in the middle of the park with the stellar names they boast of in the area.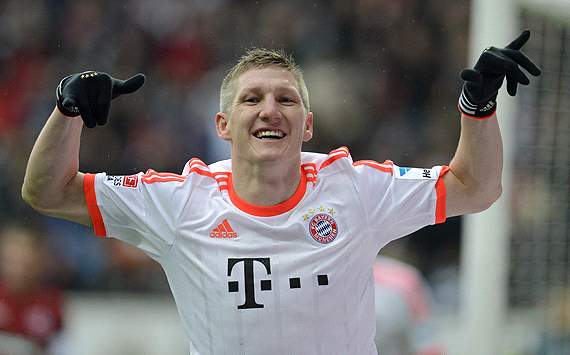 The efficient Schweinsteiger will have his hands full against a tireless Barcelona midfield
Quite simply, the midfielders in this tactically-laden affair will have a major say in which side the pendulum shifts over the two legs. Bayern Munich showed the way in the quarter-finals against Juventus by practically blowing the fuse on the Italians' 'central desires'. The Bianconeri, who depend heavily on the performances of their midfield trio of Andrea Pirlo, Claudio Marchisio and Arturo Vidal, were given a harsh footballing lesson by a Bayern side who comprehensively dismantled the Italian system with their rigid perseverence.
For the hosts on Tuesday night, the pivot most definitely has to be the super-talented Bastian Schweinsteiger. A box-to-box midfielder in every sense of the word, the Bayern No. 31 has been vital to the cause of a treble-chasing side all season long. With 2 goals, 3 assists and an amazing 88.1% pass success percentage in the Champions League this season, Schweinsteiger will be rubbing his hands in excitement at the prospect of pulling the strings in midfield against the mighty Blaugrana trio of Xavi Hernandez, Andres Iniesta and Sergio Busquets with Cesc Fabregas too expected to play a major role as the tie progresses.
With Javi Martinez and Schweinsteiger in the heart of a 4-2-3-1 plot pitted against a slightly manoeuvred 4-1-2-3 formation from the Spaniards. Away from home, Tito Vilanova may go for the creative yet orthodox Busquets in the defensive midfielder's role with Xavi and Iniesta strutting their stuff in front of him. It could be a diamond of sorts for all we know with Busquets and Lionel Messi on either tips of it!
Bayern Munich
4-2-3-1
Barcelona
4-1-2-3
The Spanish side who have won 2 of the last 4 editions of this competition have been found lacking of a plan B on quite a few occasions this season; with the core failure occuring largely in midfield. While AC Milan exploited their vulnerability to devastating effect in the Round-of-16 first-leg, PSG exposed them in both legs of the previous round while Real Madrid domestically showed the whole world how Barcelona could be so easily rattled on the counter. Against a Bayern model which has been so intricately efficient all season, any such frailties could be punished with steely ruthlessness.
Of all the duels in the middle of the park, the one between Schweinsteiger and Xavi should take top billing given the two playmakers' influence on their teams' play. Xavi, just like the German is the provider most of the times for the likes of Messi and Pedro upfront. The delightful 33-year old has assisted 4 and scored once in the Champions League so far with a superior 95.2% pass success rate. No surprise given Barcelona's passing dominance against almost all teams.
Bayern's aerial prowess, wing-play and back-tracking upfront will be a menace

Mario Mandzukic, who is suspended for this one, was instrumental in upsetting Juventus' rhythm in playing out from the back. Mario Gomez on the other hand who is on a hot scoring streak of 6 goals in his last 3 games might be a replacement with the evergreen Claudio Pizarro too competing for the slot. With the
tormenting Arjen Robben and Franck Ribery set to don the flanks
alongwith Thomas Muller in a roaming attacking midfielder's role, the prospects are positive for the Bavarians. Their depth too is formidable with the marauding Xherdan Shaqiri waiting in the ranks.
Another key aspect of the game is going to be Bayern's advantage in the air. Set-pieces will be a trump card of sorts for Jupp Heynckes men, with some towering figures like Schweinsteiger, Gomez, Daniel Van Buyten and Dante expected to be sure-shot threats from dead-ball situations or otherwise. We all know of the Catalans' incapabalities in the air. No arguments about that.
Speaking of Barcelona's defence, Busquets could be a vital cog in the possible Plan B wheel. The lanky Spain international, if deployed in that even more reserved holding role, while provide some much needed cover to a makeshift Blaugrana defense which could see Marc Bartra partner Gerard Pique at the back owing to injuries keeping out Carles Puyol and Javier Mascherano with the recuperating Eric Abidal starting in the weekend against Levante.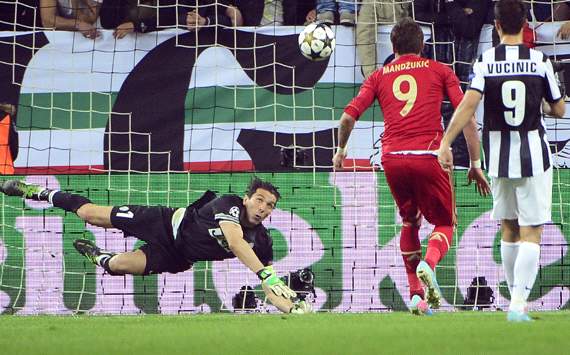 Against Juventus, Mandzukic scored and defended
| With him suspended, will Gomez/Pizzaro start or will it be something totally different
The position that Busquets might go on to occupy will be central in thwarting the Munich forward line which will be looking to stifle the visitors in their rear, knowing they like to play the ball out from the back. Besides, he will come as a welcome reinforcement with Jordi Alba and Dani Alves set for a challenging night against the likes of Ribery and Robben who are amazing dribblers who work in tandem with Philipp Lahm and David Alaba. And when the Barca flankers forage forward on their many adventures, Busquets' presence at the back will be more of a necessity. Alexandre Song stands a slim chance of taking up the role as he too played against Levante; also the Spaniard is a better bet than the Ivorian given his experience. Lastly, Adriano is suspended for the first leg, meaning Barcelona are pretty much on the edge at the back.
Apart from hitting on the counter, Bayern's frontline will have cutting down Barcelona's supply line very high on their agenda. If that is taken care of, Bayern might be eyeing a third Champions league final in 4 years, unfortunately having lost the last two against Inter Milan and Chelsea.
But then there is... MESSI

If you would bet on one man to throw all the analysis and tactics out of the window on the night, Lionel Messi would be the one. The Camp Nou side's talisman who sustained an injury against PSG in the first-leg in France, had put in a whirlwind two-goal blitzkreig of a performance against AC Milan in the Round-of-16 second leg, firing his team to a 4-2 aggregate win. His importance to the side's fortunes was again made clear in the second-leg against PSG at home. With Barcelona bowing out 3-2 on aggregate, Messi hobbled on for a cameo performance, playing a huge role in Pedro's leveller which allowed Vilanova's men to sneak on away goals.
Barcelona absolutely transformed from a pale version of theirs to a renewed potent force after the introduction of the catalystic No. 10. It made for some exemplary viewing as Messi instantaneously impacted the game. The dimunitive Argentinian has 8 goals and 2 assists in the Champions League so far which are included in the unbelievable 57 goals he has notched up in all competitions so far this campaign. So if Messi wins the fitness race and starts on Tuesday night, be sure to see a spring in the step of each Barcelona player.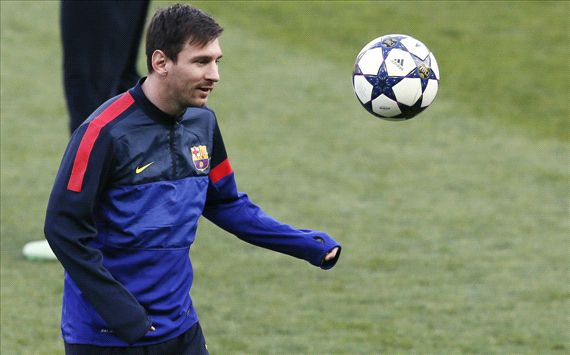 Always the man | Messi starting will be a huge psychological boost for Barca
Unfortunately, getting the better of this left-footed genuis is an anomaly that still doesn't have a specific solution. Bayern could take a leaf out of the AC Milans (round of 16 first leg) and the Real Madrids who have kept the 25-year old maestro quiet this season by using a combination of players to mark him. Javi Martinez might be assigned to the Ballon D'Or winner with the rivalry set to be renewed from his Athletic Bilbao playing days.
As for Messi's partners in crime upfront, Vilanova has more variety to choose from. He could either go with the trio of Pedro, Messi and David Villa with the former Valencia man later replaced by Alexis Sanchez or Cristian Tello later on for pace. Or, we could also see Tello starting ahead of Villa along with Messi and Pedro, giving Lahm a torrid time on the left. The starlet has been scoring and in good form in recent weeks. He has the pace and guile to run rings around Lahm. For a brief period in the Round-of-16 first leg, Arsenal's Lukasz Podolski was able to undo Philipp Lahm with a blend of speed and trickery. Tello could add a similar dimension for Barcelona. Fabregas too stands an outside chance of being stationed upfront.
Barcelona boast of a better head-to-head record in the recent past with the Blaugrana blowing away Bayern in the 2009 Champions League quarter-finals 5-1 on aggregate!
So in all probability this one will be a mass entertainer with so many sub-plots to it that the neutral will be wringing his head in wondering whom to back. A match of unparalleled tactical acumen is in store for us as Europe's elite club competition enters its final stages. Will Bayern beat yet another Spanish opponent and reach the finals after they dumped Real Madrid at the same stage last season or will Barcelona reach a third final in 5 years? Only time will tell...
Which side's midfield magicians will be smiling at the end of the first leg in Munich? Tell us WHAT YOU THINK by placing a comment or getting in touch with the author @Harsh8Shah

How do you stay up with football when on the move? With http://m.goal.com –your best source for mobile coverage of the beautiful game.