Aditya Bajaj

Tactical Analysis

Follow on
When Juventus last lost a game in Europe, Muammar Gaddafi was still the leader of Libya, Iraq was still under the American occupation, Jose Mourinho was still at Inter with his team still the undisputed kings of Italy (and would later go on to conquer Europe) and Spain were yet to claim their first World Cup in football.
Point is, it has been that long since Bayern Munich defeated the Old lady in Turin back in the December of 2009 and since then the Bianconeri are yet to lose a game in Europe as they prepare once again to face the same club in the crucial quarter-final tie on Tuesday at the Allianz Arena to avenge that 1-4 hammering they received at home to crash out of the Champions League which would see the Munich club reach the finals and the Italians descent to obscurity both in the continent and back home in Italy.
By 2011 after two seasons of absolute mediocrity and shabby management, in came Antonio Conte with his winning spirit and Andrea Pirlo desperately looking for a new challenge away from a successful Milan career to resurrect himself and the end result is that today they are amongst the top eight teams in Europe.
But so are Bayern.
Since Louis Van Gaal's departure, Jupp Heynckes has turned them into an ever improving unit who once again came yet so close to lifting a trophy that has eluded them since 2001 thanks to a certain Didier Drogba and in part to their own familiar lack of concentration last May.
It's perseverance and seasons of hard work that has resulted in both sides dominating their respective leagues this season and barring some major catastrophe will most certainly win it with ease.
From a footballing point of view, it's rather unfortunate that these two teams were drawn together so early in the competition as both deserve (with respect to every other team still in the competition) a spot atleast in the last four but as far as fans are concerned, they are in for a super tactical battle between two giants and that is the magic of arguably the world's greatest club competition.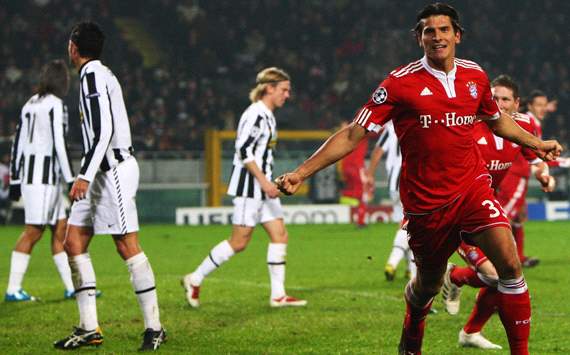 The debacle of Turin in 2009 | Bayern were the last team to defeat Juventus in Europe

However, if at all Bayern want to be first side to once again defeat Juventus and end their defeat less streak in Europe after almost three and a half years, they may have to do away with their favoured 4-2-3-1 for the first time this season or risk playing exactly into the hands of Conte's firm and successful 3-5-2.
Juventus' three man midfield supported by the never tiring wing backs may prove to be too much to handle for the tiny two man midfield axis that Heynckes employs as any other coach playing the formation and though Munich are no Chelsea and are much well equipped than Di Matteo's side who were embarrassed in Turin last November, against the Italians it's always about getting your formation right or risk getting outnumbered at the center of the park.
What's unique about the 3-5-2 is that when on the offensive, its pretty much like a five man midfield even though the wing backs are supposed to play a dual role as full backs and this is where Kwadwo Asamoah and Stephen Lichsteiner are very effective with their tireless running which presses the opposition onto its own half led by the puppet master Andrea Pirlo who rules the roost spraying passes from the tip of the midfield right infront of his defense.
The fact that he almost never has to leave his comfort zone close to the center of the park and risk getting outpaced due to his lack of speed is also down to the fact that he is supported by the likes of Arturo Vidal and Claudio Marchisio who together have not only veiled Pirlo's slowness while tracking back but have also for almost two seasons now eclipsed Juventus' lack of potent attackers with their constant runs up and down in midfield to attack and track back in time to help the defense.
And this is why Bayern need to switch to the 4-3-3 which is pretty much like the antidote to the three man midfield employed by Juventus and they need to no look no further than the Serie A for some tip-off.
The Old Lady have lost four times this season domestically and the interesting bit is that all the oppositions immediately switched either to the 4-3-3 or mirrored the 3-5-2 in order to match Conte's team in the middle of the park which is where they are very strong and lethal.
The Italian champions had no answer to Fiorentina (Juve were lucky to escape with a 0-0 draw), Inter and more recently Roma and Sampdoria as all of them switched from their usual formations to a three man defense and a five man midfield to counter Pirlo and co. to come out with full three points. Milan, who defeated them back in November last year, switched to the 4-3-3 for the first time this season to great affect where the trio of Riccardo Montilivo, Nigel De Jong and Antonio Nocerino quite effectively nullified the threat of Vidal, Pirlo and Marchisio with Stephan El Shaarawy and Kevin Prince-Boateng tracking back from the wings to stop Asamoah and Mauricio Isla to curtail the threat from the flanks.
How Bayern would look in a 4-3-3 against Juve's 3-5-2
Juventus on the offensive
Bayern on the offensive
A 4-3-3 will help Bayern counter Juventus in midfield in terms of quantity
While Bayern may not find it feasible to to deploy a five man midfield like the Italians but they are tailor made for the 4-3-3 with players like Franck Ribery, Arjen Robben, Thomas Muller and Xherdan Shaqiri all of whom can line up on the wings with Mario Mandzukic in the centre supported by a solid midfield trio of Toni Kroos, Luis Gustavo and Bastian Schweinsteiger who can match the Italian midfield both in number and quality something their usual two man midfield axis simply will not allow them to.
The problem with the 4-2-3-1 is that firstly, the lone striker will always be in the company of the three man defense of Juventus who barely move out of their own half and when under attack are instantly supported by one of the non-attacking wing backs who is always on the back foot to track back to support the central defenders.
Secondly, because while attacking Juventus have Asamoah and Lichsteiner marauding down the wings Ribery and Muller will find it difficult to make those runs on the flanks due to the pressing nature of Juve's wingbacks. The counter attacks have to be started much deeper in their own half with Kroos and Mandzukic left isolated in the company of Leonardo Bonucci, Andrea Barzagli and Giorgio Chiellini while Schweinsteiger and Gustavo are busy shielding their defense which is second string thanks to the unavailability of both Holger Badstuber and Jerome Boateng.
Juventus' formation is still an enigma outside of Italy as it is barely deployed outside of the Serie A which is why Heynckes has to be careful as to whether he decides to stay loyal to his methods with his tried and tested formation that has been used all through a season which has seen them produce some of the best football in the continent and take the game to Juventus or just for once switch to the 4-3-3 and avoid the very possible risk of playing into Conte's hands by sticking to his guns.
Juventus have overcome the Calciopoli which threatened the club's rich legacy to football and after years of turmoil are today are a very different side. You either attack them tactically or just pray that their midfield and defense has a bad day.
Don't forget to let us know in the comments section below or discuss on twitter@adityabajaj
How do you stay up with football when on the move? With http://m.goal.com –your best source for mobile coverage of the beautiful game.