SPECIAL
By Brendon Netto
Paris Saint-Germain face Barcelona in the quarter-finals of the Champions League in what is identified as a clash between money and tradition. The Catalans will no doubt be favourites but PSG are a much more refined team this season and will believe that they stand a decent chance as well.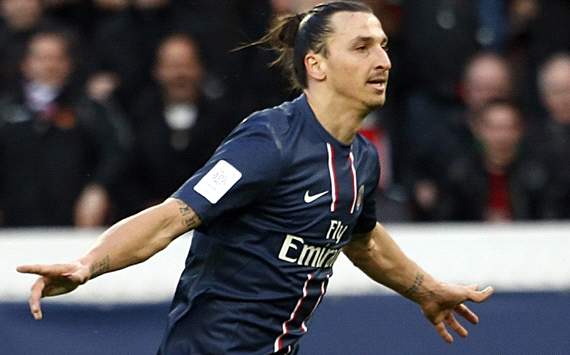 Zlatan Ibrahimovic is available for both legs of this fixture after UEFA reduced his two-match ban. The Swede's inclusion not only gives the whole team a lift and spares them the prospect of making do without their most prolific scorer but it changes the whole dynamic of the encounter from a tactical perspective as well. Ibrahimovic is the archetypal lone striker which makes him absolutely critical to their system.
Especially in games against Barcelona who consistently monopolize possession, a lone striker up front is likely to be subjected to lengthy periods of isolation and when he does come into play, he needs to be alert and make every touch count; that's where Ibrahimovic must make his class show. Last season, Didier Drogba was a colossal albeit secluded figure in attack for Chelsea but his hold-up play was exceptional and he often used his strength and ability to pick out other players to allow his side's defense to catch their breath or to facilitate counter-attacks while making the most of his chances.
Ibrahimovic will be entrusted with a similar responsibility and few would question his ability to do the job. His hold-up play is exceptional but he also possesses great vision and a delicate touch of creativity. It's those attributes that could enable him to hold on to the ball when it's played up to him and release a team-mate so PSG can counter or if that's not an option, even merely keeping possession or winning a free-kick could go a long way to relieving the pressure on his side's defense. With Ezequiel Lavezzi and Lucas Moura flanking him, he should have options on either side once he's in control of the ball. Given Barcelona's vulnerability in the air, he will also be the prime target from set-pieces.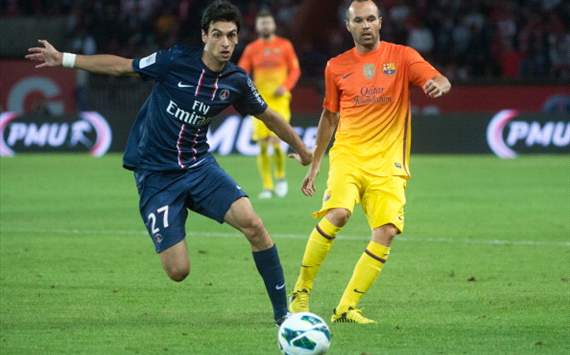 PSG have a formidable midfield trio of Marco Verratti, Blaise Matuidi and Javier Pastore but they are still no match for Barcelona's star-studded triad of Xavi Hernandez, Andres Iniesta and Sergio Busquets. Xavi is reportedly a doubt for the first leg after sustaining a hamstring injury and if he doesn't feature, Carlo Ancelotti and his troops will breathe a lot easier.
Cesc Fabregas should be the foremost candidate to deputize for Xavi in the event of his absence but despite a marked drop in quality, the Blaugrana's system will remain the same. With Busquets providing cover for the two midfielders ahead of him, Barcelona will persist with their neat and intricate short passing with Lionel Messi dropping deep to get a touch and pulling his marker out of position in the bargain. Occasionally, they will spread the ball wide towards an advancing full-back in a bid to stretch the opposition and eventually find a slide-rule pass to slice open the defense.
That's often referred to as plan 'A' and if executed properly, that's all they'll need. However, the Parisians will be encouraged by the fact that the likes of AC Milan (initially) and Real Madrid have countered the all too familiar strategy this season and exposed Barcelona's lack of a contingency plan.
PSG
4-3-3
Barcelona
4-3-3
Matuidi is a strong, hard-tackling midfielder with the ability to drive forward with the ball and cover every blade of grass and so he will be crucial to PSG's attempt at stifling the Catalans' midfield. Verratti on the other hand is renowned for his exquisite range of passing while he is a notoriously clumsy tackler, something he'll have to watch in the face of the nippy Barcelona players. Pastore is their playmaker and often advances in support of the front three but he may be required to play a lot deeper against the La Liga giants.
The PSG midfield trio must refrain from tracking every runner because that would leave them chasing shadows. They must also resist the temptation to dive in prematurely or they may be caught in the middle of one of those famous Barcelona triangles and will have the ball played around them. The key will be to stand their ground and have each player operate within specific parameters of their positions, something Milan executed to perfection when they faced the European juggernauts at the San Siro. Once they gain possession, they must look to play the ball up to Ibrahimovic who should be able to bring it down and instigate a counter-attack.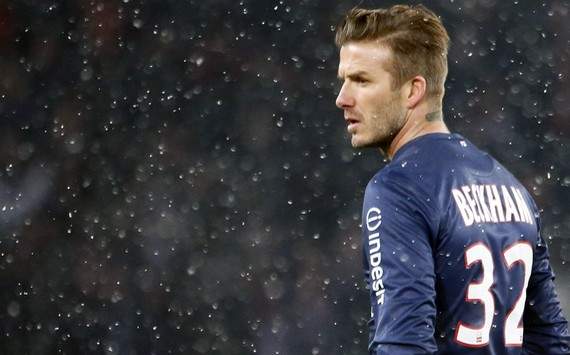 In an unprecedented turn of events, David Beckham had the privilege of being the only Englishman left in the Champions League when the quarter-finalists were announced and perhaps he has a bigger role to play than to only be an intriguing but ultimately irrelevant statistic.
Beckham may not be at his optimum fitness level but those who have watched the former England captain's appearances in the Ligue 1 of late will know that his exquisite range of passing and quality deliveries are far from escaping him. On the contrary, he is very much in command of the accuracy of his long passes in particular and has consistently picked out the towering figure of Ibrahimovic with ease in his attempts from his withdrawn midfield role.
Admittedly, he still has a long way to go before he can play out 90 minutes at the highest level but he has given a good account of himself so far with Ancelotti already calling for an extension on the midfielder's current short-term contract. His passing could be immense against Barcelona when initiating a counter-attack especially with the high-line their defense adheres to. Furthermore, his delivery from set-pieces is still one of the best in Europe and given the possession Barcelona will enjoy as well as their susceptibility from dead-ball situations, Beckham distribution could be PSG's best route to goal.
This is not to say that the former Manchester United and Real Madrid star should start the game but perhaps a cameo from the bench shouldn't be ruled out given that he could well play a hand in a crucial goal. He may not have the legs to close down and chase the Catalans around at present but if PSG do need a goal, it's worth throwing the dice and giving the Englishman a run-out.
The Perennial Conundrum: Stopping Messi

Unfortunately, there is no simple method to suppressing Messi. Man-marking the Argentine has almost never proved to be effective so it will take a collective effort from the two center backs as well as the midfielders to pick him up when he threads into their respective areas. Now although Thiago Silva is one of the best center backs around and perhaps best equipped to deal with Messi, his Brazilian defensive partner, Alex will be cringing at the prospect of the Barcelona ace bearing down on him.
The former Chelsea defender lacks the agility to deal with the nimble-footed forward and so it may be wise to have Silva pick up Messi on most occasions with Alex covering in behind. More importantly, PSG must make sure that the four-time Ballon d'Or winner is never afforded a one-on-one situation with any of the defenders. As far as possible, he must be kept facing away from goal as he was in the first leg against Milan. Ultimately, they'll also need Messi to have a bit of an off day since he's virtually unstoppable when he's on song.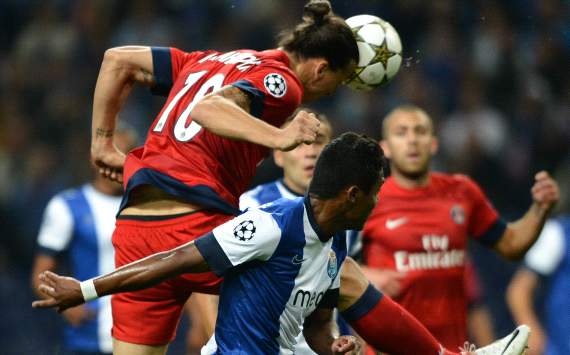 Barcelona are one of the biggest teams around but not in the literal sense. In fact, apart from Gerard Pique and Busquets, the remaining outfield players in the first eleven are under six feet tall. PSG aren't particularly blessed in that area either but they do possess a few potent aerial threats in Silva, Alex and Ibrahimovic while Pastore's height puts him in the mix as well.
Like any other team facing Barcelona, PSG will cherish any set-piece that comes their way and look to make the most of them, Again, if Beckham is on the pitch for a few of those set-pieces, good deliveries are pretty much guaranteed and given the Catalans' defensive disorganization from those situations, the Parisians will be in a great position to take full advantage.
Barcelona Must Be Patient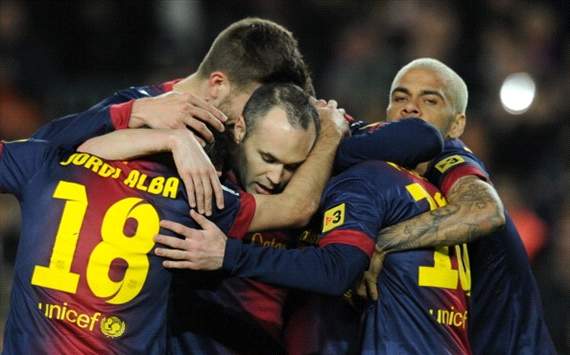 PSG have been a solid defensive unit this season having conceded just 20 goals in the league so far. Therefore, the possibility of them getting steamrolled by Barcelona is highly unlikely but the Catalans will still be expected to win relatively comfortably over the two legs. However, in order to do that, they'll need to stay patient and play football the best way they know how.
They played into Madrid's hands at times this season when they were coerced into being part of fragmented games where neither side could hold on to possession for long periods. That suited Los Blancos and they eventually got the better of the Spanish league leaders. At the San Siro earlier this season, they were forcing the play towards the end of the game when they trailed 2-0. Forcing the issue is not their style and didn't suit them; they thrive in a state of controlled possession.
Even if they go behind against PSG, Barcelona must persist with their tiki-taka brand of football and eventually, they will get their chances. However, they must not be goal-shy like they were against Milan in that first leg. Let the opposition know that you're prepared to take the shot on even from range and they'll be forced to close you down rather than standing their ground, hence dragging them out of position and creating little pockets of space.
Who do you think will win this tie? Leave your comments below or discuss with the writer on Twitter @BrendonNetto.
How do you stay up with football when on the move? With http://m.goal.com –your best source for mobile coverage of the beautiful game.