COMMENT
By Kishen Patel
When Real Madrid face Manchester City on Tuesday night, it will be the encounter between two of the richest clubs in European football. Real Madrid and Manchester City are the two clubs with the financial resources to buy any player, two clubs with the brightest stars, and two clubs which are desperately trying to win the Champions League. It will be a clash between the titans but the question is, who will have the last laugh?
It is common sense in football that the team which controls the midfield controls the match and has a better chance of winning. This scenario will be truly highlighted on Tuesday night as two teams with almost similar tactics will face off against each other. Real Madrid with their fluid system against the deadly Manchester City attack will be a delight to watch. What would even be more interesting will be the midfield battle between Xabi Alonso/Khedira and Yaya Toure/Javi Garcia.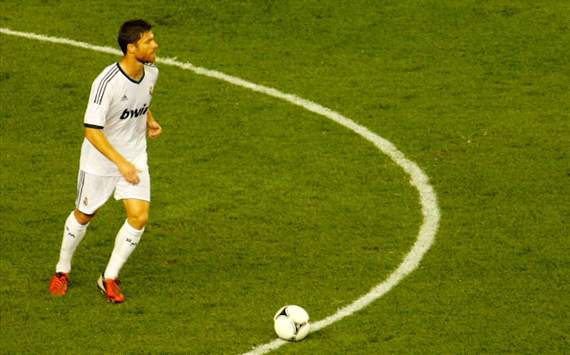 Xabi Alonso remains an integral part of Madrid's midfield and is extremely important to Madrid's style of play. Alonso in his deep lying playmaker's role acts as a conductor of the orchestra as his passes orchestrate the play be it whether a simple short pass or the 60 yard diagonal. Alonso breaks up opposition's play and sets up the play for his own team. The former Liverpool man also is a tough tackler in midfield and is very good with his positioning. Alonso's role in the team is to be the link between the defense and the attack and allows the other creative players to play in an advanced role while he'd sit deep and dictate play.
Sami Khedira plays as the second anchor man in midfield alongside Alonso. While the Spaniard's task is to start attacks, the German midfielder has to do the dirty work around him. Khedira is a tireless worker and remains full of running throughout the whole match. Khedira intercepts a lot of passes and breaks up plays with his positioning and he has chipped in with a couple of goals here and there, most memorably in the 1-2 Clasico win over Barcelona at Nou Camp last year. Together, Khedira and Alonso have formed a vital partnership in the middle of the pitch which allows them to dictate proceedings in the centre of the park.
| | | |
| --- | --- | --- |
| Alonso | Name | Yaya Toure |
| 2.5 | Key Passes | 2.8 |
| 88 | Avg. Passes | 95.5 |
| 10.5 | Accurate Long Balls | 7.3 |
| 0.3 | Accurate Through Balls | 0.8 |
| | | |
| --- | --- | --- |
| Khedira | Name | Rodwell |
| 59 | Avg Passes | 53 |
| 3.5 | Tackles/Game | 1.5 |
| 1.3 | Interceptions/Game | 1 |
If Alonso and Khedira form the crux for Madrid, it is Yaya Toure and Javi Garcia doing the same for Manchester City. Before the Spaniard's arrival, Mancini had used Yaya Toure and Jack Rodwell as the double pivot in his 4-2-3-1 system but either one of them could start alongside the Ivorian. Even though Yaya Toure plays in the same position as Alonso, they both play differently. Yaya Toure is more attack minded and often pushes further up the field, changing the formation from 4-2-3-1 to 4-1-3-2 with Garcia as a defensive midfielder and Tevez functioning as a second striker alongside Kun Aguero. Yaya Toure is crucial to City because of the mobility of their midfield. Silva and Nasri continually change flanks and enjoy somewhat free roles so the former Blaugrana star is responsible to syncing the two dynamic midfielders and connecting the defense with the attack. Toure offers more of a goal scoring threat than Xabi Alonso but Madrid's system is such that their chief central midfielder will hold the fort while others attack and it also offers protection against Madrid's susceptibility to counter attacks.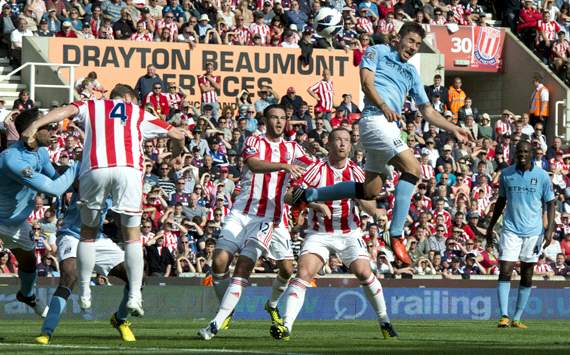 Javi Garcia had a "flying" start to life at Etihad. Will he "fly" at the Bernabeu?
Mourinho is sure to start with his usual pair of Alonso and Khedira whereas Mancini could start with either Javi Garcia or Rodwell but the former would be a better option because of his familiarity with the Spanish giants. On the other hand, Rodwell isn't a recognized defensive midfielder so playing him alongside Yaya could backfire against Madrid's pace if he is left exposed by Yaya's attacking forays. Gareth Barry could be another option but he's also a yard or two slow, whereas Madrid have better options in that place with the arrival of Luka Modric and Michael Essien. The Ghanian is a combative presence in the centre and is extremely familiar with the English champions. Modric on the other hand could be used as a replacement for Mesut Ozil. Madrid might get the upper hand on Tuesday night because they will be playing at home and would be desperate to put their recent form behind them. Javi Garcia might be slightly inexperienced against Madrid's central midfielders but that won't stop him from proving a point or two to his former employers.
The stage is set for one of the biggest games in the "Money League" as the English champions visit the Spanish champions in what could be an highly entertaining fixture. Mancini's City want to prove a point that they are now amongst the big boys of Europe but Real Madrid will be even more eager to show them who's the boss around. An important fixture for both teams as they will be looking to start their European campaign on the right note. But which midfield will rule on Tuesday?
How do you stay up to date with football when on the move? With

http://m.goal.com

– your best source for mobile coverage of the beautiful game.