EXCLUSIVE
Saturday's much awaited
Champions League
finale between
Bayern Munich
and
Chelsea
is
likely to be the most watched club game
in the world. And the rage has caught up with Bollywood as well, as they seem to pay a close attention to the contest between the two juggernauts of European football.
Goal.com pays a visit to an ardent Chelsea supporter - Abhishek Bachchan. A football enthusiast, the 'Bluffmaster' of Indian Film Industry took out time for us to answer where his loyalties lie in tonight's clash of the titans.
Question: Please suggest your starting line-ups for Chelsea and Bayern - given that they have a lot of players suspended?
ABHISHEK BACHCHAN'S CHELSEA XI





Petr Cech



José Bosingwa

David Luiz

Gary Cahill

Ashley Cole
Well, I can speak about Chelsea - I think our defense is going to be the biggest problem because as we have John Terry and Ivanovic who are both suspended – so I will start with Ashley Cole on the left, Garry Cahill on centre left back, Luiz on centre right back and Jose Bosingwa on right back. Then I would like to move in to Mikel, Essien and Lampard in the centre with Sturridge and Mata playing the wings and Drogba at centre forward. That would be my ideal line up – obviously at some point of time to bring on Torres to get more firepower upfront.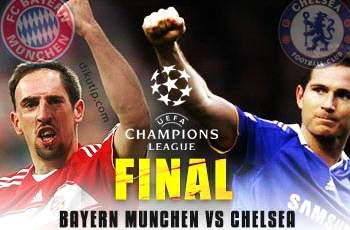 Follow all the build-up to that and send your thoughts on Twitter to @Goal_India


Question: Your prediction for the match
Its going to be tough – Chelsea as the underdog therefore I would love for them to win – we have never won the Champions League – I am going to go with 2-1 to Chelsea.
Question: Why do you think Di Matteo should/shouldn't start with Torres and Drogba together upfront?
Well, unfortunately Torres and Drogba haven't really performed very well together upfront - I think going with the 4-3-2-1 would be a great system to work with, it has proven good for us in the past and I think lets start with Drogba and then bring on Torres a bit later. Best that he should stick with the one single set forward.
Question: Do you think that apart from letting Mourinho go, selling Robben was one of the major mistakes of Abramovich era?
Robben, unfortunately was wriggled with injury when he was playing for Chelsea so he didn't get much pitch time – you win some and you loose some, he is a great player of great quality, he is a wonderful winger but for some reason was not performing to his best at Chelsea. Maybe the system in Bayern suited him better so no regrets for letting go of him now. But with regards to letting Mourinho go … of course!
Question: Where do you think the game will be won tactically speaking? Would you prefer Chelsea to attack a lot more and try to play 'beautiful football' or follow the usual 'park the bus' and hit on counter tactic?
THE DAMAGED BUS TO MUNICH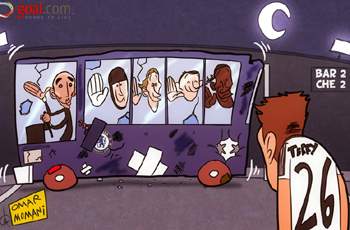 Can Chelsea afford to use the same tactics against Bayern Munich?
I find this a bit unfair on Chelsea – you know that's the tactic of what people call 'park the bus' was what Chelsea employed when they played with Barcelona – I think you have to change your tactics with your opponent and I think it was a very intelligent tactic played against Barcelona – you are talking about playing against the best team in the world – you have to do whatever it takes to win and that's exactly what Chelsea did. And I think we will have to wait to see what kind of system Di Matteo adopts for the finals, I think Chelsea would start with their normal flair, if they do fall back, I am pretty sure they will fall a lot more deeper and become more defensive. At the end of the day its all about winning the game – its not how you do it – its only about winning the game and I think that's all Chelsea is interested in doing right now.
Question: Where will you be watching the final and with whom?
I will be at home watching it with my wife - I am a little superstitious about it so, wearing the same jersey, sitting in the same spot and watching it from home and wishing the Blues 'all the very best!'

Follow Rahul Bali on

How do you stay up with football when on the move? With http://m.goal.com –your best source for mobile coverage of the beautiful game.