New
Arsenal
sensation
Alex Oxlade-Chamberlain
insists he is determined to work his way into
Arsene Wenger's
side after claiming his first
Champions League
goal during the home victory against
Olympiakos
in Group F, becoming England's youngest scorer in the competition.
With his manager perhaps having one eye on Sunday's north London derby against Tottenham, the former Southampton star was handed a start by the Frenchman, and he opened the scoring after just eight minutes.
"It's always nice to score your first goal in the Champions League, but the main thing I think tonight was for the boys to get all three points and I'm glad we achieved that," he told
Sky Sports
after the match.
"It was a really good experience," he added. "it was a big step up from what I was used to last season, the footballs a lot quicker, but this is where I want to play, at the top level, but I've got a lot of work to do in order to get more appearances in the Champions League."
Bouyed by his impressive display at the Emirates, Oxlade-Chamberlain admitted he hopes to be considered more often by his manager, but insisted he is not just competing with Theo Walcott for a starting place.
Champions League on Goal.com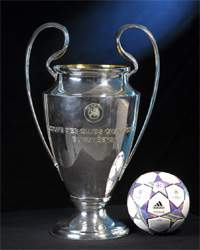 A definitive guide to this season's battle for European supremacy - from previews, team news, reports and ratings - we've got it all here
"If I'm not aspiring to be in the squad then there's something wrong," he continued. "It's a really hard squad to get into as we've got some really top quality players and top quality signings that the manager's just brought in, but I've just got to keep working hard every day and in the squad."
"There are a lot of people in the squad that can play out on that position, it's not just me and Theo, there's a lot of competition all over the park, but I'm just going to keep working hard to get in and around it."
Keeper Wojciech Szczesny, while praising his side for winning a tricky contest, conceded that his team must learn to keep possession better than they had done against the Greek champions when they face rivals Spurs at the weekend.
"It was a very tough game and we knew that it would be very tough and I think you have to give credit to our defence for keeping the result at 2-1 because they did put pressure on us and it was a great defensive performance in the second half," said the Polish shot stopper.
"I think we lost the ball too many times in the middle of the park and that created some problems and they looked dangerous on the break, but we won the first half, we were 2-1 up and it was about keeping the result and we managed to do that."
"We knew what we had to do and we kept the ball as long as we can and I thought we still looked the better side in the second half," he continued.
"We need to step it up [against Tottenham], because you have to be at your very, very best to win this game, but we're confident, we've won two games on the bounce and we believe we can look to White Hart Lane and get the three points."
Download the Goal.com Mobile app, and the world of football will be at your fingertips and in your pocket!