The three-time European Cup winner blasts the Argentine forward for his behaviour towards manager Roberto Mancini, and insists he would "chase him from Manchester tomorrow"
Former European Cup winning captain Graeme Souness has hit out at
Carlos Tevez
for his refusal to play for
Manchester City
in their Champions League clash against Bayern Munich on Tuesday night, branding the striker "a disgrace to football."
Souness, who was part of three Liverpool successes in Europe's elite competition, was part of the
Sky Sports
panel covering the game in the Allianz Arena.
It was clear that a row had taken place on the City bench around the hour mark, when Edin Dzeko was replaced by Nigel De Jong with the visitors trailing Bayern 2-0.
Manager Roberto Mancini was visibly upset when he spoke after the match and admitted that Tevez had refused to play as a substitute, with the Italian later adding that "for me, he is finished."
Champions League on Goal.com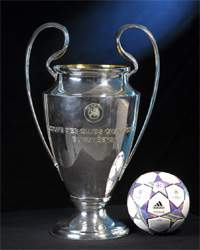 A definitive guide to this season's battle for European supremacy - from previews, team news, reports and ratings - we've got it all here
Souness, a former team-mate of Mancini's at Sampdoria, was scathing in his assessment of the situation.
"I'm in disbelief," he said. "I had a couple of years with Roberto Mancini and I could tell you from the moment he started speaking that he was deeply upset, he was very emotional. And then as he spoke he explained what the problem was.
"It was half an hour to go, as I remember it, when he asked him to go on - why would a player not want to go on to help his team-mates out? How selfish can you get? Because he didn't start? How petulant can you get?"
Souness also insisted that City would be best advised to get rid of Tevez before he unsettles a squad that is currently joint top of the Premier League.
"You would chase him from Manchester tomorrow if you could because he is one bad apple and that can spread," he added.
"When it's all going well for a manager with a big squad like he has, he'll be whispering in other people's ears causing the manager problems.
"The owner or whoever is running Manchester City now has to help the manager and get him [Tevez] as far away as possible from the club. It's not about money with Man City, but he is one bad apple.
"He's making noises about wanting to go and every time he opens his mouth it's a different reason for wanting to leave Man City - he's a disgrace to football.
"Your average man in the street thinks there's a lot wrong with the modern-day footballer.
"Tevez epitomises what the man in the street thinks is wrong with modern football players."
Download the Goal.com Mobile app, and the world of football will be at your fingertips and in your pocket!