ANALYSIS
By KS Leong
For the second season in a row, Real Madrid will face Ajax in the group stages of the Champions League. It's a shame that the two former European giants never faced off a few campaigns before that, when it could very well have been mistaken for an all-Dutch affair.
Ajax's dominance in the European Cup in the 70s was, of course, famously built around the total football philosophy - a playing style that has trickled down into the club's renowned youth academy, which has since gone on to produce countless technically-gifted footballers.
Champions League on Goal.com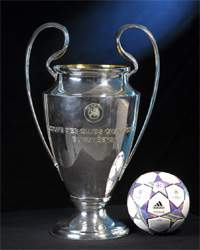 A definitive guide to this season's battle for European supremacy - from previews, team news, reports and ratings - we've got it all here
Perhaps former Madrid president Ramon Calderon thought he could inject that ideology into the team when he and his wingman Predrag Mijatovic decided to bring in an influx of Dutch players. Ruud van Nistelrooy, Wesley Sneijder, Royston Drenthe, Arjen Robben, Rafael van der Vaart and Klaas-Jan Huntelaar all slowly made their journey to the Spanish capital within a two-year period during the Calderon regime.
The experiment proved successful for a short while, before Barcelona and Pep Guardiola took the art of total football entertainment to a completely different level and the Dutch disciples at Madrid suddenly looked about as obsolete as the original iPad.
And when Florentino Perez regained the leather high-back executive chair in the Santiago Bernabeu offices, he set about slowly dismantling the Dutch dream. Johan Cruyff must have felt mightily relieved.
Real Madrid's Dutch-Portuguese Revolution

DutchDepartures




Portuguese Presence



- Arjen Robben (left in 2009)
- Wesley Sneijder (2009)
- Klaas-Jan Huntelaar (2009)
- Ruud van Nistelrooy (2010)
- Rafael van der Vaart (2010)

- Pepe (arrived in 2007)
- Cristiano Ronaldo (2009)
- Jose Mourinho (2010)
- Ricardo Carvalho (2010)
- Fabio Coentrao (2011)

Perez and Calderon never saw eye to eye, even though legend has it that the two worked in tandem to secure the services of Cristiano Ronaldo. But the returning supremo wanted as little as possible of the Calderon influence to linger around at the club, just as it was the other way around when 'Galacticos' such as Luis Figo, Roberto Carlos and David Beckham were all ushered towards the exit door once the Perez I dynasty collapsed.
In some ways, this has a lot to do with the new chief and his board wanting to start a new glory era, to create a winning team based on their own dreams and vision so that the predecessor could lay no claim to playing a part in the legacy.
It also has to do with transfer agendas. The arrivals of Kaka, Ronaldo, Benzema and Xabi Alonso, for example, meant that the likes of Sneijder, Robben, van der Vaart and Huntelaar would instantly fall a rung or two down the pecking order in a blink of an eye, without being given much of a chance to prove themselves to the new boss. But the new boss didn't need to see proof.
Then coach Manuel Pellegrini insisted that he wanted to keep Robben and Sneijder, but he was never consulted before the duo - who were also keen to stay - were sold. This suggested that Perez never intended to keep the pair, no matter how crucial they would be to Pellegrini's team plans. Florentino had already found the perfect excuse to dispose of the remnants of his arch enemy and predecessor: lack of space in the squad and the need to recoup his investments.
But not everyone from the previous regime was discarded. Pepe was retained and he became the first of the Portuguese contingent in the new era. Cristiano Ronaldo followed, and when Jose Mourinho was installed as coach in the summer of 2010, he brought in his trusted old friend Ricardo Carvalho, while this summer Fabio Coentrao was recruited. Even Angel Di Maria, albeit Argentine, has long ties with Portugal after spending three years at Benfica, and he was championed by Mourinho after Perez raised doubts about the noodle-legged winger. All of those players, along with the coach, share an agent, another Portuguese: Jorge Mendes.
| | | |
| --- | --- | --- |
| The Mastermind... | The Sidekick... | The Superstar... |
| | | |
Perez politics and Mourinho's Mendes link have much to do with this new Real Madrid, even if Florentino's original vision was to return to the roots of Castile and fill the side with Spanish stars. But Raul and Guti departed as Mourinho came in, leaving only Iker Casillas, Sergio Ramos and Alonso as guaranteed starters in the first team, while a summer earlier, the club had missed out on the signing of David Villa, who would end up at Barcelona a year later.
With the rest of the cream of the Spanish squad also plying their trade in the Catalan capital, Perez was forced to look elsewhere and Mourinho has assumed almost complete control at the capital club. Dodgy dealings have been alluded to, due to the role of Mendes and the perplexing purchase of Coentrao, who at the moment is something of an expensive utility player at Madrid.
But Mourinho trusts the Portuguese player, as he showed by bringing in several stars from his Porto team while at Chelsea. So when Drenthe departed in the summer, it marked the end of the Dutch dream at the Santiago Bernabeu, giving way as it has to a less glamorous but more pragmatic Portuguese plan under Mourinho.
But how long will it last? That depends on trophies - and on how long Mourinho decides to stick around in Spain.
Download the Goal.com Mobile app, and the world of football will be at your fingertips and in your pocket!