Tottenham Hotspur
travelled to Italy to face
Inter
in the
Champions League
in October and succumbed to a thrilling 4-3 defeat, which could have been a lot worse were it not for the late heroics of
Gareth Bale
.
Bale has been touted as Spurs' talisman, but this season he has been joined by another all-action player - Rafael van der Vaart.
The Dutch playmaker was suspended for the trip to San Siro, but, fitness permitting, will be certain to start at White Hart Lane on Tuesday. Harry Redknapp feared the worst after seeing his star limp off against Manchester United at the weekend, but after coming through training on Monday morning admitted Van der Vaart has "every chance" of running out against a side led by his former team-mate, Wesley Sneijder — against whom he might have something of a point to prove.
Up until 2009, the pair had charted similar careers, playing the same position and at largely the same clubs, but Sneijder has been elevated to superstar status over the course of a year. And to think, it all started at that conveyor belt of football talent, Ajax:
The Ajax years
It was Van der Vaart who would announce himself to the world first. The older of the two, the prodigious young talent made his debut in a 1-1 draw with Den Bosch in April 2000 at just 17, and would go on to score his first goal for the club just six months later.
Sneijder, who was scouted by Ajax as a seven-year-old, debuted at 18, almost three years later than Van der Vaart in February 2003 and to less fanfare than his fellow playmaker, who had established himself as the No.10 by the time his young team-mate made his first appearance.
"Van der Vaart was more of a revelation in his first year," said Robin van Gelder of
Goal.com Netherlands
.
"In his first year he was like a whirlwind. Everybody was in awe of what this boy could do and could only dream of what he could do for Ajax in the future."
Things ended rather unceremoniously for Van der Vaart at Ajax, though, as knee injuries limited his impact towards the end of his stay with the club and, with Sneijder ready to step into his position permanently, the once golden boy of the club surprisingly departed for Hamburg in the summer of 2005.
Back together at the Bernabeu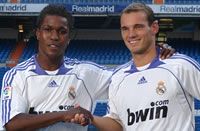 Van der Vaart was the first to leave Ajax, but Sneijder would arrive at Spanish giants Real Madrid before him, joining the club along with compatriots Arjen Robben and Royston Drenthe during the post-Galactico era under then-president Ramon Calderon in 2007.
"Sneijder was seen as Zinedine Zidane's successor at Real Madrid," says Ks Leong of
Goal.com International
. "The club had not yet found a replacement for Zidane, who retired in 2006, and in Sneijder, Madrid found themselves an attacking midfielder who possesed the technical skills, the vision, the creativity and passing ability to fill that gap."
After an excellent first season in which he settled a Madrid derby, scored nine La Liga goals and helped Real to retain their league title, Sneijder was joined at the Bernabeu by Van der Vaart, whose circumstances of arrival were vastly different.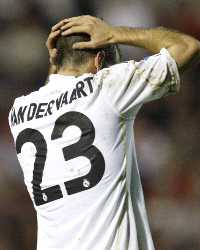 "Van der Vaart was seen as a last resort star signing in the summer of 2008," Leong continues.
"He was in fact the only 'big-name' player Madrid signed that summer after Calderon again failed to deliver his pre-election promise of bringing in either Cesc Fabregas or Kaka.
"With Sneijder already established in the central midfield role from the season prior, Van der Vaart was used largely as a utility player."
While Sneijder was out through injury, Van der Vaart was afforded the opportunity to make a blistering start, much like he has done at Spurs, scoring a hat-trick in a 7-1 thrashing of Sporting Gijon.
The presidency at Madrid would change hands once again though, and with the arrival of Florentino Perez, and ultimately Kaka and Cristiano Ronaldo in the summer of 2009, both Sneijder and Van der Vaart's days at Madrid were numbered.
Moving on from Madrid
Sneijder was the first to leave Spain and the rest, as they say, is history, as the departing No.10 became Inter's main man.
"Sneijder had no desire to leave Real Madrid – but was 'no longer needed" says
Goal.com International
's Adam Scime. "Inter meanwhile, were criticised for not having a player capable of adding some imagination to the side after Jose Mourinho's first season, where Dejan Stankovic often filled the trequartista [supporting the two strikers] role, with adequate but not spectacular or creative performances.
PLAYER STATS
*excl Dutch Cups

AJAX

REAL MADRID

INTER/SPURS

AVERAGE


Sneijder

GAMES: 163
GOALS: 50

GAMES: 62
GOALS: 11
GAMES: 53
GOALS: 10
GOALS PER GAME: 0.25

Van der Vaart



GAMES: 104
GOALS: 51



GAMES: 70
GOALS: 12



GAMES: 9
GOALS: 5



GOALS PER GAME: 0.37

"Sneijder [interestingly along with Van der Vaart] was linked with a move to the San Siro. In essence, he was 'the missing piece of the puzzle' at the time."
Mourinho installed Sneijder as the centrepiece of his Inter side – the perfect link between midfield and attack – and the club romped to success after success, retaining Serie A, claiming the Coppa Italia and, of course, winning the Champions League with a 2-0 victory over Bayern Munich.
After the domestic season, Sneijder shone at the 2010 World Cup in South Africa, playing a pivotal role in the Netherlands' route to losing in the final, while Van der Vaart was forced into being nothing more than a supporting cast member.
To add to his list of achievements, Sneijder has recently been shortlisted for the 2010 Ballon d'Or, a prize he is surely the frontrunner to win.
Meanwhile, back in Spain, injuries to Kaka afforded Van der Vaart the opportunity of more playing time, despite rumours linking him with a move away from the club at the same time as Sneijder.
Van der Vaart showed flashes of his quality, but was unable to establish himself as a key player in the side, and when Mourinho arrived in Madrid, his number was up as he departed the club for London in an 11th hour transfer on deadline day.
The perfect platform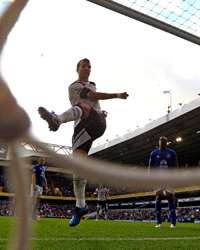 Van der Vaart has been explosive since his arrival at White Hart Lane and has flourished in a side where he is undoubtedly one of the first names on the team sheet every week.
With five goals in nine games already for Spurs, Van der Vaart has been likened to the legendary Glenn Hoddle, while his passion and hunger for the game – which has already seen him sent off this season against FC Twente – has endeared him to the fans as much as his obvious skill.
If Van der Vaart can keep a cool head on Tuesday, he has the perfect opportunity to show the world he is more than a match for Sneijder, despite their differing fortunes over the past year.