Real Madrid
coach
Jose Mourinho
has expressed his wish to lift his third Champions League trophy and says that his eagerness to succeed is matched by the club's desire to end their recent barren spell in the tournament.
Speaking in a pre-match press conference ahead of Wednesday's match against Ajax at the Santiago Bernabeu, the Portuguese tactician said that it will not be easy to win the tournament this season but insisted that they have the quality to do so.
"This team is under construction," Mourinho said. "Our goal is to continue to grow and to reach the next round in the championship. We will be a tighter side in the Last 16 and in the most decisive moments of the competition. We have yet to play six games in a tough group.
"I don't feel anything special. I just have faith in my work, in that of those who work with me and in my players. Real Madrid have a great history in the Champions League and so do I, so it is natural for us to have a special feeling and to think something positive will happen.
"Real Madrid want to win their tenth European Cup title as much as I want to win my third, but it will be difficult."
Mourinho went on to say that there are a host of other clubs who can lift the trophy in what looks to be a wide open competition.
"There are between six and eight teams that could win the championship. We will be much stronger than we are now if we reach the next round.
"The Champions League is the competition everyone wants to win. You can't compare it to other championships, not even to a World Cup because these teams are different to national sides. It is the greatest title a club can aspire to win and it is also a championship in which small details are very important. The best team doesn't always win.
"On the other hand, the league isn't decided by details. You can come back from a mistake. The best always wins, despite the fact that there is less prestige in it than in winning the Champions League.
"Winning a league is good to boost a team's self-esteem. Neither championship is more important than the other. Today, the Champions League is more important to us, but this weekend it will be La Liga.
"Ajax are a great club with great tradition. Both they and Real Madrid are giants in this championship."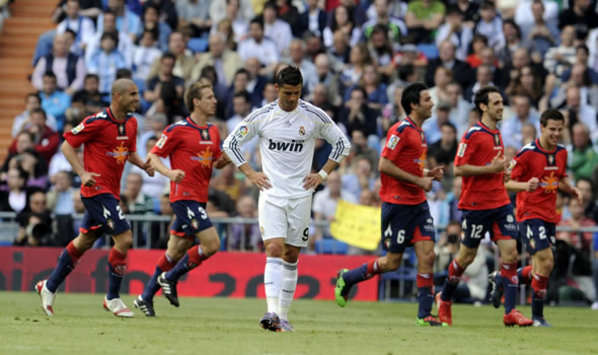 Mourinho then reflected on Saturday's stuttering 1-0 win against Osasuna at home in the Spanish Primera Division.
"It's up to the press to debate about our game on Saturday, not us. I clearly said after the game I had no problems. I don't feel more pressure. I am calm.
"No one can teach me about negative reactions in a stadium. I know what true boos and whistles are and they have nothing to do with what was heard for ten seconds on Saturday.
"When you score in the opening minute of the second half, you leave the stadium calm because you won the match. I don't care. Those who pay may do what they want and those of us who work at Real Madrid have to accept that."
"Cristiano Ronaldo did not criticise the fans. He always risks injuries and his future as a player when he's on the pitch, even when he is in delicate shape. He wants players and fans to share the same goals.
"That's it. He knows he can make a difference and he is aware of what the team needs. He always tries to do better. That's a good thing."