EXCLUSIVE
The famous
Sporting Lisbon
academy has produced more than its fair share of wingers down the years - before
Cristiano Ronaldo
and
Nani
came the likes of
Ricardo Quaresma
,
Simao
and of course
Luis Figo
. So who better to ask about the
World Cup
prospects for
Portugal
's current wide boys than the man who arguably started it all off in the modern era?
Paulo Futre is on a flying visit to London, launching
TitanBet.com
's $100m challenge - the prize that will be won by the punter who correctly predicts every score in the 2010 World Cup - by taking part in the 'Shoot-Out In The Sky'.
The former Portugal star and ex-England defender Graeme Le Saux are on the top of an office block in west London, trying to score into a goal manned by England's most-capped goalkeeper, Peter Shilton, on an adjacent block just 82 feet away.
Safely back indoors later with coffee and sandwiches, Shilton asks Futre slowly (and with the aid of a few hand signals) if he still plays. Futre twists his face into a grimace. "No, never." Still just 44, he managed to swerve one or two past Shilton high above the city, but the chronic knee problems which brought his sparkling career to a grinding halt in the mid-90s still linger.
Futre is cautiously optimistic that his physically tougher successor can fire Portugal's challenge in South Africa. Though Spain and Brazil are his "big favourites," he counts Carlos Queiroz's side as part of a group who could upset the current dons of world football. "There are a group below them, including England, Italy, Germany, Argentina, France and Portugal," he says, speaking exclusively to
Goal.com UK
. "Portugal have some great players and a great team, so I think they can dream of going a long way. Along with this they have the best player in the world, Cristiano Ronaldo, who can change a game at any moment, so they can dream."
Like most Portuguese football followers Futre - now a writer for Madrid-based sports daily
Marca
- has been gripped by Ronaldo's progress, and a season which personally has marked a fairly smooth transition to La Liga for the world's most expensive player. "He's been at a very, very good level (this season)," Futre agrees. "On a collective level, it's been a failure. To not win a title with the team that they have and the money they have spent is very difficult."
The lack of silverware making its way back to the Santiago Bernabeu could even work to Portugal's advantage, further motivating Ronaldo when it comes to South Africa, says Futre. "Now Cristiano has another opportunity to win something. It's going to be much more difficult, but it's not impossible."
As is habitual for the national team, Portugal are not reliant just on their brightest star for wide options. Over the past few months Futre has been thrilled by the progress of Nani. "The World Cup could be Nani's consecration on a world level," he says. "He's playing very well." Futre believes that the vacuum created by his senior colleague's departure has forced Nani to mature. "With Cristiano's exit, he's played a lot more minutes and now he has become an undisputed starter at Manchester United. He has the chance to cement that in South Africa."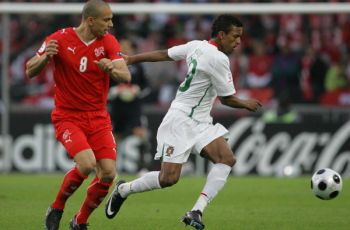 On the up | Futre believes Nani will thrive at World Cup
The season of one of Futre's former clubs, Atletico Madrid, has been somewhat less easy to interpret. The Portuguese played at the Vicente Calderon for six years between 1987 and 1993, winning two Spanish Cups. He is delighted to see Atletico back on the trophy trail, with the possibility this week of adding another Spanish Cup to their Europa League, but he struggles to find a reason for their travails in the domestic championship.
"They're very strange, Atletico Madrid." Futre furrows his brow. "The first third of the season was horrible, very bad, with the sort of results you associate with relegation, and going out of the Champions League without even winning a game, only getting into the Europa League in the last game - terrible."
It took the arrival of other members of the Portuguese league's alumni to shake up the Calderon and Futre gives the new boss, and his signings, a lot of credit. "The arrival of Quique [Sanchez Flores] helped, and I think that the arrival of Tiago was important - he made a big difference, adding a bit of quality to the midfield," Futre suggests. "The two young players have been important too, De Gea in goal and Dominguez in central defence." Of course, Futre still has a soft spot for quality wing play. "Also the recuperation of [Jose Antonio] Reyes [counted]," he says. "He really struggled at Arsenal. When Quique arrived [at Atletico] he gained confidence, and then the public started to believe in him again. He's now a key element in the way Atletico Madrid play."
The club with whom Futre carved his own reputation have had an even tougher year. Despite their Portuguese Cup win at the weekend it's been a dry season for Porto, losing their league crown to arch-rivals Benfica and even missing the cut for the Champions League, behind surprise package Braga. Does this spell the end of an era? Futre is not convinced.
"In Portugal, Porto are always Porto," he shrugs. "Porto have dominated Portuguese football in the last 25 years. They've practically never missed the Champions League in recent times." A little perspective is needed, suggests their former star. "If you think of what they've won in that time; two Champions Leagues, World Club Champions, UEFA Cup winners....Benfica and Sporting would have loved to do even some of that," he grins.
Futre had a key role in establishing the northern club's modern grip on the Portuguese game, contributing a man-of-the-match display to Porto's first European Cup win, in Vienna back in 1987 against this weekend's Champions League finalists, Bayern Munich. "That was my happiest moment," he proffers, unblinkingly. "Bayern were the favourites, and we played a spectacular second half. We went down in history for that, you know, because it was Porto's first."
Despite Futre's own performance, the final is always remembered for the equalising goal - a stunning backheeled effort by Algerian striker Rabah Madjer. With the first-ever African-hosted World Cup on the horizon, how does his former colleague rate Madjer in the pantheon of the continent's greatest players? "For me, he was the most complete player I ever saw, perhaps because he was someone I played with," says Futre.
He stops and shakes his head with incredulity, recalling some of Madjer's tricks. "He could do everything," he says. "Right foot, left foot, with his head, one against one....so impressive. When he was good, he was a genius. The goal that he scored in the final, only he could have done it, with the mentality that he had. It was that goal that allowed us to come back into the game. He was a genius, just fantastic."
On the subject of geniuses, we come onto the player that so many hope will light up this summer's tournament. We're lucky enough to see plenty of Lionel Messi on television today, but if you go back and find a few old video clips of Futre in his pomp, you may be surprised by the similarities. It's not the first time he's had the comparisons put to him. "Yes, we have a lot of things in common. Apart from the speed, there's our similar stances, but he's scored a few more goals than me," he grinned. "Yes, he's much more of a goalscorer. I was more of an assist giver."
And with that, he's off. Only stopping briefly to put on his jacket and enthuse over the achievements of his former West Ham boss Harry Redknapp at Tottenham - "He has done fantastically well," he beams - Paulo Futre grabs his suitcase and weaves up the corridor. The knee may not have held up, but the mazy dribbling instincts are still unchanged.
To take part in the Titanbet.com World Cup $100 Million Mania, punters simply need to go to

www.titanbet.com

. Taking part in $100 Million Mania is free, but participants are required to lodge a deposit of £10 that they can use on any other sports bet. All predictions for $100 Million Mania must be lodged by June 10th before the first ball is kicked. No trip to South Africa is complete without a visit to its most beautiful and sunniest city. Durban offers much more than sandy beaches, safaris, casinos and the World Cup, for information on what to do and see, please click here.


Become a fan of Goal.com India's Facebook fan page for all the latest news and insight into everything related to the beautiful game!