This year has been a phenomenal one for world football. We have seen records topple like nine-pins when it comes to goal-scoring and transfer deals. We have witnessed unthinkable feats being achieved by individuals and teams alike in a year where competitiveness in the game has seen a whole new redefinition. With the sport being host to these kinds of trends and changes, this year's undisputable black hole, the biggest void will be left courtesy Sir Alex Ferguson's retirement from the beautiful game.
A few years down the line when nostalgia kicks in for a Red Devil supporter or an ardent football fanatic, one would most definitely look back at 2013 standing out not for Barcelona's record-breaking 54 weeks on the top of the La Liga, not for Bayern's spotless 5-star conquering of European and World club football and also not for Manchester United's 20th English Premier League title.
In most probability, this year will be remembered as the one in which the world bid adieu to arguably the greatest football manager to have ever walked this planet. Though we live on in the delusion of getting used to his absence, the void left by Fergie in United's technical area is one that's never going to be fulfilled.
Having delivered 38 trophies out of United's all-time haul of 62, Ferguson is responsible for over 50% of the club's overall success. Though he did endure an initial few dark years at the United helm, Fergie fought back with aplomb, catching United by the scruff of their neck with his 'hairdryer' treatment and ensured they were the best and most ruthless English team of the past two decades.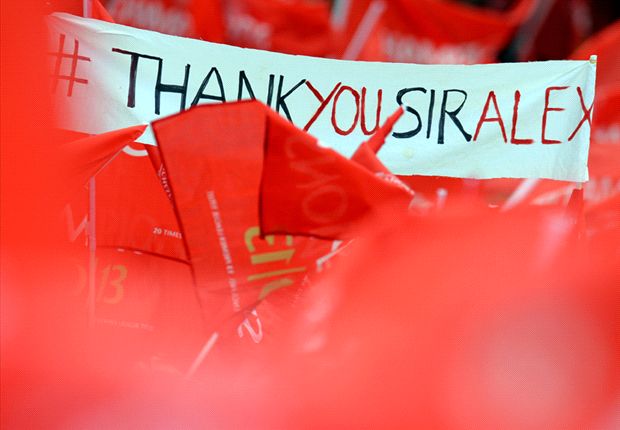 With no disrespect to David Moyes, it is weird seeing anyone else in the dugout at Old Trafford; which is the ultimate honour to Ferguson's work. One would have never seen consistent authority of this sort in their waking life and most probably never will do in this day and age. Unmatchable.
The aforementioned praise is most definitely not without justification. When Sir Alex promised, he delivered. When he set his sights out for something, 9 out of 10 times success was his. Be it making a public commitment to knocking Liverpool off their perch or to vow to wrestle back the league title from their 'noisy' neighbours more recently, Sir Alex backed his words with quite some telling action.
Central to his success has to be the winning mentality he instilled, the never-say-die attitude that coined the famous term 'Fergie Time'. He was a true leader and motivator, inspiring at least 3 different generations of United players to consistent success. A tactical genius, Fergie kept evolving flexibly as times, oppositions as well as the very crux of his team changed.
Credit to him, he won the league title in his last year in-charge with arguably the weakest Manchester United squad under his care. Along with those serious aspects, badly missed will also be his very specific traits and the whole individuality surrounding his persona. On one hand he gave you the chills by portraying himself as a man you don't ever want to mess with but at the same time that gum-chewing grin exuded a sense of subtle warmth.
As stubborn and sometimes malicious he might've come across (owing to his many rants and dressing downs of opposition managers and match officials), you realize it all bore from his undying love and servitude to the game. The ultimate source to everything was his passion for football.
And therein lies the whole essence or one may say key to Sir Alex Ferguson's ever-glistening legend. Behind the whole battle hardened and experienced surface was a childlike fervour like no other. That's what drove on the great Scot and that's what drove on Manchester United. Such ageless maestros only come our way (if we are lucky) once in a lifetime and our generation must count itself lucky to have experienced the very best of the genius that is Sir Alex Ferguson.
Though this bittersweet septuagenarian has been rightfully immortalized in stone outside Old Trafford, his zestful passion in flesh will always be cherished. And as melancholic as it may sound, 2013 will always be remembered as the year the football world ran out of 'Fergie Time'…
How do you stay up with football when on the move? With http://m.goal.com –your best source for mobile coverage of the beautiful game.