Goal.com starts a new series, where the head coach of the respective team tells you all that you need to know about their team before the Federation Cup...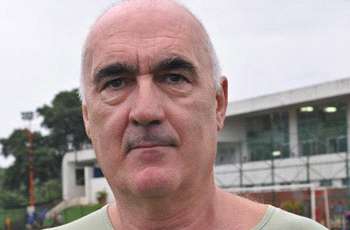 Desmond Bulpin was introduced into the Indian football circuit by former Indian national team coach Bob Houghton. Bulpin was thereby handed the responsibility of the Indian Arrows (now Pailan Arrows).
The Scot and the Indian Arrows didn't part ways on a good note and after a year Bulpin made a return to Indian football by taking over the reins of Shillong Lajong.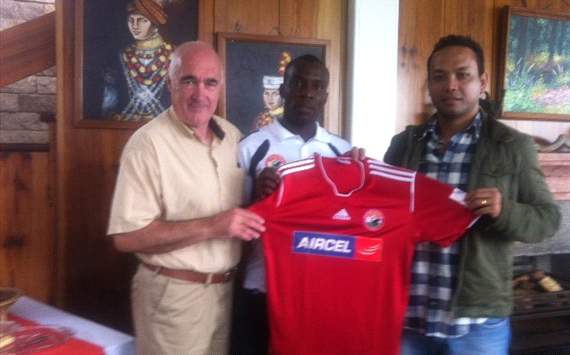 Desmond Bulpin (left) with Ebi Sukore (center)

"I think Friday [Gbeneme] has done very well. He's come in and scored seven goals in the Lajong trophy (The North East Lajong Super Series), so I'm very pleased with him. We've also got his partner (from Mumbai FC) Ebi Sukore coming in," informed the Shillong Lajong coach.
"We want all our players to come from the north east, but for the goalkeepers we might have to look further away for some taller ones. I've also done a bit of a work with the younger boys - three or four of them have come well against Wellington. I'm not shy to putting the young boys in especially the ones who have done well."
A few more names have been added to the roster with Govin Singh who joined from United Sikkim, Chitra Singh from Churchill Brothers, Jibon Singh of Pailan Arrows and DPR Korea defender Mil-Chon Son among others.
"We stayed in Shillong and we've done a lot of weights, a lot of fitness and power work. We're really working on our power. We're competing with big teams like Dempo. Our team is possibly not technically as good as them, so we have be able to press and play a very high tempo game for which we have to be very fit."
With regards to winning the North East Lajong Super Series, Bulpin continued,"I was very pleased with the trophy. We deserved to win it. The boys played very well and that's all that matters. Now it's for us to do well in the Federation Cup."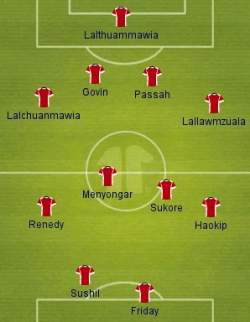 "We'll stick to 4-4-2 and we just want to be very workman like. We want get the ball wide and put in a lot of crosses in the box. We want to play forward quicker.
"Some teams have a very slow build up and play a lot of passes in their own half, but we don't want a slow passing game. We want a quick passing game. We want to get the ball from one end to the other end quickly."
Goal.com View –
As it goes with the 4-4-2 formation for Lajong, and with Bulpins desire to move the ball forward quickly, Lalchuanmawia and C Lallawmzuala will be required to overlap from their positions effectively.
Goalkeeper Lalthuammawia Ralte seems likely to start while Govin Singh could pair up with Wailad Mi Passah in the central defense.
Renedy Singh will be important to enhance the side's attacks through the set pieces while Boithang Haokip is also capable of taking free kicks.
Johnny Menyongar's positioning sense could help release Ebi Sukore forward and thus providing more attacking options in front of goal.
Sushil Kumar Singh's height and Friday Gbeneme's form could work as a surprise element for their opponents to plan against.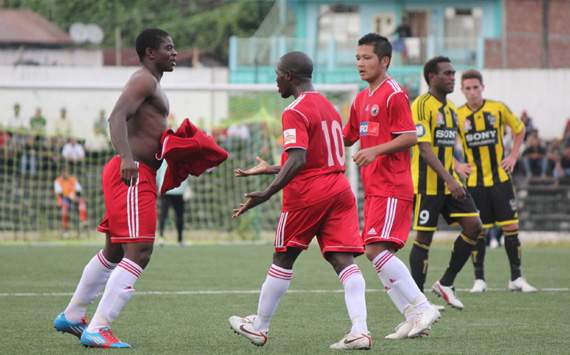 Scoring against an A-League team is not easy but...

"Friday [Gbeneme] has scored seven goals in three games and got five against the Australians (Wellington Phoenix in the North East Lajong Super Series)," revealed Bulpin. "Ebi [Sukore] can also score goals," he added.
"Sushil has done well (for India) and is good in the air. We'll also try to get some of the midfield players in the box as well," noted Bulpin.
"Renedy Singh is going to be influencial as a player and as a captain. Unfortunately he's carried injuries, but he has worked very hard on his core strength and his back, and hopefully he'll play many games.
"I think that it's nice that Wailad [Mi Passah] has been with the club for a long time. He's from this area and he's done well," he added.
Goal.com View –
It's always good to start a season in top form and given the performance of Friday lately, he has already adapted to his new team's system, and can possibly get better with his reunion with former Mumbai FC team-mate Ebi Sukore in the side.
Sushil Kumar Singh, with his height, should be able to trouble the rival defense while the experienced Wailad Mi Passah will be expected to marshal Lajong's backline alongside Govin Singh, who has been in and around the India squad over the last few years.
Renedy Singh and Boithang Haokip will be useful in executing Bulpin's strategy of making the most of the width, while Ebi Sukore could provide the extra man in the box to capitalise on the aerial deliveries.
FEDERATION CUP HOPES AND GROUP RIVALS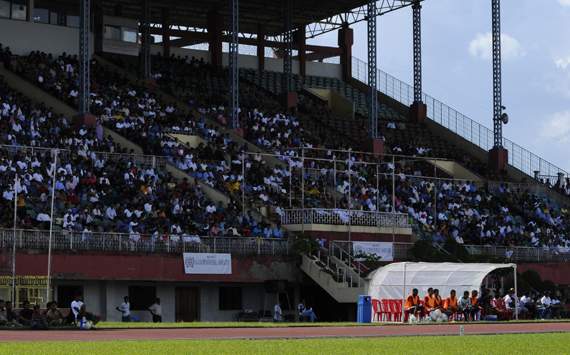 Before the North East stands can be filled...

"We got Mumbai FC in the first game which will be a tough one like every game is. Then we play Dempo who are [I-League] champions which is obviously going to be a very hard game. But I think it's also a question of getting your players rehabilitated for the second game. So hopefully our fitness might help us in that game," said the Scot.
Bulpin then analysed his former side. "Pailan Arrows will be just another game where they should be fit because they are young. I know some of the players but I don't think that gives us an advantage. I think they (Arrows) have got the chance to pull the best young players in India, so they should be a mid-table side."
"I think if we can do well in the Federation Cup and then hope to start well in the I-League. Then we can get good days here because the North East seems to be the hub of football," said Bulpin while highlighting the importance for his side to play well.
Goal.com View –
Playing a quick direct game could be both an advantage as well as a disadvantage for the side as Shillong Lajong FC be up against comparatively more experienced sides like Dempo SC and Mumbai FC who are capable of pouncing of any given opportunity.
Pailan Arrows' tight man marking style of play in their own half, as we saw last season, could also frustrate Lajong but Bulpin might have some know-hows to break them down having coached the side before. Overall, there's all to play for the North-eastern unit.
Follow Anselm Noronha on

How do you stay up with football when on the move? With http://m.goal.com –your best source for mobile coverage of the beautiful game.