India head to the 2013 AFC Challenge Cup qualifiers in Myanmar, hoping to make the cut for the main edition in 2014.
While the hosts, Myanmar, and Chinese Taipei are expected to be the teams vying with India for a spot in the 2014 AFC Challenge Cup, Guam are seen as likely pushovers.
However football is not played on paper, and on their day, the Matao could very well stun one of these three sides.
Goal.com takes a closer look at Guam, as the side look to make their mark on the continental stage.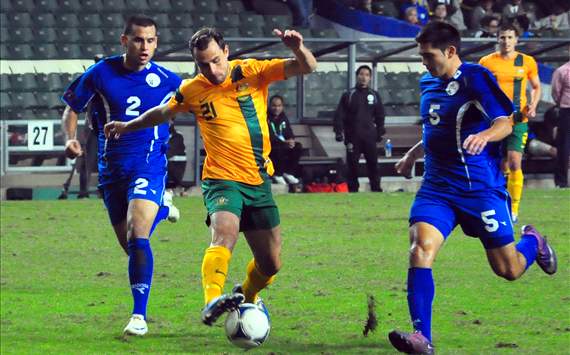 FIFA Ranking: The Matao are not really a powerhouse in football by any means. Ranked 181 on the charts, they are the weakest side in India's group. Gary White's side though, have known much worse depths, being ranked 205th, less than a decade ago. In October 2012, they had registered their highest slot ever, being listed at 178th.
Coach: 39 year old Gary White has been at the helm of Guam since February 2012, leading the side to victories in 3 games so far in 10 games. The Englishman has vast managerial experience, having taken over the British Virgin Islands at the young age of 24. When he moved on to Bahamas, he was replaced by an even younger coach. A certain Andre Villas-Boas!
Initial roots: While Guam joined FIFA only in 1996, they were a football playing nation since 1975. However they did not enjoy much success, and had to wait until 2009 for their first win over a FIFA member, when the Matao defeated Mongolia 1-0, in an East Asian Football Championship game.
Lack of International exposure: Having only become a FIFA member in 1996, Guam obviously did not take part in any World Cup qualifier till then. Infact since then too, they have only participated in the process in the 2002 edition, in which they were soundly thumped 19-0 and 15-0 in the qualifiers by Iran and Tajikistan respectively.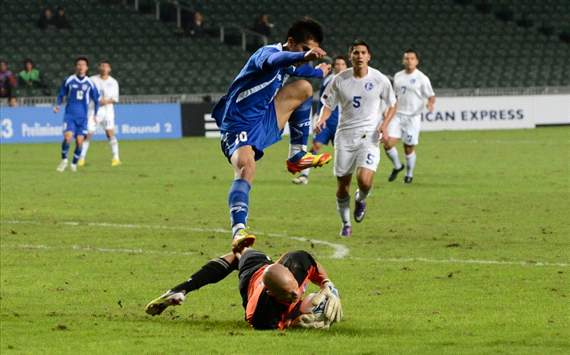 Continental level disappointment: The Matao have never made it to the Asian Cup, or come close to achieving such success either. In the AFC Challenge Cup too, they did not enter the last two editions, while being knocked out in the first round in 2006, while not qualifying for the main rounds in 2008 either.
They did qualify for the round 2 of the East Asian Football Championship in both, 2010 and 2013, as preliminary competition winners.
Player shortage: While football is popular in Guam, with a measly population of 1,80,000,it is difficult to find quality players within the nation. According to a survey a couple of years ago, the Guam Football Association (GFA), had a registered list of just 600 adult players and 1600 children, which is not a lot of players to choose from, for the national team coach.
Roping in foreign based players: In a bid to overcome the above mentioned problem, White approached several foreign based players and his overtures have met with success. A majority of the foreign based players are from the United States of America, including goalkeepers Doug Herrick, Dallas Jaye, defender Micah Paulino and forward Zachary DeVille amongst others. United Sikkim's John Matkin has also been roped in for the AFC Challenge Cup qualifiers, while Shawn Nicklaw plies his trade for Denmark's HB Koge.
Pre-match tradition: When White joined Guam, he found the players to be short in confidence. In a bid to help improve the same and build a better connect with the native Chamorro culture, he makes the players do the Inifresi, which is a chant on the lines of Haka, made popular by the New Zealand rugby side. It's seen as a way of players demonstrating their commitment to the country.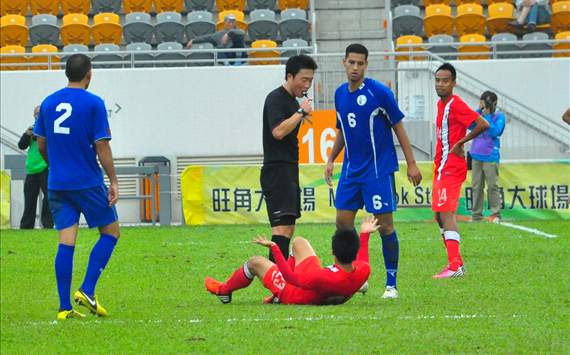 Key Players: One of the key players that White lured into his set-up was Ryan Guy. According to his national team coach, the New England Revolution midfielder was close to being called up by USA, but shunned them for the country of his parent's birth. The winger provides plenty of width and craft down the wing for the Matao, and will be a vital cog in midfield for his national side.
Shawn Nicklaw is also a part of the foreign based contingent that represents Guam. Playing for HB Koge, the attacking right wing-back provides a great threat going forward, while being noted for his positional sense in defense.
Recent form: In the past one year, the Matao have played ten international ties, winning three times, drawing once against Chinese Taipei, while losing the other 6 games. Their last tie ended in a 9-0 drubbing by the hands of Australia.
How do you stay up with football when on the move? With http://m.goal.com –your best source for mobile coverage of the beautiful game.