---

BY ANSELM NORONHA

Follow @apnoronha on twitter
---
Brasil Futebol Academia (BFA) have announced a tie-up with Jas Dhami, an international businessman based out of England, to launch the new season of the academy. The BFA is a brainchild of Dempo SC midfielder Beto and former Mohun Bagan forward Jose Ramirez Barreto.
Speaking of grassroots development porgrammes, Beto stressed how important it was to develop talent in a country like India, besides sharing his personal experiences and views on the football fraternity.
"I have spend six years in Dempo [SC], then I shifted two years to Churchill [Brothers] and now back with Dempo. So in nine years that God has blessed me with trophies and all, and normally a Brazilian player - when he has success with his career and is going back home, he starts a football academy. That's why Brazil never stops to produce big players in the world of football," explained Beto, emphasizing just how important a role academies play in helping footballers' establish a connection with the people who idolize them.
"Since I was here for nine years, I spoke with [Jose Ramirez] Barreto. I saw the amount of talent India has in football, and we started this academy to fulfil the dreams of children, parents and ours. Why I say ours - because when I see a child make it to a professional level, I see myself when I was 12, 13, 14 dreaming to become a professional player. So when I see them making it, it's more than a trophy for me," added the Dempo SC medio.



Today, my biggest achievement in India is called the Brasil Futbol Academia (BFA) because I have the opportunity to give to others what somebody has given me in the past.




– Beto
Beto explained how the programme was initiated and how it has continued to grow up to date, over coming certain emotional hardships along the way. "We started in 2009 and we had our first batch of 1,500 children to train at BFA where we had to select only a 150 boys. It was a very hard time. I didn't go to say "no" to them. I used to tell the other Brazilians 'you go say no and you have not passed the test' because I could not see them crying.
"We also started with a 'pro-program' where we have few boys who have lunch from Monday to Friday where we start to develop that professional mentality of youth development.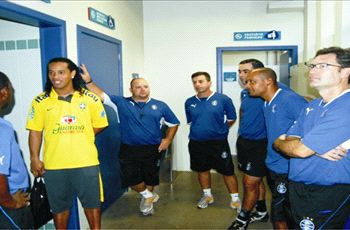 Glauco Moraes (far right), BFA's Director has worked with the likes of Ronaldinho (far left), Lucas (of Liverpool) and Anderson (of Manchester United) during his time at Brazilian side Gremio
"In 2011-12 is when we started to get more professional. It's very hard to come to a new country and do something. I have seen many people trying to teach the Manchester United way of playing football, the Barcelona way of playing football. I believe the good thing of BFA is that we have nine years and we understang the culture, habbits, food, diet and everything. So we create a way of playing the Indian style to choose the best of the Indian kids."
Stressing the main aims of the programme, Beto said, "Every three months, we give a player report to the parents to show the improvement of the kids. BFA is not just to throw the ball and let them kick, and spend one hour and go home. We want the kids to improve. Of course, not every child is going to make it in the professional level, but every child who is going to BFA will come out with better co-ordination, reaction and they will carry on the main aspects for their life.
"To complete BFA today, it's a professional youth development programme who doesn't look only at the business aspect, but it's where we are making players for the Indian football scenario," claimed Beto who wanted the peope to understand that the football programme wasn't just an centre for learning but a way of life too.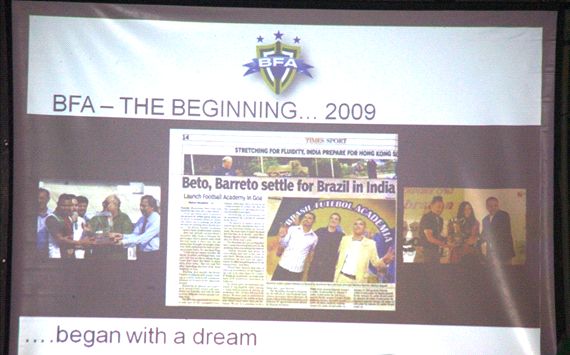 Dempo's Sahil Tavora and Churchill's Alesh Sawant are two players who have graduated from the Brazilian Futebol Academia. Explaining the impact of the BFA on the I-League, in terms of player development and participation for his club, Beto stated, "We have few players who have graduated from BFA. That's what makes us keep going and never stop. That's what makes us proud. Always, what we pass on to them is, 'nothing is impossible' - it's always hard work and we are going to be a step for them to climb high to make their dreams come true.
"In 2013 now, we have opened up a center in Kolkata and in our first tournament in four months, we have got a championship in Kolkata. So a dream of 2009 becomes a reality in 2013 and now we are looking forward to making it a larger picture with our new partner Mr. Shrinivas Dempo. He has the same vision. When we spoke about what you want for Indian football, how you want to make it happen - of course, you cannot you cannot do anything alone, Jas Dhami (partner) and myself - but for sure we are going to do contribute our part to make sure that a set of percentage of kids get in the right track," Beto spoke of his chief backers and sponsorers.
Chief Guest Mr. Shrinivas Dempo stated, "When Beto had come to me when he was leaving Dempo, he said,'I'm leaving Dempo to come back to Dempo'".
Guest of Honour and India skipper Sunil Chhetri joined Dempo in commending the Brazilian for his endeavours in India while admitting the fact that it is very difficult to run an institution in another country.
"My family has been running this club (Dempo SC) for more than 40 years and I know how difficult it is to run something in football," added Dempo.
How do you stay up with football when on the move? With http://m.goal.com –your best source for mobile coverage of the beautiful game.