Cesare Polenghi




Feature




Follow on
May 15, 2013 marked the 20th anniversary of the J.League's first kick-off at Tokyo's National Stadium. Many in Japan have rightly celebrated the achievements of the J.League as a movement, but few have ventured to assess the overall performance of individual clubs.
This column will attempt to determine which clubs have performed better in the league's first two decades based on five basic principles: number of supporters, overall titles, performance over the last five years, contributions to Japan's World Cup squads, and players fed to top European leagues.
The ultimate goal is to answer to one simple question: Which was the best Japanese club in the first 20 years of J.League?
Number of supporters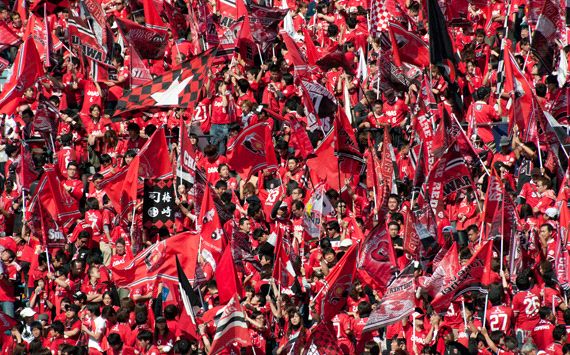 The top club in terms of support are undoubtedly Urawa Reds. Their fans are not simply the greatest in numbers; they are also passionate, loyal and vocal. More than six years have passed since the Reds last lifted a trophy, but they've continued to welcome an average of well over 40,000 spectators in the terraces at the Saitama Stadium every weekend. This puts Urawa in the same league with some of Europe's top clubs, and clearly shows the potential of Japanese supporter culture.
The Saitama side also have a strong following online; in terms of traffic, the Reds' official site lags only behind Gamba Osaka's in monthly visitors. The 2007 Asian champions have succeeded in building a social networking brand as well, leading the J.League on Facebook (over 18,000 fans) and trailing just one club (FC Tokyo) on Twitter with almost 30,000 followers.
Titles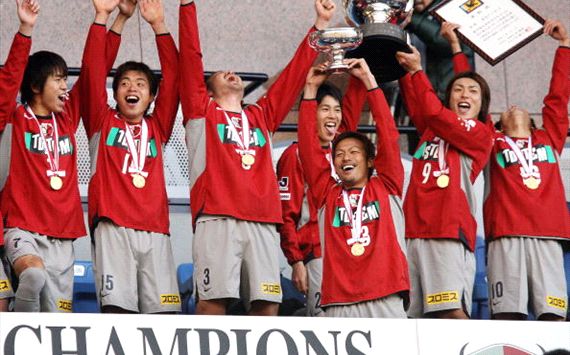 When it comes to overall titles, Japanese clubs can barely hold a candle to the mighty Kashima Antlers. The Ibaraki outfit have amassed an incredible 21 trophies thus far (seven J.League championships, five Nabisco cups, five Xerox Cups and four Emperor Cups); an average of more than one per year!
Jubilo Iwata and Tokyo Verdy (formerly Verdy Kawasaki) share second place with 10 trophies each, followed by Reds and Gamba with six.
The latter two teams hold the distinction of being the only Japanese sides to capture the Asian Champions League, in 2007 and 2008 respectively. Jubilo were crowned kings of Asia in 1999, when the competition was still known as the Asian Club Championship.
Five-year performance cycle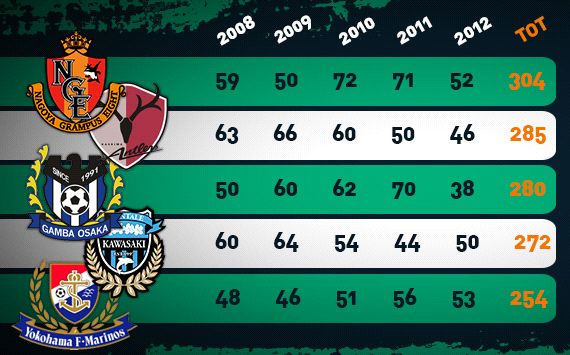 Of Japan's six most title-rich clubs, two (Verdy and Gamba) play in the second division today. As football fans live in the present, and past trophies hold only a relative value, we should also consider recent performances as a key factor. This is best evaluated in a five-year cycle; approximately the time it takes for a core group of players to mature and for a team to develop a clear identity.
If we calculate the number of points achieved by J1 clubs between 2008 and 2012, at the summit we find Dragan Stojkovic's Nagoya Grampus, with a total of 304 points. In second place are Antlers, with 285; Gamba are third with 280 despite their relegation last year.
Contribution to World Cup squads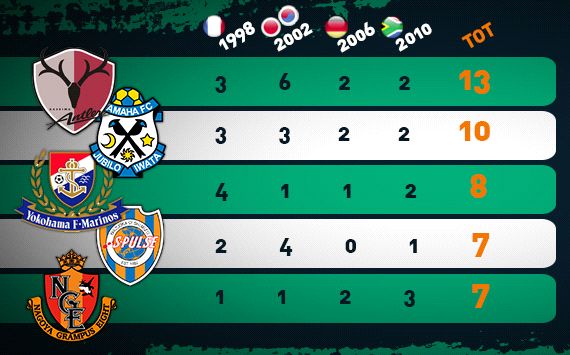 Ninety-one Japanese players have been called to join World Cup squads since 1998, and in 13 cases they came from Antlers' rosters. Jubilo contributed 10 to the list, while Marinos sent eight and both S-Pulse and Grampus seven each.
Antlers, Jubilo, Marinos and Grampus are the only four clubs that have sent players to all four of Japan's World Cup squads.
Players abroad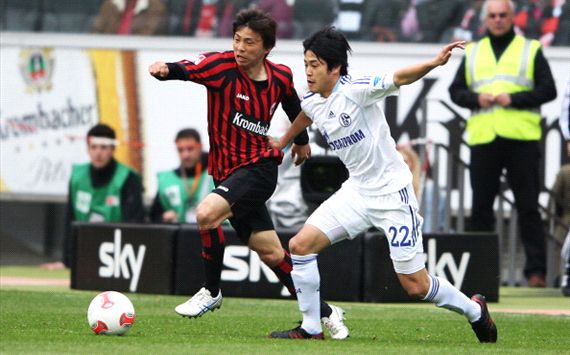 The last mark of excellence we shall consider is the number of players who earned an invitation to the prestigious leagues of Europe. Antlers, Marinos, Reds, and Gamba have all sent six players to first- or second-division clubs in the continent's top footballing nations.
Conclusion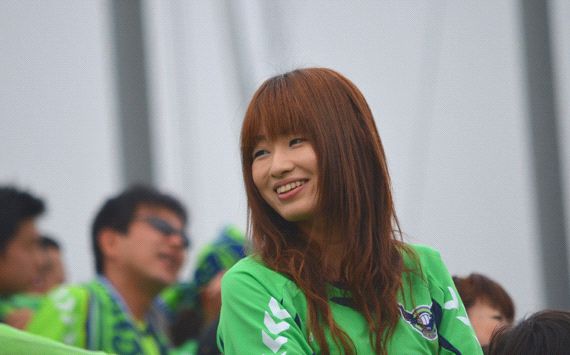 Football is not a science, and the data presented here is by no means conclusive. It is meant to be a snapshot of the J.League's glorious twenty years of adolescence.
But when everything is considered, it seems safe to conclude that Kashima Antlers have ruled these first two decades. They have put 21 trophies in their cabinet, sent 13 players to four World Cups, raised six European-class players, and have remained a consistent powerhouse.
The club only lacks a major international title; an unfulfilled mission that should drive them in the years to come. The J.League surely has goals of their own as they look toward the next 20 years and beyond.
Pictures credits: Getty, Cesare Polenghi, Dan Orlowitz; Graphics by Teerapatra Rundhasevi