Former Netherlands international Jaap Stam has made it clear that Oranje have a good chance of beating Spain in Sunday's World Cup final.
More than anyone else, Stam knows what he's talking about. During his lengthy career, he faced Spanish opponents on several occasions. However, he never locked horns with La Furia Roja at a big tournament.
"I can only say that I hope that the final will work out fine for Netherlands", said Stam to
Goal.com
. "I must admit that Spain have impressed me though."
Spain have plenty of strengths, revealed Stam. "They are very solid at the back and the midfielders never stop running. Additionally, the attackers are constantly switching positions. But Netherlands have absolutely no reason to be afraid of Spain. We have a good chance to win the tie."
Aggressive and attack
Bert van Marwijk will have to come with a different tactical plan than Germany coach Joachim Loew, though, for the Nationalelf's semi-final against Spain. Germany never managed to play their own game and were relatively easily beaten by La Roja.
Stam says, "Sitting back and allowing Spain the initiative is not the best option. I think Spain struggle the most if you pin them back in their own half and play aggressive. You can't allow them to play their own game. Relying on your own attacking qualities is probably the best option."
At first sight, the current Oranje doesn't appear to be much better than the team that made it to the semi-finals in 1998. Is Stam impressed with the performances of Van Marwijk's men?
"I'm not impressed with the way they've played, but they've recorded some great results. Van Bommel recently revealed that he learned the importance of winning after moving abroad. I experienced the same during my career. In Netherlands, it's all about the way you play, while winning is all that counts abroad. The current crop of players perfectly realises that."
'50-50'
Spain are the favourites to lift the trophy with most of the bookmakers, but Stam has a different opinion. "I really think it's 50-50. A lot will depend on your tactical plan. We have to be aggressive toward their attackers, they don't like that."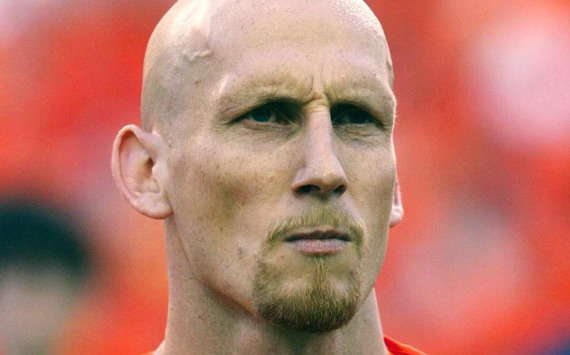 Jaap Stam | former Dutch international