Yes, he should, says Goal.com's Subhankar Mondal, who also underlines the importance of adding an extra midfielder.....
In our World Cup Comment series, individual writers at Goal.com offer their views on the hot World Cup topics of the day with local expertise and a global outlook…
They say that class is permanent, form is temporary. Even though Fernando Torres is going to retain his class until the day he hangs up his boots, the 2010 World Cup in general and the semi-final against Germany this evening in particular isn't going to last forever.
Which is why Spain coach Vicente del Bosque should make the bold decision to drop the Liverpool striker from his line-up in Durban. Or else allow
Pele's curse to strike them
just as it struck Brazil against the Netherlands in the quarter-finals.
The obvious reasons for dropping Torres are plenty. He is depressingly out of form, desperately devoid of confidence, has missed enough chances to take him to the top of the
goalscorers' chart
in the World Cup and fails to hold onto the ball. Moreover, Spain have actually looked better, more coherent and more functional after Torres have been substituted in their last two matches against Paraguay and Portugal.
Make no mistake, Torres is a world class striker, one of the few forwards in the modern game who come anywhere close to being 'complete'; but his current lack of form and sharpness makes him a liability. Starting him against Germany will be risky, replacing him with a creative midfielder will be quite sensible. And here's how.

The Five-Man Midfield
An extra man in midfield implies the addition of creativity from the centre of the park and more ball possession. It will denote the consistent deployment of two holding midfielders in Sergio Busquets and Xabi Alonso and more freedom to the attack-minded medios. Torres' presence means fellow striker David Villa has to drop slightly deeper and help in pushing the ball up front, meaning a slight decrease in threat up top.
The presence of an extra medio will mitigate this factor. Germany play with two holding midfielders: Sami Khedira is in charge of breaking the opposition's moves and initiating the attack while Bastian Schweinsteiger does that and provides the impetus for the Europeans to push forward. A three-man attacking midfield means that they will be up against two defensive midfielders, neither of whom are exactly Marcos Senna of Euro 2008.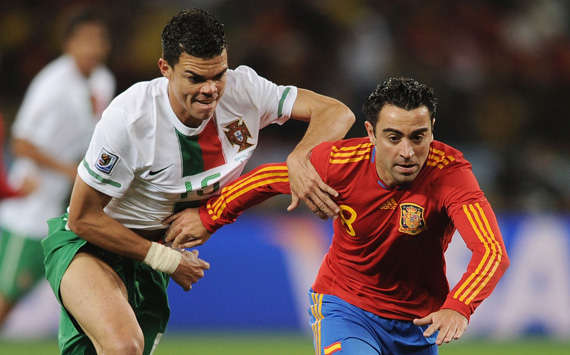 Xavi and Iniesta against Khedira and Schweinsteiger is more balanced, but add a David Silva or a Cesc Fabregas to the equation and suddenly the Khedira-Schweinsteiger partnership doesn't have the 'formidable appeal'. Moreover, Thomas Mueller is absent for Joachim Loew's side, and that potentially means less attacking edge up front.
An extra man in midfield will have a two-fold action: it will enhance their craft from the centre of the pitch and also smother the Germans' creativity. Of course, Germany are great on counter-attacks but against a Spain side who are tactically sound, have a better back four and possess players who can link the defence to the midfield and the midfield to the attack, an Argentina-esque hammering isn't a possibility.
David, Cesc, Pedro? Maybe Jesus?
But then again, between Silva and Fabregas, who does Del Bosque choose? Silva is a more logical choice as he will add 'natural width' to a Spain side that doesn't really play with wingers. With the newly signed Manchester City player on one flank and Iniesta on the other, the European champions will be able to fill in the space that they have lacked so far in the World Cup.
This will, in turn, stretch out the German defence and potentially increase the space available to David Villa and Xavi centrally. Against not-so-great German centre-backs, this tactic could just win the game for Spain.
Yet Silva isn't exactly in fearsome form at the moment and although he can double up as an auxiliary striker, he cannot play centrally. At the World Cup Villa,
the most in form centre-forward on the planet
, has looked more adept in coming in from the inside-left channel with a fellow striker - either Torres or Fernando Llorente - in the centre, and with Silva in the line-up, the Barcelona striker will have to be the lone man up front.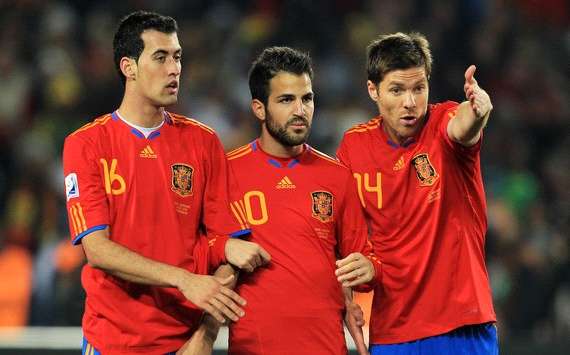 Cesc Fabregas? Yes, but neither Louis Aragones nor Vicente del Bosque has found a system in which to accommodate one of the most complete midfielders on the planet. Coming on as a substitute against Paraguay, Fabregas slotted into a more central position in attacking midfield, which didn't help much in forcing the Paraguayan back line to stretch out. Fabregas ahead of Silva will add more force and battling qualities in the midfield but will not add width.
Maybe Pedro? Yes, the Barcelona youngster will add natural width and could even complement Villa in attack, but he remains untested in the national team and can often be one-dimensional in his approach. Jesus Navas? But he is better off as an 'impact sub' for Spain.
Yet for all talks of Torres being the 'weak link' in the current Spain line-up, the Iberians have won every match he has started. In fact, both against Paraguay and Portugal his substitution helped the Europeans galvanise better, alter their tactics and compel the opposition to re-think their defensive strategies, and in doing so they conceded the goals. It was as if Torres' substitution was a foil.
But then again, Germany are better than the teams Torres has started against in South Africa. And the 26-year-old has failed against all of them, leaving Del Bosque with just one option: drop him against Germany.