Click here to vote for your Turkish Airlines Top Player of the Match!
Cote d'Ivoire continue to cling onto hopes of World Cup progression, leading North Korea 2-0, though it could be several more for the Africans.

Needing an avalanche of goals to stand any chance of going through, Cote d'Ivoire threatened on at least four occasions in the opening ten minutes. Less than 60 seconds were on the clock when Kader Keita raced onto a fine through pass from Yaya Toure but saw his shot blocked by Ri Myong-Guk.

The whirlwind start became a veritable tempest around the ten minute mark. A Koffi Romaric free kick was uncomfortably held by the Chollima goalkeeper before Gervinho rolled a square ball right along the goal line. Didier Drogba thumped a header into the net after 11 minutes but had his effort correctly disallowed for a marginal offside moments before Gervinho span to shoot into the arms of Ri Myong-Guk.

A breakthrough was coming, and it arrived on 12 minutes when Yaya Toure cleverly planted a placed shot from the outside of the box into the very corner of the net.

The deluge of shots continued. Romaric's shot-come-cross moments later hit the post with a drive from the edge of the box and the same player was on hand to make it 2-0 with less than 20 minutes played. Drogba showed exemplary control to pull down a difficult cross, turning away from his marker in one fluid movement. The Chelsea forward unleashed a thunderbolt that cannoned off the underside of the bar and bounced kindly back for the Sevilla midfielder to head home.

Hong Yong-Jo nearly pulled a goal back with a free kick that wrong-footed Boubacar Barry, but to the Ivorian goalkeeper's relief, the effort dropped wide of his goal.

Just for a short period the Ivoirians were resisted, but there was always an underlying threat from the Africans, who were maintaining possession easily. Keita sent a fierce reminder of the Elephants' threat by sending a stunning volley just by the top corner of the net and eight minutes before the interval a Gervinho toe-poke skimmed the far post when the Lille player should really have scored from a very good position.

Kolo Toure and Gervinho would complete the half with good efforts, though neither was a massive threat to their Asian opponents.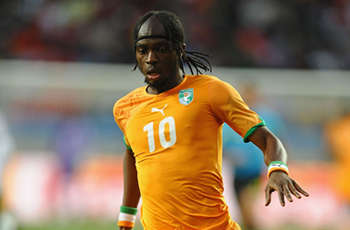 A huge turnaround in goals is needed if the Africans are to progress – not to mention a Brazil goal against Portugal – but the nature of this encounter means that is not impossible.