While the Elephants need to beat the Koreans for eight, Michael Yokhin looks at the teams who needed huge wins in the past.
Ivory Coast have a very clear target against North Korea today – win by an eight-goal margin will see them through if Brazil beat Portugal 1-0. If the Selecao do even better, then the Elephants can score a bit less, but Brazil's attitude is out of their trunks. Is there a slightest chance of such a huge victory? Let's see what history has to say.
Two teams needed a win by a big margin at this very World Cup in South Africa. The hosts had to beat France by 4 clear goals to leapfrog Mexico into second place in group A, if their rivals lost to Uruguay by a single goal. The Mexicans did lose, and with Bafana Bafana leading 2-0 at half-time their mission looked possible against Raymond Domenech's flying circus, but in the end it wasn't to be, with Florent Malouda scoring to make it 2-1.
Australia faced similar objectives in their last game in Group D against Serbia. In case of Ghana's mininal loss to Germany, they needed to beat the Serbs by four goals to make it into the second round. The Africans did lose, and the Aussies did take a sensational 2-0 lead versus highly-motivated Serbia who required only a high-scoring draw to claim second place. Just like South Africa, though, Australia conceded a late goal, and their challenge ended there and then.
But what about the past? A task most similar to that of the Elephants was faced by Brazil in 1974. The Selecao needed to beat Zaire by 10 goals and hope for a draw between Yugoslavia and Scotland in order to overtake the Slavs and finish first in their group. While their qualification for the next stage wasn't in danger if they scored less, the top place was desired to avoid meeting the tournament favourites Holland. Yugoslavia and Scotland did fight out for a draw, but the Brazilians fell way short, scoring just three times versus the Africans. They paid for it and duly lost to Holland in the second group stage.
Four years later, the world witnessed the most famous big-margin win ever. Hosts Argentina needed to beat Peru by 4 goals in order to overtake Brazil and qualify for the final. The game took place in Rosario, coincidentally the city where naturalized Peruvian goalkeeper Ramon Quiroga was born. He later claimed that his team would have been beaten by an even bigger score but for his great saves, but not a single Brazilian have ever believed him. Argentina scored their desired total in 50 minutes, and ran off with a 6-0 win.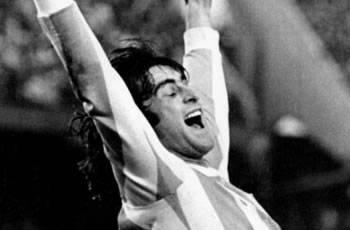 Earlier in that tournament, Scotland needed to beat Holland by three goals in order to overtake them into second place in a direct clash between the rivals. With the legendary Archie Gemmill in top form they almost did it, leading 3-1 at one point, but the game eventually finished 3-2, and the Scots went home, hot on the heels of Willie Johnston.
During Italia '90 there was a curious case of Soviet Union playing Cameroon in their last group fixture. The Soviets lost their first two games to Romania and Argentina by the same 2-0 score, while the Africans were assured of their qualification after beating both. Valery Lobanovsky's team needed to beat Cameroon by the biggest possible margin, and hope that the game between Romania and Argentina didn't end in a draw, in order to have a chance to qualify as one of the best third-place finishers. With Russian coach Valery Nepomnyaschy on the Cameroon bench, it was probably no surprise that the Soviets did win 4-0, but they were eliminated since the other game ended 1-1, thus leaving them last.
Four years on, and in USA 94 we faced a similar story again – after losing their first to games to Brazil and Sweden, Russia needed to beat the very same Cameroon (without Nepomnyaschy this time) by a very big margin, in order to improve their goal-difference and stand a chance to qualify as one of the best third-place finishers. They did it again, with Oleg Salenko scoring a record-setting five goals in a 6-1 win, but had no luck. The results in other groups went against them, and Russia went home early.
This is the place to state that those bizarre "best third-placed teams" calculations have nothing to do with sports, and that system is idiotic and unfair in the extreme. It devalued the group stages at three World Cups from 1986 to 1994, making life easier for teams drawn into lighter groups, and also for those drawn into groups that finished later by schedule. That should have been taken into account by UEFA when taking one of the worst decisions ever to enlarge the European Championships to 24 teams – simply because 24-team tournaments can't work from the mathematical point of view. Those two huge Russian wins against Cameroon prove that point perfectly.
But let's return to our subject. In 1994 Morocco needed to win by three clear goals against Scotalnd in their last group game in order to qualify at the expence of Norway, in case the Scandinavians drew with already-qualified Brazil. The Africans did the job in an emphatic fashion, beating the Scots 3-0, but were denied by a late Norwegian penalty in their 2-1 win against the Selecao.
During France 98, South Africa needed to beat Saudi Arabia by three goals in order to overtake Denmark, provided they lost to France. Zizou-less French did beat the Danes, but the Africans could only draw 2-2 and were eliminated.
There also were interesting precedents of big wins needed in the qualifiers. In 1993. England needed to win in San Marino by seven goals to stand a chance of qualifying for the World Cup if Holland lost in Poland. Amazingly, the Lions conceded a goal after only 8 seconds, and fell just short of their target in a 7-1 victory. It was meaningless anyway, since the Dutch easily succeeded in Warsaw.
The biggest-margin win achieved when needed belongs to Spain who had to beat Malta by eleven goals to qualify for Euro-84 instead of Holland, and duly made it 12-1 in Sevilla, despite scoring just three in the first half. However, the Elephants know only too well that, despite their thrashing at the hands of Portugal, North Korea are no Malta.